How The King Of Queens Live Audience Impacted Kevin James' Performance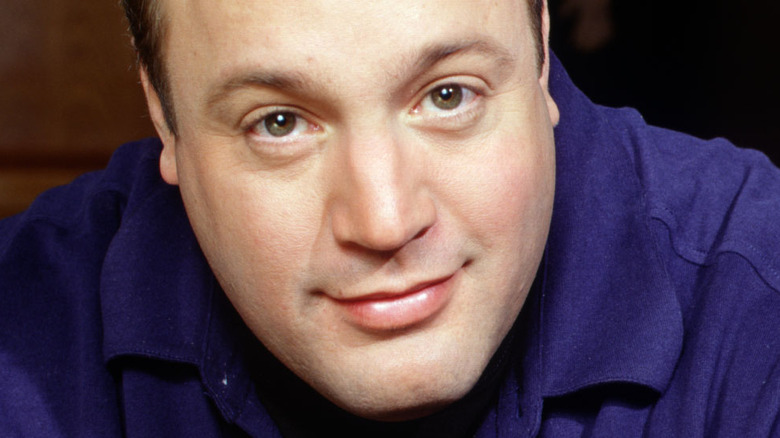 Maureen Donaldson/Getty Images
Before his nine-season stint as the hard-working, blue-collar Doug Heffernan on the CBS sitcom "The King of Queens," Kevin James cut his comedy teeth as a stand-up performer. According to Uinterview.com, his first real break came when he started working small comedy clubs in the late '80s. After that, he would land appearances on late-night TV staples, including "The Tonight Show with Jay Leno," "Late Show with David Letterman," and others, eventually launching him to sitcom stardom and leading roles in feature films.
But long before establishing himself on the club circuit, on TV, and in movies, James would pay his dues on the stage. While on a break from college, visiting his home in Long Island, New York, James tried out for a comic role with a local theater group, nailed the audition, and landed the part. As the actor told The Ottawa Citizen, "I did a small community theater play and enjoyed that; got some laughs." He explained that he then went on to team up with his brother Gary, who was part of an improv comedy troupe. It was during this time he felt he'd found his niche. "I just loved it," James said. "This is what I was looking for. I never thought I'd make money at it. I just thought it would be fun."
So, with his long history of live performances, how does James feel about having live audiences when making "King of Queens"?
Live audiences at King of Queens boost James' performance
Kevin Mazur/Getty Images
In this 2020 YouTube clip of a series of behind-the-scenes interviews, Kevin James discussed what makes a live audience so crucial to his work on the "King of Queens." Asked about how the audience's energy translates to his performance for the camera, the actor noted, "It's the same thing in stand-up. If you do one joke and get a big laugh on it, you're more confident for your next joke." But, as the actor told Philly Voice, in addition to audience response, you also need spontaneity: "Jokes aren't songs," he said. "It's not like going to hear your favorite song. The surprise in comedy has to be there."
In the same YouTube interview, the actor added that if the audience fails to respond, it can cause an actor to lose faith in the next joke and "Pull back on it a little bit because you don't believe in it." He also described the benefit of a live audience reacting to a bit with a lot of enthusiasm and laughter, saying, "You know, a studio audience like that is just amazing." But, in a self-deprecating aside, he then admitted that if the audience didn't laugh because a joke fell flat, "We would just sweeten it," referring to the process of adding in a laugh track when the show's footage was being edited to beef up a lackluster audience response.