The Big Mouth Moment That Went Too Far
For 25 years, the masses have been tuning into Comedy Central's "South Park" to see what antics the potty-mouthed fourth graders get into next. From Eric Cartman (Trey Parker) entering himself into the Special Olympics to Kyle Broflovski (Matt Stone) becoming part of a "HUMANCENTiPAD," there are plenty of shocking moments that your average elementary schooler won't experience.
But in 2017, Nick Kroll and Andrew Goldberg shook up the world of adult cartoons with "Big Mouth." Chronicling the real life growing pains of puberty, tackling relationships and body image, viewers can relive those relatably awkward moments of being a seventh grader. Except that this stroll down memory lane comes with fun creatures like the Hormone Monsters, Anxiety Mosquito, and Shame Wizard.
The Netflix series has been nominated three times by the Emmys for Outstanding Animated Program, with Maya Rudolph, who portrays Connie the Hormone Monstress, winning twice for Outstanding Character Voice-Over Performance.
Despite the critical acclaim, "Big Mouth" has gotten its share of hate. Some, like Twitter user @ToriNicksWho, criticized the show for its rather explicit dialogue and storylines revolving around the kids: "Big Mouth supports the attempt to normalize pedophilia."
Kroll and Goldberg haven't altered their show to address such criticism. If anything, it's only gotten more outlandish — who could forget Jay Bilzerian's (Jason Mantzoukas) intimate relationships with his pillows and couch cushion? Still, there's one controversial moment that led the "Big Mouth" creators to issue an apology and promise to do better moving forward.
Big Mouth wrongly defined pansexuality
In Season 3, Episode 7 ("Rankings"), a new character is introduced on "Big Mouth" — Ali, voiced by comedian Ali Wong. Upon her first day in class at Bridgeton Middle School, Ali is an open book. While introducing herself to her peers, Ali reveals that she's pansexual.
When asked by Nick Birch (Nick Kroll) to explain what this means, Ali says, "It's like, some of you borings like tacos and some of you like burritos. And if you're bisexual, you like tacos and burritos. But I'm saying I like tacos and burritos, and I could be into a taco that was born a burrito, or a burrito that is transitioning into a taco, comprende?" Afterward, nearly every one of Ali's male classmates vote her as the hottest girl at school.
Ali's explanation of what it means to be pansexual angered a number of fans, who took to social media to express their disappointment in the episode. On Twitter, @VimHomeless said, "Big Mouth representing pansexual with 'everything is on the menu' and flaunting it around like it's a superior sexuality is probably the ugliest and most juvenile thing I've ever seen."
Many took issue with Ali's idea that one must be pansexual in order to like transgender men and women — when in reality, this isn't the case. Someone who identifies as bisexual could also like "a taco that was born a burrito." @1800EIJIS sarcastically tweeted, "Hahahaha thanks Big Mouth, as a pansexual I wasn't informed that bisexuality didn't include trans folks? Who decided that at the last gay meeting?"
The creators of Big Mouth owned up to their mistake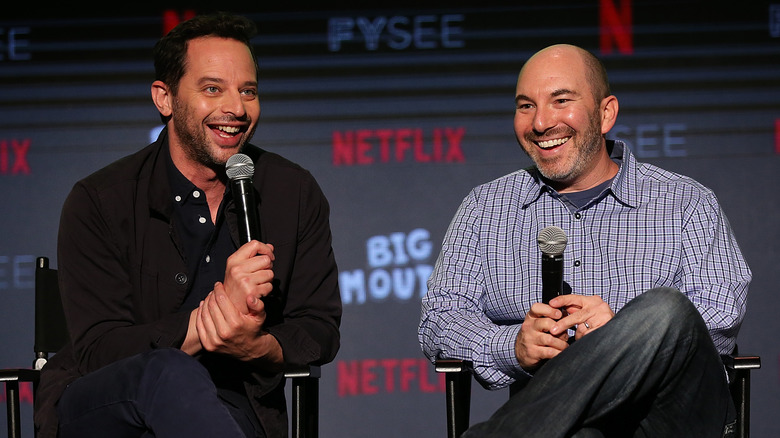 Phillip Faraone/Getty Images
It would've been easy for "Big Mouth" creators Nick Kroll and Andrew Goldberg to sweep the Ali controversy under the rug and keep moving forward with the series. Instead, they owned up to their mistake. On Twitter, Goldberg issued an apology for making the pansexual and bisexual communities feel misrepresented. He said, "Any time we try to define something as complex as human sexuality, it's super challenging and this time we could have done better."
Kroll said in an interview with Esquire that it was hard to read all of the criticism, but it served as a learning experience for the duo. "The lesson that we learned is you can't just introduce a character to serve a story that you think you want to tell," he said. In an interview with The New York Times Magazine, Kroll elaborated on the situation and how he embraced the critical feedback, as tough as it was to hear. He said, "The landscape is changing. I can either dig my feet in and be like, 'This isn't fair!' or I can be like, 'OK, how do I adapt?'"
So far, it seems like "Big Mouth" is adapting. Season 4 sees the introduction of Natalie El-Khoury, a trans character voiced by trans actress Josie Totah. That same year, Jenny Slate stepped down from playing Missy. As a white actress, she didn't feel right portraying the biracial character, and comedian Ayo Edebiri stepped in (via The Hollywood Reporter).
With "Big Mouth" Season 6 set to drop on October 28, it will be interesting to see what issues are tackled and how the public responds.