Big Mouth Season 6 - What We Know So Far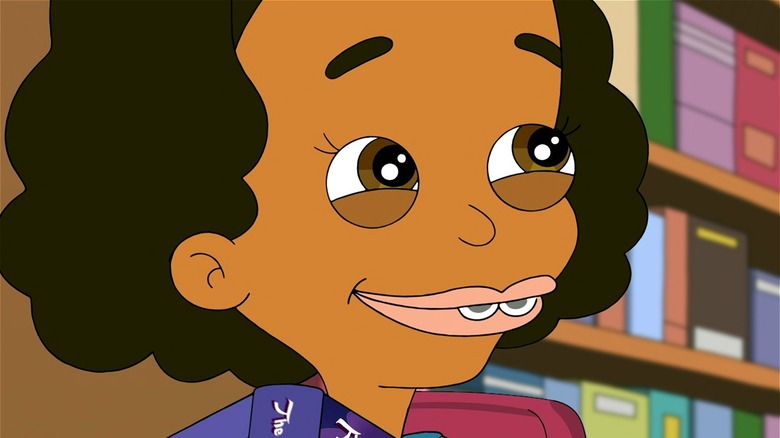 Netflix
It's safe to say there has never been a show quite as unique and on the nose as "Big Mouth." The Netflix animated comedy has followed a group of suburban New York middle schoolers as they navigate the perilous waters of puberty and can often tread the line between entertaining and cringeworthy with its frank look inside the heads of children morphing into adults.
Co-creator Jennifer Flackett told WBUR, "We all found that time of life to be this potent time when you're trying to figure things out ... We wanted to kind of give a voice to that voice inside of you." A viewer named Karen called in to say, "Teenagers are raunchy. And that time of life is disgusting in so many ways. And it's very honest. The series really does take away that shame of being a teenager that so many kids feel."
"Big Mouth" premiered in the fall of 2017 and has run for five 10-episode seasons, with an additional Valentine's Day Special coming between Seasons 2 and 3. The other 50 episodes have been released in season-long batches between late September and early December, but what do we know about "Big Mouth" Season 6?
What is the plot of Big Mouth Season 6?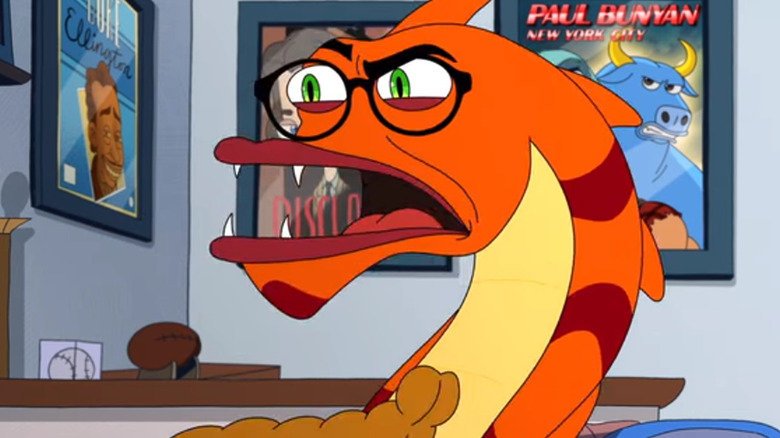 Netflix
Season 5 of "Big Mouth" introduced us to the Love Bug and the Hate Worm and even saw the appearance of the real-life Nick Kroll. While no episode titles or details about Season 6 plot points have been revealed, Netflix teased some of the themes for the upcoming season. In a post to Tudum, Marah Eakin wrote, "The new season of Big Mouth brings a whole new focus on family to the show — whether that means the people you're biologically related to or those you choose as your community ... Season 6 will continue to follow the Hormone Monsters as they navigate adolescence, this time unpacking the concept that while you can't pick your blood family, you can surround yourself with people who love you just the way you are."
"Big Mouth," at its best, can seem like an insightful and empathetic therapist with a very perverted sense of humor. While Season 6 will no doubt be as raunchy as the first five, it sounds like the show may be making a shift in focus from physical to emotional development.
Who stars in Big Mouth Season 6?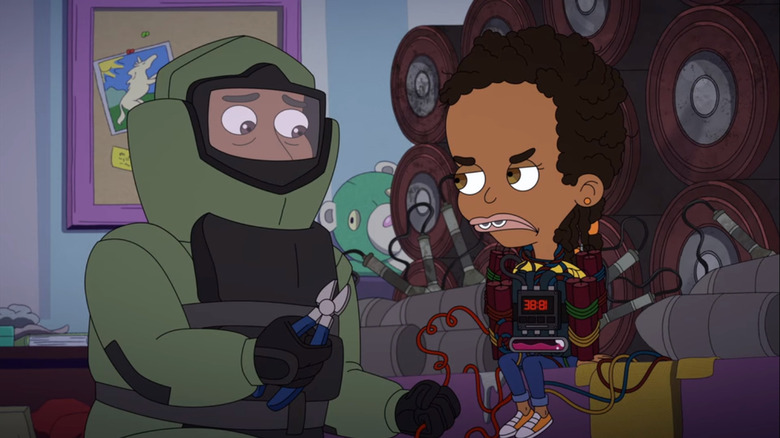 Netflix
The only real cast turnover in the first five seasons of "Big Mouth" came when Jenny Slate yielded to Ayo Edebiri as the voice of Missy near the end of Season 4, believing that a Black actress should voice the character. It's safe to say that the main cast will be returning for Season 6, including Nick Kroll as Nick Birch, two hormone monsters, Coach Steve, and a handful of minor characters. John Mulaney should also be back as Nick's bestie Andrew Glouberman, and Jessi Klein almost definitely will return as Jessi Glaser. Jason Mantzoukas' "Jay" Bilzerian provides many of the most outrageous moments in "Big Mouth," and it's hard to imagine the show without him.
Edebiri should also be back as Missy, continuing in the part she has played since the penultimate episode of Season 4. Maya Rudolph and Jordan Peele voice multiple characters, including Connie the Hormone Monstress and the ghost of Duke Ellington, respectively, and they, too, will most likely be back for Season 6. In previous seasons, "Big Mouth" has featured appearances from Kroll and Mantzoukas' circle of Hollywood and comedic friends, including June Diane Raphael, Paul Scheer, Rob Huebel, David Cross, Carlos Alazraqui, and Julie Klausner; any or all of them could be back in Season 6 as well.
One previous cast member who will not be returning is Jak Knight, who played DeVon and also served as a writer on the show; Knight died by suicide this past July. A post to the show's Twitter feed after his death read in part, "A heartbreaking loss for the Big Mouth family ... An enormous talent. Rest in peace Jak Knight."
If you or anyone you know is having suicidal thoughts, please call the National Suicide Prevention Lifeline by dialing 988 or by calling 1-800-273-TALK (8255)​.
What's the release date of Big Mouth Season 6?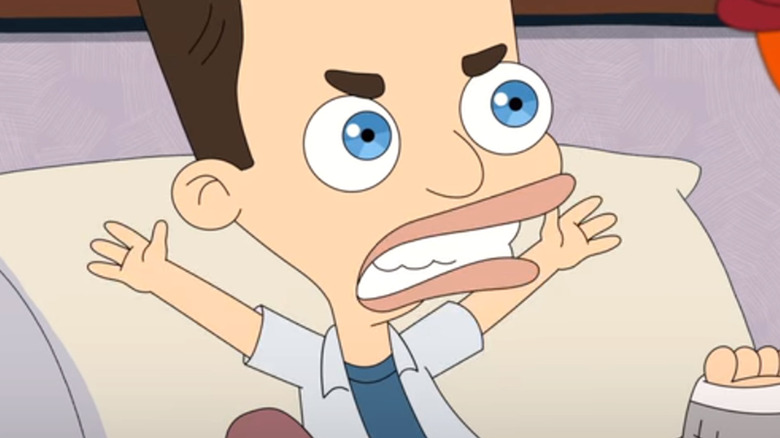 Netflix
Season 6 of "Big Mouth" will be released on Netflix on October 28. Each fall season has brought 10 new episodes; the bonus Valentine's Day Season 3 episode is the only one to fall outside that release schedule. It's safe to assume that Season 6 will also consist of 10 episodes, although that has not yet been confirmed as of this writing. 
The late October release is in keeping with the schedule "Big Mouth" set in its first five seasons. The previous seasons all were released between September 29 (Season 1) and December 4 (Season 4), with last year's batch hitting Netflix on November 5. Netflix has also taken this opportunity to promote Kroll's upcoming comedy special, "Nick Kroll: Little Big Boy," alongside "Big Mouth" Season 6 and has set September 27 as the release date for the one-hour standup special shot in Washington D.C.'s Warner Theater.
Who is directing and producing Big Mouth Season 6?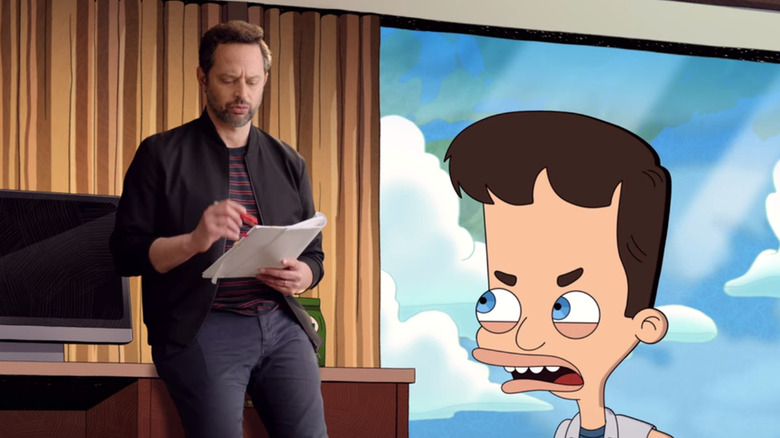 Netflix
"Big Mouth" has relied on a host of producers and directors to usher it through the first five seasons, and it's expected that most if not all of them will be back — particularly since many of them also voice one or more characters on the show. Nick Kroll serves as an executive producer along with co-creators Andrew Goldberg ("Family Guy"), Jennifer Flackett ("Beverly Hills 90210"), Victor Quinaz ("Glow"), and Mark Levin ("The Adam Project"). 
The series has relied on 10 different directors in its 5 seasons, including Bryan Francis ("The Simpsons Movie," "Rick and Morty,"), Andres Salaff ("Lifeline"), Henrique Jardim ("Ben 10",) and Tanner Kling ("This Isn't Working") in Season 5. While no announcements have been made regarding who will helm each episode of "Big Mouth" Season 6, it's likely Kroll, Flackett, Goldberg, Quinaz, and Levin will once again rely on a rotating slate of directors while sharing primary writing duties.
Is there a trailer for Big Mouth Season 6?
While no full trailer has been released yet, Netflix did produce a short teaser showing Maury the Hormone Monster and Connie the Hormone Mistress discussing the pregnancy that was revealed in the season finale of the "Big Mouth" spinoff, "Human Resources." In the teaser, Connie even comments on the crossover, saying, "I guess s*** that happens on 'Human Resources' affects 'Big Mouth' too?" The brief scene doesn't really reveal much about what might happen in Season 6 of "Big Mouth," but it does briefly bring to life Netflix's statement about the show addressing family dynamics more directly in the upcoming season.
The teaser also reflects the show's subtle shift in storytelling emphasis from the kids to the monsters. While the roots of "Big Mouth" still lie in the kids scuffling their way through puberty, moving the perspective to that of the monsters allows for a more adult interpretation of events and emotions. That said, there are still a couple of bodily function jokes thrown in just to remind us what "Big Mouth" is all about.
Where to watch Big Mouth Seasons 1-5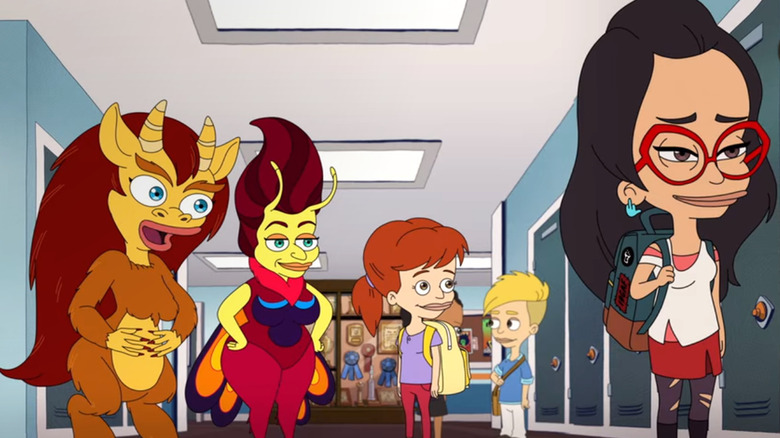 Netflix
"Big Mouth" Seasons 1-5 are available for streaming on Netflix for anyone looking to recap or catch up on the series before the October 28 release of Season 6. Each main season consists of 10 episodes, with the Valentine's Day 2019 special, "My Furry Valentine," pushing Season 3 to 11 chapters. Almost all have a run time of 26-29 minutes, with "My Furry Valentine" breaking the mold at 46 minutes and the Season 5 holiday special, "A Very Big Mouth Christmas," stretching it to 33. 
Nick Kroll told Esquire that being placed on a streaming service instead of a broadcast network has given him and his co-creators room to run. "Netflix has given us a tremendously long leash ... Part of the recipe for our success has been really going for it and not trying to play too safe. We've found the crazier the jokes, the more we're allowed to have bigger emotional moments — and the more [of those] bigger emotional moments, the more we're afforded the ability to make really insane, huge, hard jokes." 
What will Big Mouth Season 6 be rated?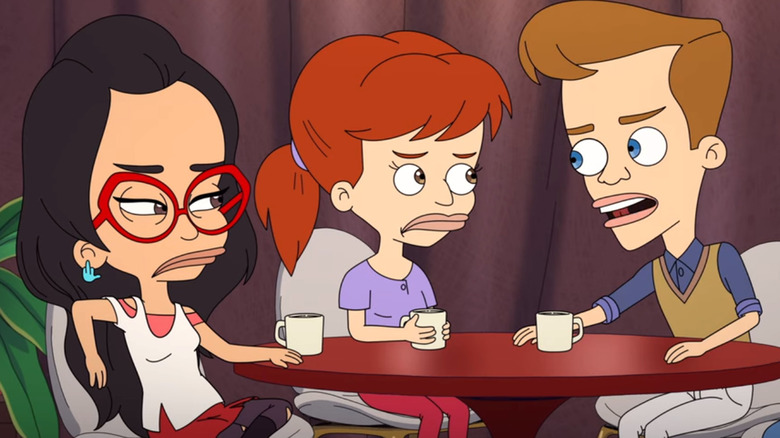 Netflix
While the show is populated almost exclusively by middle schoolers and the figments of their imaginations, "Big Mouth" is definitely not children's entertainment. The previous 51 episodes have been rated TV-MA for sexual content, nudity, frequent profanity, drug and alcohol use, violence, and just about anything that can sully a show's ratings. Despite all of that, the show does provide room for teenaged viewers to entertain the new wild thoughts running through their heads in a safe and amusing way. 
Nick Kroll thinks that once kids reach the age of the characters in the show it becomes appropriate for them to watch. He told Tom Papa and Fortune Feimster, hosts of the "What a Joke" show on Sirius XM, "I know how crazy, dirty, and inappropriate it is, but also, it is broaching a lot of subjects that, if your kid is around middle school or [an] adolescent, they're going through it." His logic is sound; if these are things those kids are already thinking on their own, there is no harm in hearing animated characters voice those thoughts. In fact, it should be of help, even if Netflix's own rating board doesn't necessarily agree.