The Devastating Death Of Jack Ging
Jack Ging, 90, best known to many as General Harlan "Bull" Fulbright on NBC's 1980s classic "The A-Team," died in his residence in La Quinta, California, on September 9, 2022 (via Deadline). Ging's Bull Fulbright was often relentless in his hunting of the A-Team but became a vital ally to the team of fictitious U.S. Special Forces after tracking them down. Although the actor only appeared in six episodes of the memorable series, his TV and film appearances span nearly 40 years, from the late-1950s to the mid-1990s (per IMDb). If you don't recall him from "The A-Team," chances are you may remember the actor from "Mannix," in which he had a long-running recurring role as Lieutenant Dan Ives. One of the performer's most prominent movie roles was as Morgan Allen, a supporting character in Clint Eastwood's "High Plains Drifter."
Born in Alva, Oklahoma, according to the Alva Review-Courier, Ging was inducted into the Oklahoma Movie Hall of Fame in 2021. Some of his other film appearances include "Play Misty for Me," "Where the Red Fern Grows," and "The Disappearance of Flight 412," which was his final, credited feature film role in 1974. Although the prolific actor never experienced career lulls, his final acting credits came nearly 30 years before his death.
Jack Ging lived a private life in his later years, but occasionally reflected on his long career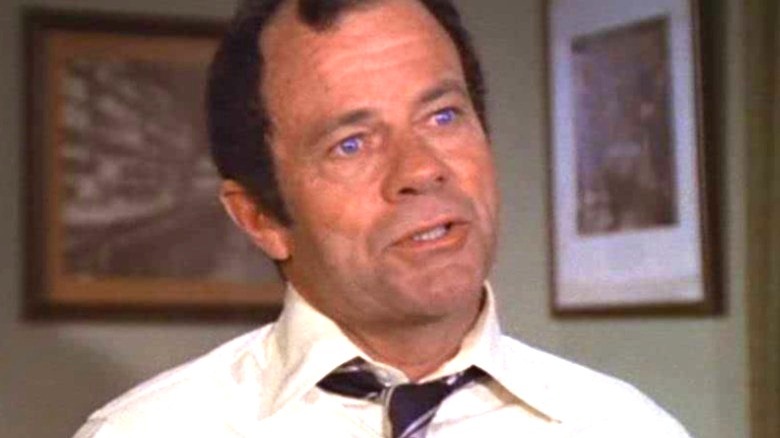 ABC
Jack Ging's character on "The A-Team" was so influential during the '80s, thanks in part to the show's action/adventure themes and Fulbright's death, which is notable as the first in the series late during its fourth season. In a 2013 interview, when asked about his character's famous death scene in "The A-Team," (via CJDone), the actor humorously replied, "You know how hammy actors are. Every actor wants to die, some of them, it takes them fifteen minutes to die [laughs]. I probably milked mine [death scene] a little bit there." Ging's sense of humor about the scene was comically reflective, considering its notability.
Despite a film and television resume stretching into four decades, the actor was also an avid sportsman in his life, which reached its pinnacle at the University of Oklahoma, Norman, in the early 1950s. As a college football defensive halfback, the Los Angeles Times described his sporting prowess as "a ferocious hitter, Ging became a starter at halfback and defensive back as a sophomore, despite being barely 5 feet 10 and 150 pounds." But it was acting that brought him success in his life, which led to his pulling back from the industry roughly 30 years before his death. The actor's cause of death was natural causes, according to his wife, Apache Ging (per The Hollywood Reporter), and he is also survived by five children and many generations of grandchildren.