The Cobra Kai Season 5 Scene That Left Peyton List In Tears For An Unexpected Reason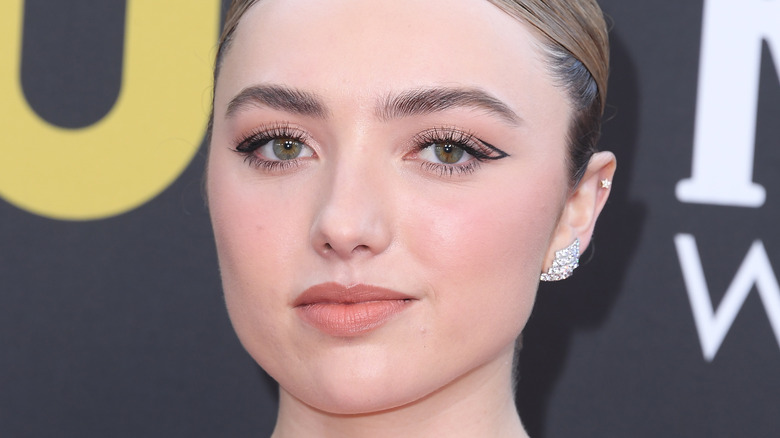 Steve Granitz/Getty Images
"Cobra Kai" debuted its fifth season on September 9, and it seems as if the Netflix show is keeping its winning streak alive. Like previous seasons, the series has enjoyed a stunning response from both fans and critics alike, garnering a 100% on Rotten Tomatoes. The "Karate Kid" sequel show, which started as a YouTube original before moving to Netflix, has continued to up the stakes with each season, and Season 5 is no different. 
This entry centers around Miyagi-Do and Eagle Fang's fight against Terry Silver's (Thomas Ian Griffith) Cobra Kai. With higher stakes obviously comes more aggressive and intense fight scenes, which Season 5 is filled to the brim with for viewers to enjoy. And that amount of intensity can absolutely be hard for both cast members and stunt people to pull off effectively without damaging themselves physically. However, cast member Peyton List — who portrays Tory Nichols — has one particular scene from Season 5 of "Cobra Kai" that left her in tears, and not for a reason fans might think.
The brick scene in Cobra Kai made Peyton List cry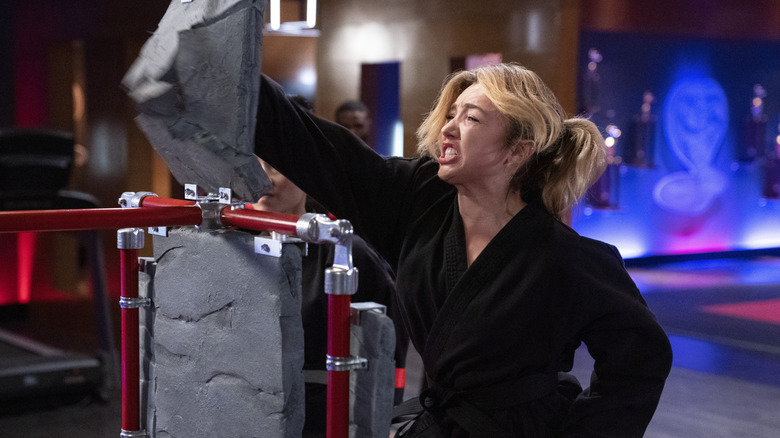 Netflix
Season 5 of "Cobra Kai" featured some very big action set pieces for the show as it inched toward the violent confrontation with the villainous Terry Silver. However, according to an interview with Netflix, series star Peyton List experienced a lot of frustration during a scene that required her to strike at a brick. "There's a scene where Silver (Thomas Ian Griffith) tells me to keep hitting a marble brick," List said. "That was definitely the hardest scene for me to do. I remember crying in the middle of it when they called cut because I just wanted to do justice to the scene."
The scene in question serves as a big moment for List's character Tory Nichols, who is both trying to prove her loyalty to Cobra Kai and deal with the fallout of her budding relationship with Robby Keene (Tanner Buchanan). So it absolutely makes sense that List would take it as seriously as she did and put a lot of emphasis on getting things just right. Arguably, it's this level of attention to character dynamics, along with its nostalgic value and fun fight sequences, that have made "Cobra Kai" such a hit with audiences.