Ant-Man And The Wasp: Quantumania's D23 Trailer Confirms What We Suspected Of Jonathan Majors' Kang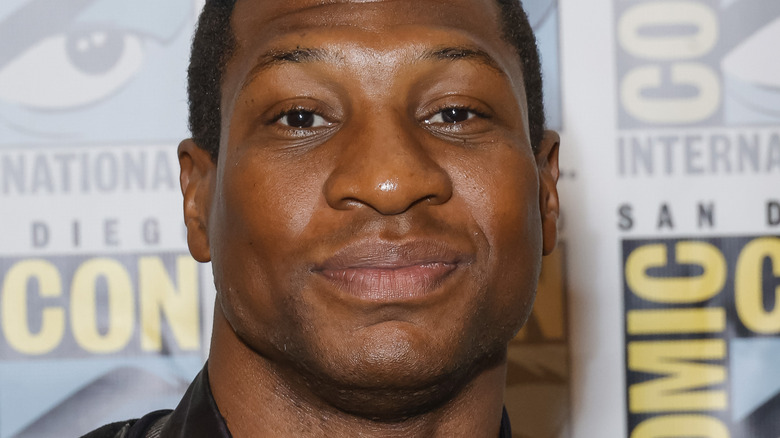 Frazer Harrison/Getty Images
Marvel Studios is gearing up for "Ant-Man and the Wasp: Quantumania" to take over the Marvel Cinematic Universe. At D23 Expo 2022, the studio brought stars Paul Rudd, Evangeline Lilly, and Jonathan Majors on stage to discuss the upcoming sequel and reveal an exclusive trailer to the attendees. 
Rudd described "Quantumania" as crazy and a big departure from the first two films. "This thing is bananas. And it seems like a bit of an oxymoron that something so small — we're the small heroes — could do something so huge," he said. "This is going to be unlike anything you've seen from us." The "Ant-Man" actor credited his costar, Majors, as a big reason for the excitement surrounding the movie. "He's incredible, and it throws this whole thing into such a new territory," Rudd said, pointing at Majors (via The Hollywood Reporter). 
"Quantumania" will be the first film in Phase 5 of the MCU, and Rudd revealed that it's the beginning of the storyline that leads directly into "Avengers: The Kang Dynasty" (via /Film). The trailer shown at D23 Expo only increased the excitement surrounding the movie and cemented Majors as the next big bad of the MCU.
The Quantumania trailer proves Kang is here to wreak havoc on the MCU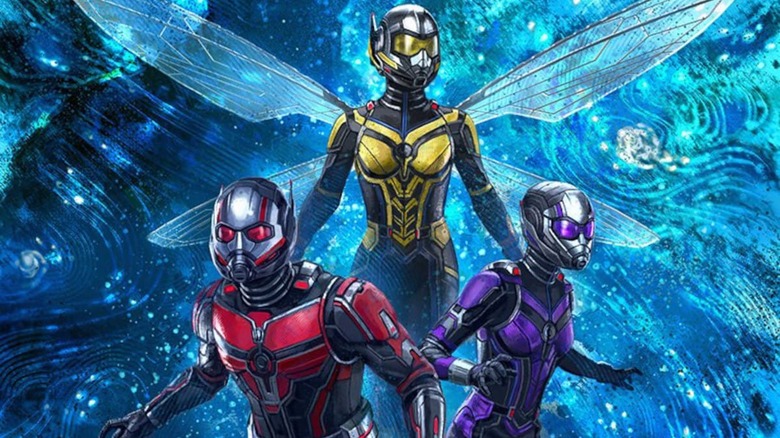 Disney/Marvel Studios
The trailer starts with Scott, Hope, and Cassie Lang — now played by Kathryn Newton — in a car where Hope accidentally reveals that Scott is listening to his own audiobook about his experience with the Avengers in "Endgame." The trailer shows that Scott has left his criminal days behind him and is now a celebrity. Because of his Avenger status, Baskin Robbins names him Employee of the Century, and the trailer includes a shot of him having coffee with Jimmy Woo — confirming Randall Park makes a return in "Quantumania."
After a shot of Scott posting Cassie's bail, the trailer reveals that she studied the Quantum Realm and created a device that sends and receives messages from the other dimension. Before she can turn it off, the entire family, including Janet and Hank, played again by Michelle Pfeiffer and Michael Douglass, is sucked into the Quantum Realm. Fans get a glimpse of Bill Murray's character and just how massive the Quantum Realm is. 
The trailer then cuts to a scene featuring the first reveal of Jonathan Majors as Kang the Conqueror. Scott mentions that he's an Avenger to the villain, who is interested in the statement rather than scared. "I've killed you before," Kang says to a confused Scott, referring to a different version of himself in the multiverse. 
Kang needs Scott's expertise as a thief to take back something that an unknown person stole from him, and he plans to hold Cassie hostage until completed. After Scott refuses, there's a shot of Kang choking Scott and slamming him into a wall (via Collider).
Everyone's ready to see Jonathan Majors as Kang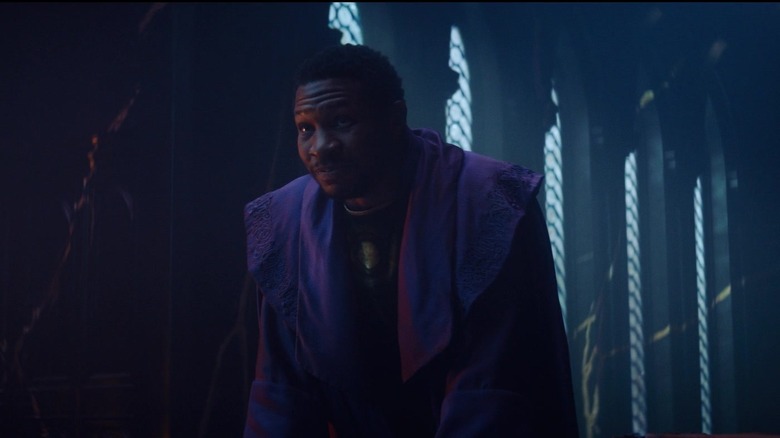 Marvel Studios/Disney+
Jonathan Majors has already received enormous praise for his performance as the MCU's next Thanos-level villain, Kang the Conqueror. 
Although he has only appeared in the "Loki" season finale, his performance as He Who Remains has fans on Reddit already calling Majors the best new addition to the MCU. Redditor u/Jacooby said, "[Majors is] an awesome actor. He brings a weird and volatile energy to Kang. Very mesmerizing." While u/EhhSpoofy said, "I can't wait to see him show off his range playing multiple wildly different Kangs at the same time, really hope they lean into that." Needless to say, fans are more than excited to see more of the character in "Ant-Man and the Wasp: Quantumania" and "Avengers: The Kang Dynasty."
At San Diego Comic-Con, Kevin Feige had nothing but praise for Majors' Kang the Conqueror telling ComicBook.com, "It's amazing, and I said to him there's nobody's shoulders I'd rather be putting the multiverse saga on than his. It's really impressive what Jonathan Majors is able to do and all the different incarnations, variants, if you will, of Kang that we will see him do. It's really pretty cool." The Marvel Studios president also promised that Kang would be a different type of villain than Thanos and to expect different versions of him to pop up throughout future projects.
"Quantumania" director Peyton Reed went so far as to compare Majors to legendary actor Marlon Brando. "It's become a cliché over the decades to compare somebody to a young Marlon Brando, but Jonathan has that," he told The New York Times. "He has just this energy and this presence, and our movie is definitely benefiting from that."