Alita: Battle Angel Director Explains Heroine's Huge Eyes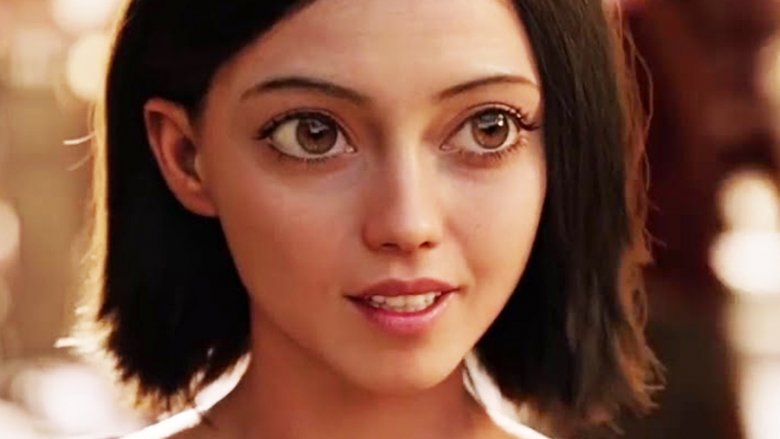 When 20th Century Fox unveiled the first trailer for Alita: Battle Angel, the silver screen adaptation of the Japanese manga Battle Angel Alita, the internet was stunned–for a not-so-great reason. The project, from director Robert Rodriguez and producer James Cameron, brings the beloved source material to life, but some argue that it takes Yukito Kishiro's original vision too literally in giving the titular heroine oversized eyes. This choice has stirred up quite a bit of controversy, with many comparing Alita's design to the shoddy CGI in The Twilight Saga: Breaking Dawn and expressing their outright disdain for it. 
Now, in an interview with Empire, Rodriguez has explained the logic behind Alita's huge eyes, saying that Cameron had planned to give her that look from the get-go. 
"It was always Jim's intention to create a photo-realistic version of the manga eyes that we're so accustomed to seeing. We really wanted to honor that tradition and see that look standing next to any human character," Rodriguez said, noting that it was "really essential" to have the "right person to emote behind" Alita's saucer-sized peepers. (Maze Runner: The Death Cure actress Rosa Salazar portrays Alita in a motion-capture performance.)
Rodriguez then stated that there is a reason why Alita looks the way she does, and that viewers will understand that when they see the film. "Her origins are in the film and you understand why she looks that way. If the eyes are the windows to the soul, we have some pretty big windows," he said before praising how stunning Alita's eyes are. "You can see a lot going on in there! When it gets to the emotional scenes it's really uncanny and striking. And captivating!"
The director also discussed what it was like working with Cameron, who handed Rodriguez the keys to Alita: Battle Angel after he spent years developing it on his own. This decision was spurred by Cameron's attachment to the four upcoming Avatar sequels.
"When Avatar becomes the biggest movie of all time, [Cameron] told me that he's going to spend the rest of his career making Avatar [movies]. So I said, 'What happens to Battle Angel then?' Because, as a fan, I was just interested!" said Rodriguez. "And he said, 'I don't think I'll ever get to do that... if you can figure out the script, you can shoot it!' So I took it home, spent all summer working on it, cut it down to 130, 125 pages, without cutting anything that he missed."
Rodriguez said that Alita: Battle Angel was "a great gift" to have been given, and that he "had a blast" with Cameron. "Anytime I had a question I could just call him or email him and he would send back these hugely detailed answers that were so helpful. He just loves being the producer that he always wants," he noted. 
By the sounds of it, it appears that Alita's massive eyes were an intentional design choice by the filmmaking pair to both give the character an uncanny valley appearance and pay tribute to her origin. Fans can decide for themselves whether they dig it or despise it. 
The forthcoming film stars Christoph Waltz as Dr. Dyson Ido, Jennifer Connelly as Chiren, Mahershala Ali as both Vector and another unspecified character, Ed Skrein as Zapan, Keean Johnson as Hugo, Michelle Rodriguez as Gelda, Lana Condor as Koyomi, Eiza González as Nyssiana, Idara Victor as Nurse Gerhad, Leonard Wu as Kinuba, and Marko Zaror as Ajakutty.
Alita: Battle Angel is due out on July 20, 2018.