Wes Anderson's Favorite Anime Is A Mind-Bending Classic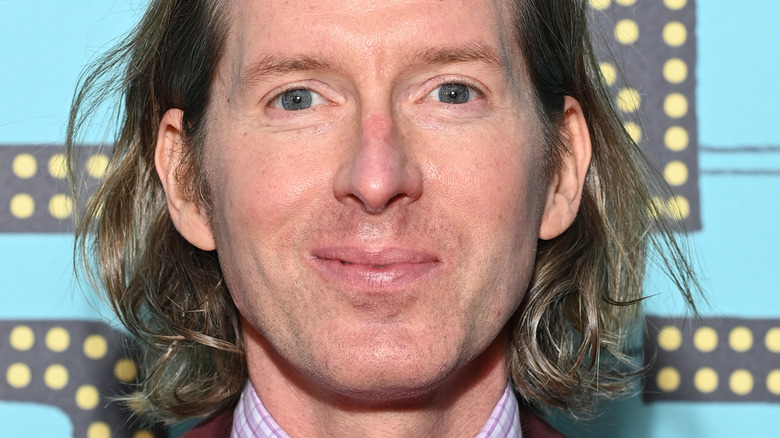 Pascal Le Segretain/Getty Images
Filmmaker Wes Anderson might still be best known for his absurdist, often poignant live-action indie films, including "Rushmore" and "The Grand Budapest Hotel." But he's also directed a few movies made entirely in the medium of stop-motion animation.
The painstaking process, involving miniature figures being photographed movement by movement, is extremely obsessive and time-consuming. But that seems appropriate for Anderson, who famously loves to fill even static shots with staggering detail and production design. In a 2012 video interview for Slate, the director described how much he loves the texture and handcrafted nature of good stop-motion. "There's something sort of magical about it," he gushed.
Anderson has made two stop-motion films, "Fantastic Mr. Fox" and "Isle of Dogs," and has expressed little interest in delving into a more modern medium, like CGI, despite the potential profit in it for him. But he's a fan of other kinds of animation too. In fact, the answer Anderson gave when asked about his favorite anime may surprise you.
Wes Anderson's favorite anime is Neon Genesis Evangelion
Wes Anderson's favorite anime isn't a movie, but a television show, the 1995 cult classic "Neon Genesis Evangelion" created by Hideaki Anno. In a Goop article where directors cited their favorite films, Anderson actually named the series and described watching all 26 episodes quite eagerly. "We watched them all in less than a week because you start to want to believe it's real," he said. "This could spawn something like Scientology.
It might be hard to believe Anderson is such a fan of "Neon Genesis Evangelion," a show where a teenager must battle ancient monsters while using bio-machines called Evangelions. This science fiction plot seems like a far cry from Anderson's interest in 20th-century culture and deadpan, even goofy humor. But the anime's themes of sons estranged from their families, human alienation and loneliness, and personal freedom are all very present in the Texas filmmaker's body of work as well. It's no wonder he connected so deeply with the story.
And while Anderson hasn't really engaged with science fiction in his movies, one of his most recent films, "Isle of Dogs," was a full-scale tribute to Japanese culture and history. Who knows? Maybe "Neon Genesis Evangelion" influenced his work more than anybody even knew.