The Clever Way Cobra Kai Season 5 Solves A Major Fight Scene Issue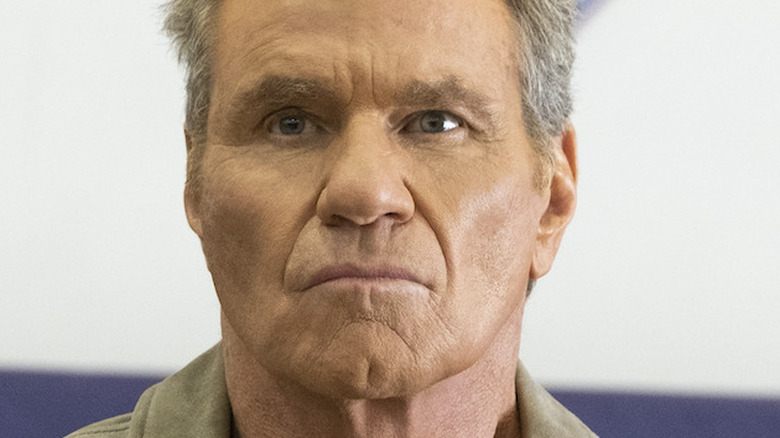 Curtis Bonds Baker/Netflix
This article contains general spoilers for "Cobra Kai" Season 5.
Life isn't always high kicks and crane moves on the set of "Cobra Kai." The show has to balance out its action scenes, high drama, humor, and sensitive character portraits all at the same time. That's quite a difficult thing to do, especially when one realizes how many different storylines the show juggles during a season. It takes a village of camera operators, choreographers, and writers to get an entire season of a single show out, and this series is no exception to that rule. And since the watchword for Season 5 is, according to co-star Martin Kove, "mayhem," organizing everything from behind the curtain can sometimes be quite the problem.
After so many years in business, it's probably not shocking to learn that the show is good at directing its actors through complicated fight choreography. But as with any series sometimes producers and directors have to think of clever ways to get around taping issues. This decision made during Season 5 maximizes the plot's tension while protecting one of the actors from the rougher aspects of filming action scenes.
Kreese's younger version does the fighting in his head ... and on screen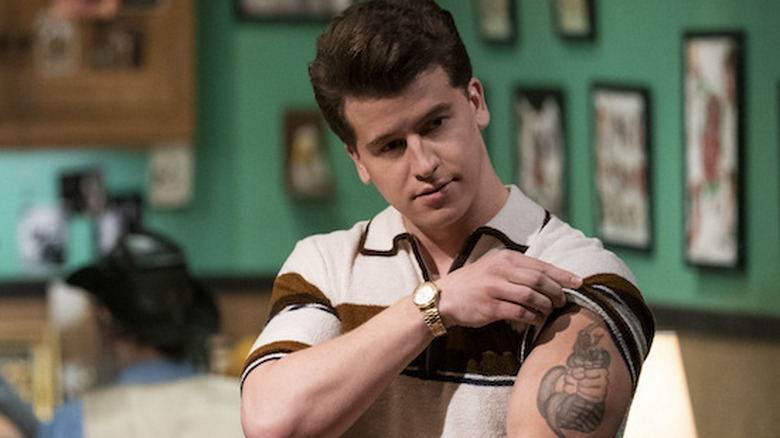 Curtis Bonds Baker/Netflix
John Kreese (Martin Kove) spends almost the entirety of Season 5 of "Cobra Kai" behind bars after the jaw-dropping events of Season 4. He tries to get revenge on Terry Silver (Thomas Ian Griffith) for landing him there in a variety of ways, including enlisting Tory Nichols (Peyton List) to spy on Silver. But ultimately, Kreese manages to make his own mini-miracle; fighting a fellow inmate, he's seemingly stabbed in the stomach and then taken to the infirmary. While the nefarious Kreese appears to be dead, it's soon revealed that Kreese daubed himself with Jell-O to make it look like he was stabbed. He takes out the doctor and guards, dons the doctor's suit and lab coat as a disguise, and uses his therapist's security pass to break out.
During the fight in his cell, viewers will note that Kreese only lands the final blows in the present day, unlike in the infirmary fight that follows. Instead, Kreese imagines himself as his younger version (Barrett Carnahan), who is shown on-screen doing almost all of the fighting. Since the majority of Kreese's arc this season involves him taking therapy with earnest shrink Emily Folsom (Tracey Bonner), who has an eye toward redeeming him, this is brilliantly foreshadowed. This is quite the clever way to weave the show's themes about past and present colliding and make Kreese look like an ice-cold tough guy all in one. It also protects Kove, who is 75 years old as of press time, from potential injury, and eliminates the need for stuntmen who may obviously look nothing like the actor.
No matter which way you slice it, it's a great way to explore Kreese's inner workings and how he sees himself across.