What Happened To Rati Gupta After The Big Bang Theory Ended?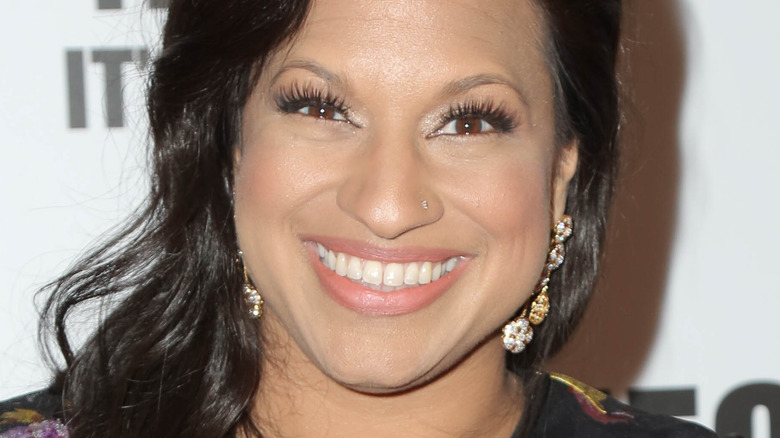 Kathy Hutchins/Shutterstock
Of the quartet of awkward geniuses on CBS's "The Big Bang Theory," Dr. Rajesh "Raj" Koothrappali (Kunal Nayyar) is the most unlucky in romantic relationships. The rest of the characters are married by the series' end, but unfortunately, Raj is left without a significant other.
Though the astrophysicist has romantic encounters throughout the show, several of them are casual meetups and rarely do any lead to long-lasting relationships. After all his friends get married, including Sheldon and Amy (Jim Parsons and Mayim Bialik), Raj becomes exasperated with being alone, so in Season 12, he asks his father to arrange a marriage for him. That woman turns out to be Anu, a hotel concierge played by Rati Gupta. The relationship begins with an engagement, but the two soon decide to start dating instead after they realize they are still strangers to one another.
In the Season 12 episode "The Maternal Conclusion," Anu is offered a management position while at a convention in London and decides to stay, putting their relationship in jeopardy. Raj, believing that she is his last chance at happiness, becomes hellbent on traveling to London to propose. Thankfully, Howard (Simon Helberg) manages to dissuade him from boarding the plane, pointing out that he and Anu have little in common.
Since the episode led into the two-part series finale, Anu was never seen on the show again. So what happened to the actor who played Raj's last belle?
Rati Gupta has many talents
While appearing as Anu in "The Big Bang Theory," Rati Gupta was simultaneously appearing as Rake in the Hulu sci-fi series "Future Man" alongside Josh Hutcherson. The 2017–2020 series follows a janitor (Hutcherson) who is recruited by two time-traveling individuals to help save the world.
After "The Big Bang Theory" ended, Gupta appeared in a single episode of the Netflix limited series "Unbelievable." Starring Toni Collette, the series is based on a Pulitzer Prize-winning article titled "An Unbelievable Story of Rape," about a teenager named Marie who was charged with lying about being sexually assaulted.
However, in 2020, Gupta took her talents even further when she co-created "Heart Baby Eggplant," a YouTube comedy series following the lives of three friends navigating romance during a time when the Internet is most prevalent. Gupta also stars in, writes, and executive produces the show, Season 1 of which is currently available to watch on YouTube.
If you or anyone you know has been a victim of sexual assault, help is available. Visit the Rape, Abuse & Incest National Network website or contact RAINN's National Helpline at 1-800-656-HOPE (4673).