National Treasure: Edge Of History Has Its Disney+ Premiere Date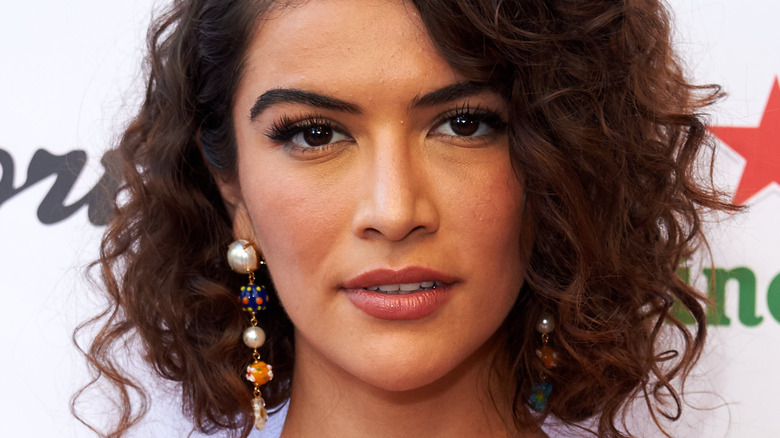 Unique Nicole/Getty Images
Disney introduced moviegoers to a brand new action-adventure story in 2004 known as "National Treasure." Starring the one and only Nicolas Cage as Benjamin Gates, the film sees him join with a few trusted allies in hopes of uncovering a hidden treasure cache stowed away centuries prior during the American Revolution. Along the way, rival treasure hunters and the FBI — seeing as he famously steals the Declaration of Independence to access a clue hidden within it — attempt to stop him, making Gates' search all the more difficult and dangerous yet highly entertaining.
In the years since its release, "National Treasure" has become a fan favorite, even earning itself a 2007 sequel titled "National Treasure: Book of Secrets." However, beyond this direct continuation, the franchise has sat dormant for years, but that's about to change in a big way. A sequel series, known as "National Treasure: Edge of History," is on its way to the Disney+ streaming service, with Justin Bartha set to reprise his role of Riley Poole from the two films alongside newcomers such as Lisette Olivera and Lydon Smith, who will play Jess Valenzuela and FBI Agent Ross, respectively.
Since the show first came to light in 2020, "National Treasure" fans have wondered when they could check it out. At long last, it has a release date.
Edge of History will arrive in December of 2022
Thankfully for those eager to check out "National Treasure: Edge of History" as soon as possible, you don't have much longer to wait. As revealed by Disney+ on September 9, 2022, the program will kick off its first season on December 14, 2022, with a two-episode premiere (via TV Line). From that point on, new installments will drop weekly, with 10 total comprising Season 1, according to IMDb. We also got a new poster for the series of Lisette Olivera's Jess Valenzuela that one can't help but feel takes heavy inspiration from the poster for the original "National Treasure" film that put Nicolas Cage's Ben Gates front and center.
Speaking of Olivera and Cage, the former spoke to Entertainment Weekly about taking the baton from the "Unbearable Weight of Massive Talent" actor as the new face of the "National Treasure" franchise. "It's a scary thought to have to follow someone's performance like Nic Cage. It was daunting, but I kept trying to reframe and focus as if it was just a challenge," Olivera said, explaining that she had to remind herself that much of the crew around her wasn't new to the "National Treasure" world. They helped her immensely and guided her, especially when her self-doubt was at its highest.
It's been a long time since Disney threw "National Treasure" fans a bone, and one can only hope that "National Treasure: Edge of History" proves worth the 15-year wait when it makes its Disney+ debut this December.