House Of The Dragon Episode 4 Offers An Intriguing Clue About The Most Enduring Game Of Thrones Mystery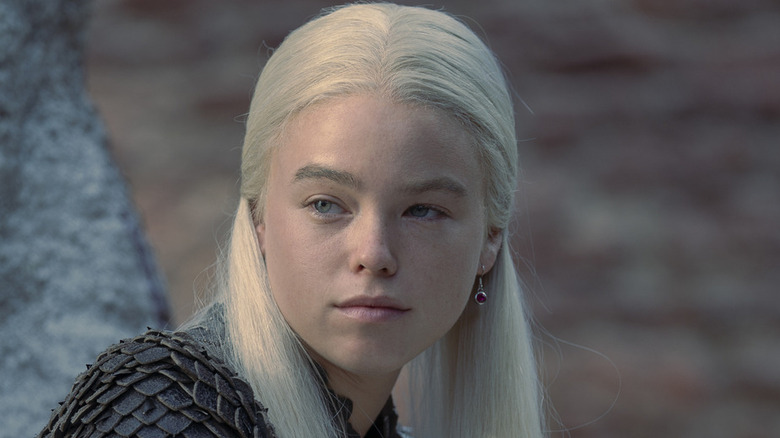 Ollie Upton/HBO
In the wake of its series finale in May of 2019, HBO's legendary fantasy series "Game of Thrones" left a lot of unanswered questions for fans. Why didn't Jon Snow kill the Night King, and what was that villain's whole deal anyway? Why in the world would Bran become king? Why was that final season so, so bad?!
However, one of the many lingering questions fans had after "Game of Thrones" was regarding one of the show's many prophecies, which were presented throughout the season only to be dropped like scorching dragon eggs by the finale. Among those prophecies, one of the most debated and litigated was the one concerning the "Prince that was Promised," also known as the reincarnation of legendary warrior Azor Ahai. "Game of Thrones," through the Red Priestess Melisandre (Carice van Houten), spends a fair amount of time bringing up the mysterious figure, and there are any number of possible candidates for the role, including Jon Snow (Kit Harington) and his presumed half-sister but actual cousin Arya Stark (Maisie Williams). We never get an answer, though; when the series ends, so does speculation about this Prince who was Promised.
Now, "House of the Dragon" might have an answer... kind of. Here's how "House of the Dragon" might be trying to solve one of the most enduring mysteries to come out of "Game of Thrones."
Viserys and Rhaenyra mention this particular prophecy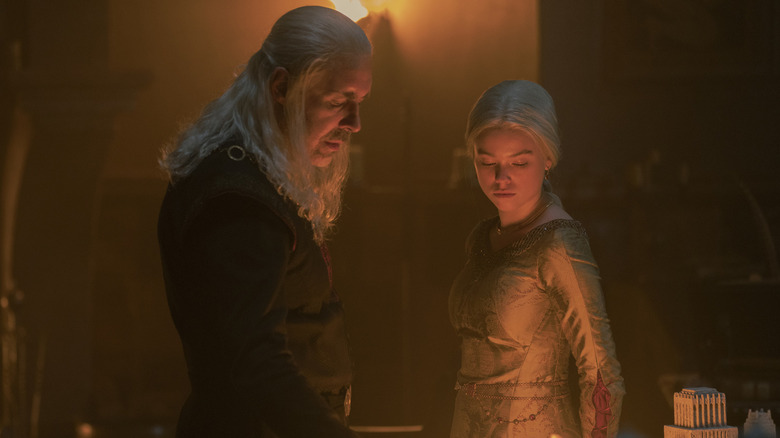 Ollie Upton/HBO
In the show's first episode, when King Viserys I (Paddy Considine) decides to name his eldest child and only daughter Rhaenyra (Milly Alcock) as his official heir, he tells her that Aegon the Conqueror predicted a long winter that only Targaryens could fight — which he referred to as the "Song of Ice and Fire." Then, in Episode 4, Viserys shows Rhaenyra a dagger resting in the fire with words inlaid upon it that also refer to the "Prince that was Promised," saying that his will be the aforementioned song. What this all means — and how it relates to "Game of Thrones" — is definitely up for debate.
As fans of the original books know, the word for "prince" in High Valyrian — the language in which the prophecy is written on that very dagger — is gender-neutral, meaning the term could refer to a man or a woman. With that in mind, could Arya, who slays the legendary Night King at the end of "Game of Thrones," be this foretold prince? However, this dagger seems to specify that the prince or princess will be descended from Aegon the Conqueror; Arya isn't, but Jon is. To further complicate matters, the dagger looks suspiciously like the very Valyrian steel dagger Arya uses to kill the Night King.
Fans will likely never stop debating the identity and mere existence of the "prince or princess that was promised," and "House of the Dragon," at this point, is merely stoking the flames. 
Will House of the Dragon leave us hanging?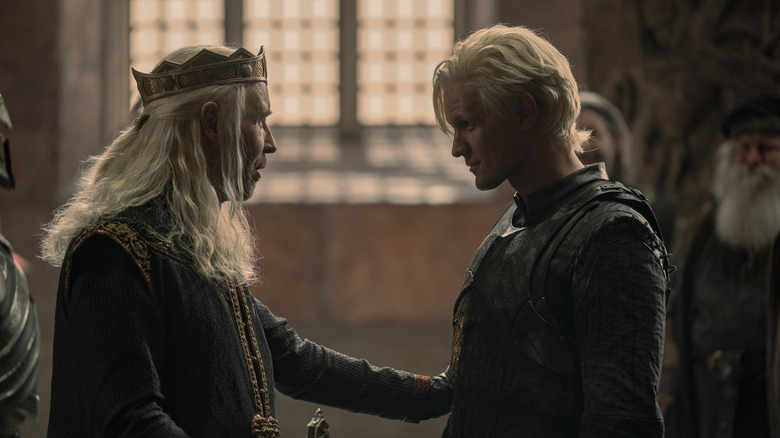 Ollie Upton/HBO
When "Game of Thrones" premiered in 2011, it quickly became the most talked-about show on the air, drawing huge crowds and becoming one of the last instances of "appointment TV" during an era increasingly populated with streaming hits. As its run continued year after year, the show only gained traction, picking up major accolades — including a whopping 59 Emmy Awards — and gaining fans right and left. Then, in the spring of 2019, the finale aired... and chatter largely ceased, as one of the world's biggest shows lost its cultural capital seemingly overnight thanks to its widely maligned finale.
We can go over what exactly went wrong with "Game of Thrones," from dropped plot points (it sure didn't matter that Jon Snow was a Targaryen after all, huh?) to ruined character arcs (see: Jaime Lannister) until we're all collectively blue in the face, but there's no denying that the series somehow ended with both a whimper and a bang. "House of the Dragon," a big bet for HBO after the outcry over the finale and final season of "Thrones," has paid off so far and has even been renewed for a second season... and it does have a major advantage over its predecessor in that its source material has an endpoint clearly marked. Original showrunners David Benioff and D.B. Weiss had to move past George R.R. Martin's source material to wrap up the show (so that they could move on to a "Star Wars" project that was ultimately scrapped), whereas Martin has already written all of "Fire and Blood," the source material for "House of the Dragon."
Hopefully, "House of the Dragon" won't leave us hanging like the original did, but truly, only time will tell. The spin-off and prequel series airs on Sunday nights at 9 PM on both HBO and HBO Max.