Here's When You Can Stream Minions: The Rise Of Gru At Home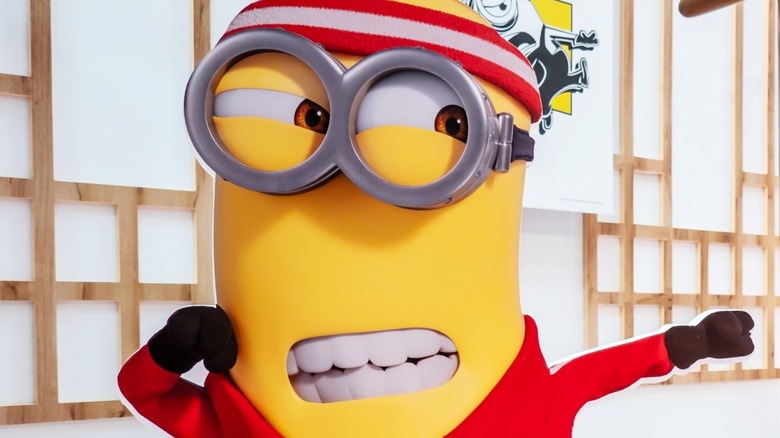 chingyunsong/Shutterstock
Get your suits ready: "The Minions" are finally coming home. Audiences showed up in droves earlier this summer to bear witness to "The Rise of Gru," the second film in the "Minions" franchise and the fifth entry in the larger "Despicable Me" universe. Originally set to release in 2020, the film was delayed due to the COVID-19 pandemic. The sequel to monster-hit "Minions" was finally released earlier this year and followed the titular characters joining forces with a young Gru (voiced by Steve Carrell) in the '70s, paving the way for his future nefarious plans.
"The Rise of Gru" was released to positive reviews from fans who gave the film a solid 89% audience score on Rotten Tomatoes. As expected, the film went on to produce a solid chunk of change for Universal Pictures, bringing in over $125 million domestically during its debut July 4 weekend (via The Hollywood Reporter). The film solidified that audiences, particularly families, were ready to return to theaters after the pandemic crippled the theater industry. But the most fascinating phenomenon came from the #GentleMinions trend, which saw viewers, particularly teenage boys, dress up in formalwear for their showtimes.
"The Rise of Gru" turned into a perfect storm of success, which is why it's no surprise that the film has earned just shy of $900 million worldwide (via Box Office Mojo). Thankfully for fans, the film's streaming release has recently been confirmed.
The Minions sequel begins streaming this month on Peacock
Peacock, NBCUniversal's streaming site, has confirmed that "Minions: The Rise of Gru" will begin streaming on the platform on September 23. The sequel will begin streaming alongside 2015's "Minions." The smash-hit sequel will begin streaming less than three months after its cinematic debut on July 1. Those who don't want to wait until the end of September to see the latest Minions escapades can digitally purchase the film.
The "Minions: The Rise of Gru" streaming date comes at a time when the film's box office and theater count continues to decrease. As of this writing, the "Despicable Me" spin-off is currently playing in 2,457 domestic theaters (via The Numbers). This number will likely continue to decrease as prospective "Minions" viewers flock to premium video-on-demand to purchase the film. Once the film is available to freely stream on Peacock, it's safe to imagine that the sequel will wrap up its theatrical run.
Those who want to stream the "Despicable Me" trilogy will be disappointed to know that the box-office hits aren't available on Peacock. The first two films in the franchise are currently streaming on Netflix. "Despicable Me 3" is available for rent. While the entire "Despicable Me" franchise won't be available on Peacock altogether, "The Minions" films can be viewed alongside "Jurassic World Dominion," Universal's other summer juggernaut (via Box Office Mojo).