Luke Evans Just Gave Beauty And The Beast Fans The Prequel Update They Needed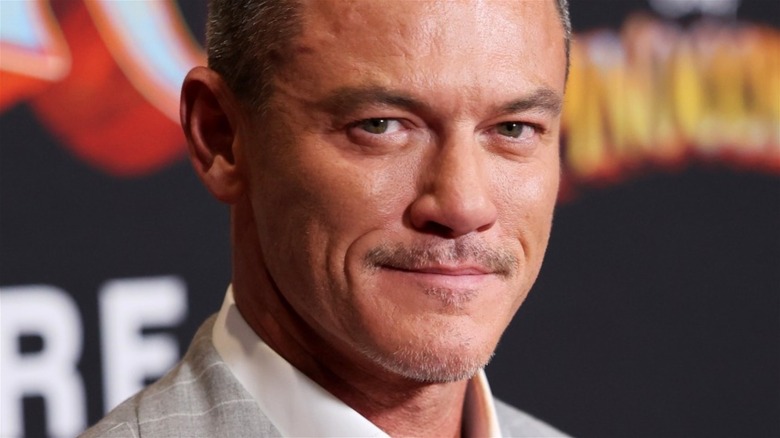 Jesse Grant/Getty
Actor and recording artist Luke Evans is steadily becoming a Hollywood fixture as he appears in an increasing number of big budget blockbusters. Most recently, for example, Luke Evans was The Coachman in the live-action "Pinocchio" that Disney released directly to streaming service Disney+. His filmography also includes appearances in "The Three Musketeers" from 2011, two "Fast" films, two "Hobbit" movies, and a starring role on the Hulu drama "Nine Perfect Strangers." At one point Evans was even slated for the titular role in a reboot of "The Crow."
Also among Evans' notable work is his portrayal of the villainous Gaston in the 2017 live-action remake of "Beauty and the Beast." As it turns out, "Beauty and the Beast" will not be the only project in which Evans plays this character — Disney is currently in the process of producing a "Beauty and the Beast" prequel series starring Evans as Gaston and Josh Gad as his sidekick LeFou, also reprising his role from its feature film predecessor.
Disney first announced this "Beauty and the Beast" prequel series in December of 2020. Then, in February of 2022, news began to circulate that the project was delayed indefinitely (via Variety). While this may have been disheartening news for those that were anticipating the show's release, Evans shared some insight into its development in a recent interview that should put fans at least somewhat at ease.
The Beauty and the Beast prequel series is still on the way
Entertainment Weekly published an interview with Luke Evans in conjunction with the premiere of "Pinocchio" to Disney+, during which EW asked Evans about the status of the delayed "Beauty and the Beast" prequel series.
"It's been put on hold. We just wanna make sure that it is absolutely the best it can be, and if that means we just have to wait a little longer to finesse certain pieces of it, then that's what we're going to do because this is a very important legacy," Evans said. "We want to honor these characters with the best story we can possibly deliver. It's just on hold. It is gonna happen. We're very excited about it. At some point in the near future, it will happen."
Evans likewise discussed how the show's conception arose out of his real-life friendship with Gad, which he also brought up in a 2020 interview with Variety that touched on the prequel project. "It's going to be a joy to work with Josh again," he said at the time. "Me and Josh have chemistry."
From the sound of it, then, it's important to Evans that the "Beauty and the Beast" prequel is a quality product. While it may take more time to produce than initially anticipated, fans can rest assured that, for the time being at least, it's still actively in the works.