Cobra Kai Star Peyton List Has The Same Burning Question As The Rest Of Us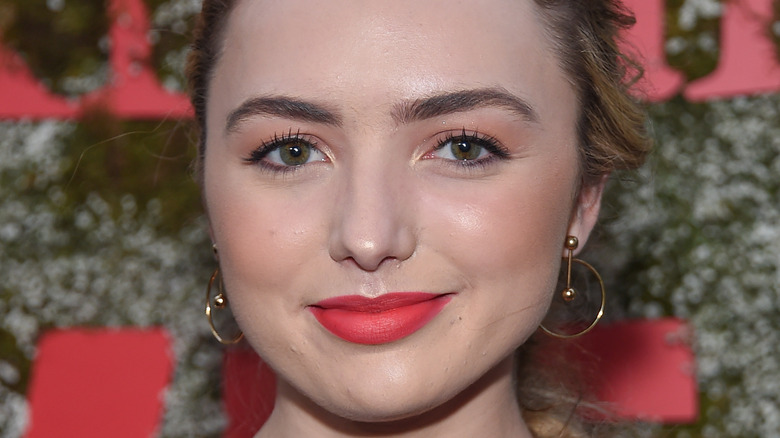 DFree/Shutterstock
When the original "Karate Kid" came out in 1984, few probably realized how successful the movie would prove to be. Phrases from the film have become quotable references that pop up in all sorts of places, and who hasn't heard "wax on, wax off" or "sweep the leg, no mercy" in some form? According to TV Tropes, the first "Karate Kid" spawned three direct sequels, premiering in 1986, 1989, and 1994. Ten years is a lot of time to pass within a franchise, and fans see the characters age in real-time.
"Cobra Kai" is the latest spin-off in the "Karate Kid" franchise, and the show has managed to bring back a bunch of characters from the movies, which is fairly impressive considering the amount of time that has passed. The first season of "Cobra Kai" unleashed a middle-aged Johnny Lawrence (William Zabka) and Daniel LaRusso (Ralph Macchio) upon the world in 2018, and since then, the show has grown in popularity and cast members. Naturally, when you have a series based on a movie that started off with opposing schools of martial arts, it would make sense for rival dojos to exist, and what good would a dojo be without students? Now entering its fifth season, Peyton List, who plays Tory Nichols, has addressed an issue that involves the passage of time and how the show might address it in the future.
Peyton isn't sure how the story will progress because the cast is getting older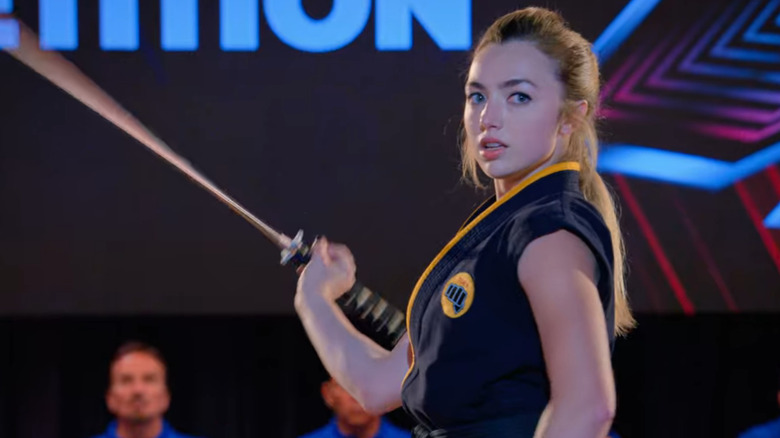 Netflix
Peyton List's character of Tory has had a rough life, and has learned some tough lessons. This has made her easy to manipulate, and she often lets her anger get the best of her, but that response is born from a life that definitely has favored a survival of the fittest mentality. As a high school student, she gets involved with relationship drama and is quick to lash out. The ending of Season 4 of "Cobra Kai" sees Tory win the girl division of the All Valley Tournament, but it is revealed that there is behind-the-scenes corruption involving her karate master and a referee that led to her victory. This causes a serious crisis of faith within Tory, and Season 5 probably won't waste any time exploring her emotions. As mentioned earlier, the show and the films that inspired it have been around for quite some time, and many of the young students aren't looking so young these days.
Speaking with Variety, Peyton wondered how much longer the show will go on and said, "When we first started, Xolo was still in high school and a couple of the other kids were still in high school, but now all of us are basically out of college. That's one that I'm really curious about. With the writers, I'm like, 'What grade are we in now? What semester are we in?' We're just taking it season by season, but we all look so drastically different each season. I have no idea. I don't know what they're gonna do. I would say by next season, we graduate, but I don't know if they would take it past that."
The Karate Kid star and a series co-showrunner hope there are at least six seasons, if not more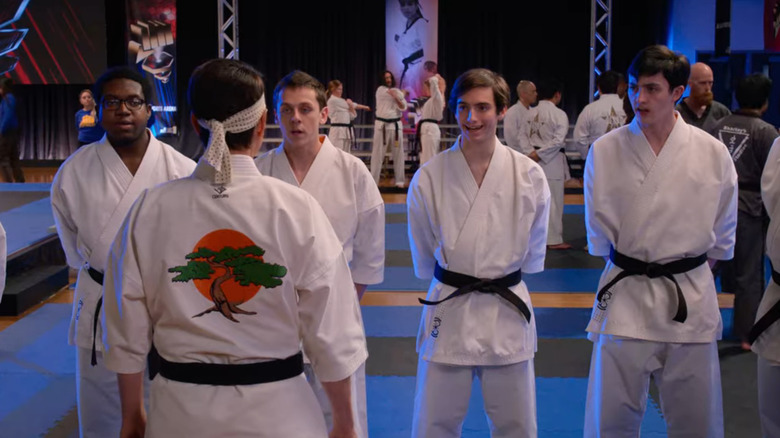 Netflix
However, despite Peyton List's apprehension about the future of "Cobra Kai," it seems as if both Ralph Macchio and co-showrunner Jon Hurwitz have alluded that there is much more story to be told, and that the martial arts adventures are far from over. In July 2022, Hurwitz took to social media to explain potential future seasons of "Cobra Kai" and tweeted, "We were misquoted in saying there would be 6 seasons. We've often said that we hoped there would be at least 6 seasons. But we'll see." In an interview with Comic Book, Macchio also teased at least another season by saying, "There's stuff that they wrote in Season 3 that didn't happen until Season 4 because there wasn't any more room in Season 3. There's stuff that was in Season 5 that we know we shot that is being held for the future if we get that green light, so there's more to come, we hope."
Although the original cast of students is definitely getting older, there could always be a new crop of students, and the first-generation students could become the next teachers with Johnny Lawrence and Daniel LaRusso. Still, at this point, it sounds like both Hurwitz and Macchio would like the story to continue and that the show is just waiting for a season renewal from Netflix. Considering Season 5 just came out, it may take a little bit of time before we receive confirmation. At least we can still speculate what the future cast may look like in the meantime, and hopefully that the story of "Cobra Kai" will continue.