Seth MacFarlane's Unexpected Regret When It Comes To Family Guy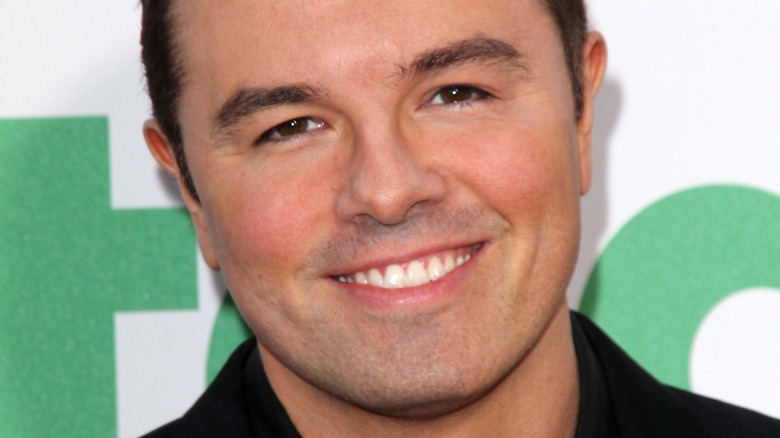 s_bukley/Shutterstock
"Family Guy" creator Seth MacFarlane has a wonderful way with words. His undeniable vocal talents enable him to create joyous animation that brings laughter and jubilation into so many homes around the world as a form of much-needed escapism. Season 19 doesn't rest on its laurels either, and it continues the show's successful tradition by reaching an average of over 1.3 million viewers, according to TV Series Finale.
And the show doesn't steer away from taboo topics, even though there have been times the "Family Guy" characters have gone too far. Fans of the Griffin family can watch Peter, Lois, Stewie, Brian, Chris and, yes, even Meg, go through the wringer, and MacFarlane tackles countless controversial themes. For instance, Meg turns to the safe sex practice of having intercourse in her ear during the Season 5 episode, "Prick Up Your Ears." Meanwhile, Stewie continuously attempts to off his own mother during the show's run. Regret goes with the territory in the Griffin household, and it's never more evident than in the outlandish shenanigans the family goes through in the 30 best episodes of the show.
Amid the fame and occasional controversies, MacFarlane began his incredible journey when he was only a nine-year-old kid living in Kent, Connecticut. There he drew a comic strip for his town's newspaper, according to an interview with ABC News. From the outside looking in, MacFarlane shouldn't have any complaints about his life and career. So, what is Seth MacFarlane's unexpected regret when it comes to "Family Guy?"
MacFarlane regrets Family Guy remaining at FOX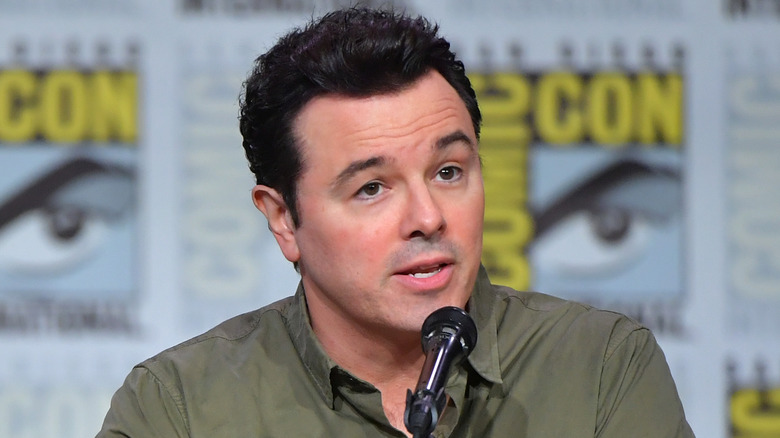 Amy Sussman/Getty Images
Seth MacFarlane is so disappointed in the Fox News division that he regrets "Family Guy" staying on the air at FOX. MacFarlane works for the entertainment division of FOX, and Tucker Carlson is an employee for Fox News, but Seth doesn't have anything good to say about his colleague. "Tucker Carlson's latest opinion piece once again makes me wish Family Guy was on any other network," MacFarlane tweeted. "Look, Fox, we both know this marriage isn't working anymore. The sex is only once a year, I don't get along with your mother, and well... I've been having an affair with NBC."
Seth's animosity stemmed from "outlandish statements" Carlson made about whether preventative measures like vaccines and wearing masks work against COVID-19, according to the Hollywood Reporter. MacFarlane and Carlson's conflicting viewpoints are a real point of contention for the "Family Guy" creator, and their differences in opinion negatively impacts Seth's working relationship with FOX.
"It's an incredibly complicated relationship that I have with that company," MacFarlane explained in an interview with Deadline. "There are people there with whom I have great personal relationships. There are people that I like a lot. But it is a different company than it was when I started. It's very difficult for me to reconcile exactly what my relationship is with that company right now."