Lara Croft Is Ready For Battle In New Tomb Raider Poster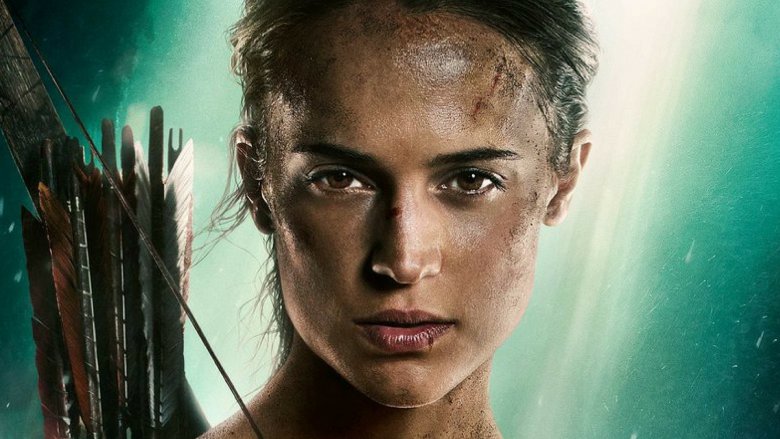 Warner Bros./Metro-Goldwyn-Mayer
Alicia Vikander's Lara Croft is staring you down in the newest poster for the upcoming Tomb Raider reboot from Warner Bros. and Metro-Goldwyn-Mayer Pictures. The movie will feature the Danish Girl Oscar winner taking over for Angelina Jolie in the role of the video game heroine, who will journey from ordinary bike messenger to tomb raider as she goes on an adventure to find her missing father (Dominic West). 
Although specific plot details for the film are being kept under wraps, director Roar Uthaug has said that the movie will be an origin story showing the "complete journey" of Lara from inexperienced hero to tomb raider. Making the movie an origin story, he says, will help to set the new film apart from Jolie's portrayal of the character.
"I've seen the [Jolie] films–they were a lot of fun and Angelina Jolie was a terrific Lara Croft," he said. "We are [making] a very different film, an origin story, and I think fans will love Alicia in the role... As an origin story, this movie will introduce Lara as a young woman who hasn't yet found her way and her place in the world; a young woman with great spirit and potential. We follow her struggles and her journey toward becoming the person she was meant to be and earning the role of Tomb Raider."
The movie will be inspired by the 2013 reboot of the video game, and Uthaug said that there will be many "touchstones" from the game throughout the movie. There will also be elements of the 2015 sequel Rise of the Tomb Raider. However, the film will shy away from the heavy CGI and special effects of other recent video game adaptations, instead taking a "more realistic, grounded approach." "Lara Croft is a hero and a champion but she is not a superhero," said Uthaug. "She is very much human, and we see her deal with that humanity in many ways."
Although the movie will take time to delve deeper into Lara's character, it won't shy away from action either, as evidenced in the poster, which features Lara with a bow and arrow, looking ready for battle. Uthaug promised that the character will be "pushed to her physical and emotional limits" in the film and has said that his goal is to put the audience "right in the middle of the action."
Walton Goggins, Daniel Wu, Nick Frost, Hannah John-Kamen, Kristin Scott Thomas, Antonio Aakeel, and Emily Carey also star in Tomb Raider. The movie, which is based on a script from Geneva Robertson-Dworet and Alastair Siddons, has a March 16, 2018 release date.
On March 16, the adventure begins. Alicia Vikander is Lara Croft in #TombRaider. pic.twitter.com/wkypUgtvwD

— Tomb Raider (@TombRaiderMovie) December 10, 2017