How SNL's Kate McKinnon Really Felt About Breaking Character During Sketches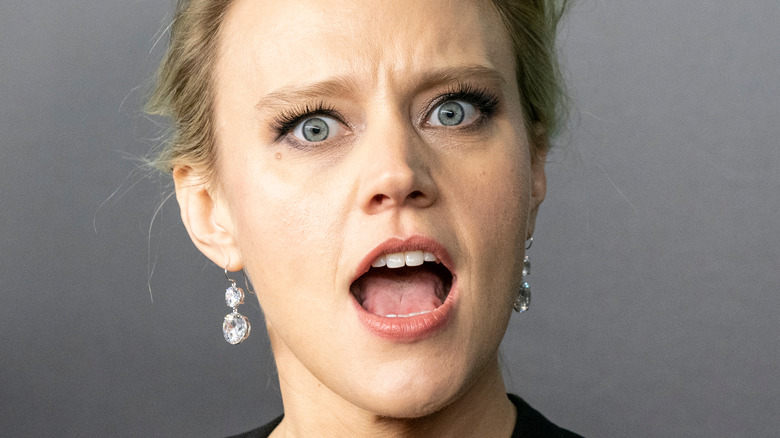 Lev Radin/Shutterstock
During her time on "Saturday Night Live," Kate McKinnon became a chameleon-like linchpin for the program. She was tapped to portray many actual people (including Rudy Giuliani, Ellen DeGeneres, Hillary Clinton, and Ruth Bader Ginsburg) and a series of hilarious original characters, like her alien abduction victim Colleen Rafferty. During McKinnon's 10-year run on the show, she clocked a ton of on-screen time and put in regular appearances in recurring sketches such as "Weekend Update." Naturally, due to the show's mostly-live nature, not every sketch in every episode ran smoothly. When cast members are surrounded by a group of comics who delight in making those around them chortle, everyone is bound to break up at least once on camera. 
Interestingly, McKinnon has a strong opinion about breaking character in the middle of a sketch — and her strong words on the topic make it clear how she feels about her inability to hold in her laughter.
Cracking up caused the actress to feel shame
McKinnon admitted on an August 2022 edition of Vulture's "Good One" podcast (as reported by Variety) that breaking character during a taping was no laughing matter for her. "I felt ashamed because we're not supposed to, and there's something unprofessional about it," she said. Specifically, the actor was referring to her "Close Encounters" sketch (a series we think included some of McKinnon's most memorable "Saturday Night Live" moments), which focuses on a support group for those who claim to have had extraterrestrial encounters. The improvisational nature of said sketches tended to make everyone involved crack up. Even celebrity guests like Ryan Gosling surrendered to giggles during the skits.
Even though the reaction was involuntary and "SNL" has a long history of hosting comics who lose themselves to giggle fits, McKinnon considered resisting letting herself laugh a point of pride. The actress also admitted this loss of control could have an element of merriness. "And yet sometimes it was just too fun," she said on "Good One." There was a hint, I guess, of wanting the audience to know like, 'Oh, man, I love this. You have no idea how much I love Aidy Bryant and how much I love this job and how much I love these jokes.' So sometimes I would allow myself to just go there."
Plenty of other actors have gotten the giggles on SNL
Cracking up in the middle of "Saturday Night Live" sketches is a fine tradition that goes back decades — much to the occasional annoyance and shame of the comics involved. Current talk show host and former "SNL" cast member Jimmy Fallon was notorious for losing control during sketches, and his lapses of control still result in angry threads on the show's subreddit.
Some of the show's most memorable moments involve an actor getting the giggles. During the first Matt Foley (Chris Farley) sketch, he utterly breaks Christina Applegate and David Spade, who spend much of the segment covering for their laughing fits. Bill Hader's Stefon character was so outrageous, that he often cracked himself up while trying to make everyone around him laugh. And during one "The Californians" skit, Hader's inability to hold it together makes everyone around him giggle.
It's all in a day's work for America's finest sketch comedy troupe.