The Untold Truth Of The Adventures Of Brisco County, Jr.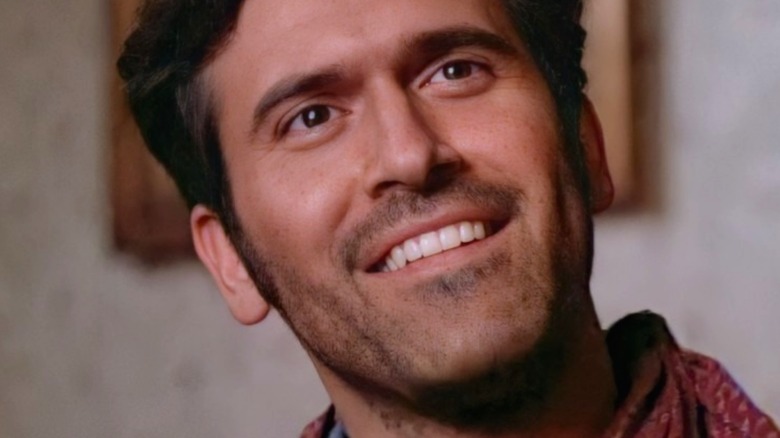 Fox/Warner Bros. Television
Quirky and occasionally cartoonish, "The Adventures of Brisco County, Jr." has always been known as an odd (but magnificent!) beast. It is, after all, a serialized narrative about a Harvard-educated bounty hunter who's frequently aided by his non-human sidekick, Comet the Wonder Horse, after being hired by robber barons to track down the gang of criminals who murdered his famous lawman father. Beyond that, those criminals are led, lest we forget, by psychotic outlaw John Bly (played to chilling effect by the late Billy Drago).
It's all delightfully strange, but what makes this underappreciated gem that you probably forgot existed truly shine is that Bruce Campbell leads the charge as our perpetually bemused titular character. As The A.V. Club notes, "Typically Campbell plays lovable blowhards and larger-than-life buffoons, but here, he's called on to be a largely traditional leading man, and he delivers a mixture of steadfast decency, optimism, and perpetual bemusement that is just about perfect."
Boasting a fascinating blend of various genres, it's a near-travesty that this ambitious series only lasted a single season. So, in celebration of this seldom-discussed beauty, we've devoured every special feature on the DVD-box set — including the "Pilot Commentary," the retrospective documentary "The History of Brisco County," "A Reading from the Book of Bruce," and "A Brisco County Writer's Room" — to bring you the untold truth of "The Adventures of Brisco County, Jr."
Brisco County, Jr. was first conceived on cocktail napkins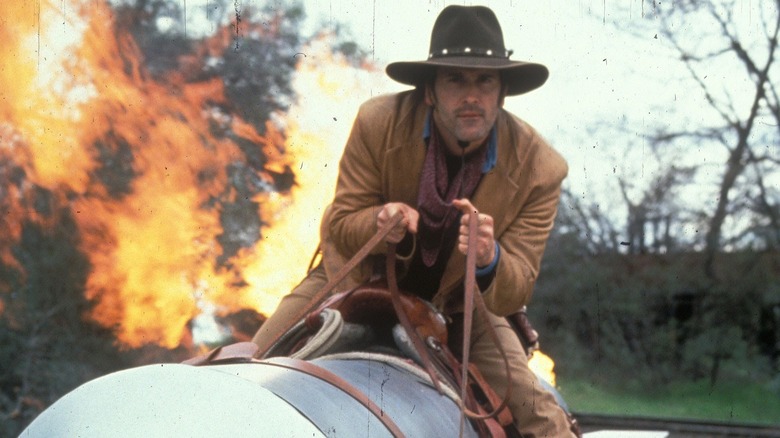 Fox/Warner Bros. Television
Star Bruce Campbell and co-creator Carlton Cuse came together to record commentary for the pilot episode — a special feature available on the show's DVD-box set. This particular commentary, less of a discussion on the premiere and more of a general conversation about the series, boasts neat behind-the-scenes tidbits about everything from how the story came to be to the on-set camaraderie.
Near the beginning, Campbell asks Cuse to discuss the show's conception, and Cuse recounts how Fox executive Bob Greenblatt approached him and Jeffrey Boam (writer of "Indiana Jones and the Last Crusade"), asking them to develop an "Indiana Jones"-esque serial for the network. After renting — and studying — some old serials, Cuse noticed these shows usually fell into one of two camps: sci-fi or Western. So the pair decided to create a narrative that blended the genres while sprinkling in humor, romance, drama — and sometimes, even horror — to boot.
Cuse didn't dream up any of the details — such as plot, character, or narrative — until he was thousands of feet in the air, flying back home after visiting his wife's family in New Mexico. Cuse recalled, "I wrote all this stuff down on, literally on cocktail napkins on the airplane ... this whole concept of these twelve bad guys. And then they murder Brisco County, Sr."
Thus, "The Adventures of Brisco County, Jr." was born.
NBC used the Brisco theme music for the Olympic Games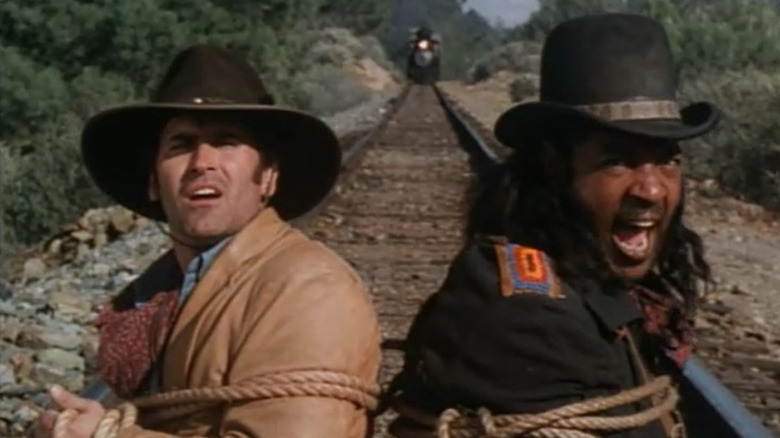 Fox/Warner Bros. Television
While the series itself struggled with pulling in viewing during its original run due to a difficult time slot, the theme music from "The Adventures of Brisco County, Jr." is likely familiar to anyone who watched the NBC coverage of the Olympic Games from 1996 to around 2016. According to composer Randy Edelman, the theme was a perfect fit for the network because "It was original, and it seemed to have the right spirit." (via Los Angeles Times). In fact, NBC was so taken with it that they also used it for other sporting events, like Major League Baseball (via CCM's Village News Archives).
Ultimately, it's a sad truth that most people know the theme not from the show but from NBC's sports coverage. Two minutes into the DVD's "Pilot Commentary," Cuse likens the situation to his son only knowing Paul Newman as "the guy in the salad dressing," and not as a movie star. However, Cuse admits, "going to the scoring stage and listening to Randy Edelman ... conduct the ... orchestra for [the pilot]" was a grand experience — as they'd invested in a live 66-piece orchestra, an uncommon feature for a television series!
Over the years, "The Adventures of Brisco County, Jr." fans, like Reddit users u/Prince_Chunk and u/haden112, have taken to the discussion boards to express their excitement, confusion, and bemusement upon hearing this iconic theme during the Olympics. However, if Redditor u/stombell's post is any indication, some fans still hold out hope of hearing it again.
Bruce Campbell literally flipped during his audition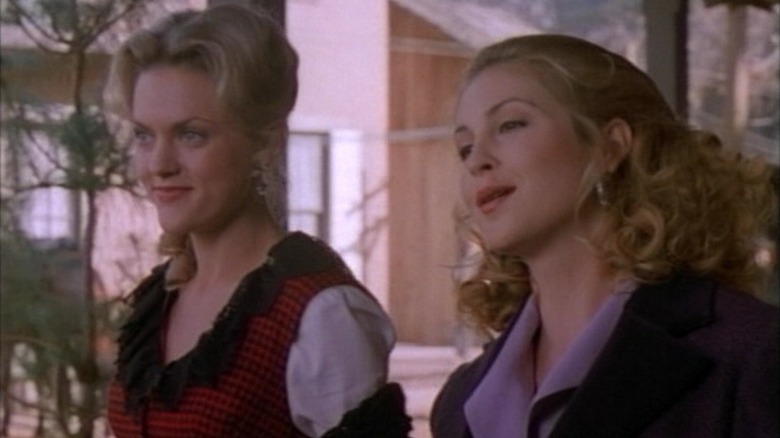 Fox/Warner Bros. Television
Two other notable special features on the DVD-box set are "The History of Brisco County," a retrospective documentary, and "A Reading from the Book of Bruce," where Bruce Campbell shares the "Brisco" related chapter from his book "If Chins Could Kill: Confessions of a B-Movie Actor."
Reading aloud, Campbell recounts his enthusiastic determination to stand apart from the crowd. After all, "With a television series, you don't just get the lead, you've gotta earn it." The initial audition included a bit of fighting (in a tiny space), so Campbell "fell back on an old 'Bonzoid Sisters' routine that [he and] Sam Raimi ... used to do and ... flipped [himself] head over heels in [the casting director's] office."
The move — an unexpected shock for the bewildered casting director – did make an impression, but it also set an exhausting expectation. From there, Campbell found himself flipping for every subsequent audition. After the fifth or sixth time — the last flip performed in a gigantic room for a near-silent audience — the production team finally offered him the leading role. All told, it seems like a long and arduous haul for the only man who could've ever played Brisco County, Jr., and Carlton Cuse just might agree. Around the 4-minute mark in the DVD's short documentary, Cuse claims he can't "can't even imagine 'Brisco' having ever existed without [Campbell]." 
The series was Bruce Campbell's first leading role in a TV show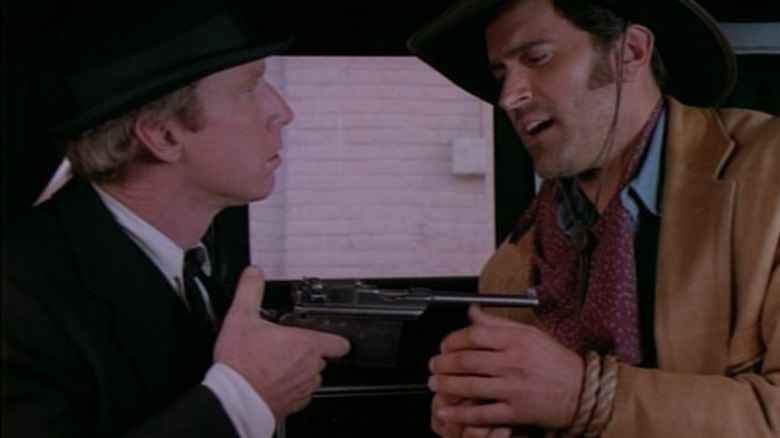 Fox/Warner Bros. Television
In "A Reading from the Book of Bruce," Campbell — who's perhaps best known for his portrayal of Ash Williams in the "Evil Dead" franchise — talks about how rough the transition from acting in movies to acting in television was for him. He soon discovered that while production teams working on feature-length films move slowly, production teams for television shows have a drastically different pace, as the TV world keeps to a rigid and demanding schedule. For "The Adventures of Brisco County, Jr.," that meant a seven-day shoot for each episode. Despite this, and despite the fact that he couldn't even enjoy having his very own trailer due to the 14-hour days, Campbell finishes his reading by describing "The Adventures of Brisco County, Jr." as "a wild and wooly ride. Without a doubt the longest, most exciting year of my life."
In the end, Campbell told IGN that this short-lived action-oriented gem "opened a lot of TV doors and ... stopped me from crawling through glass to get parts." Most notably, he'd go on to play fan-favorite ex-spy Sam Axe in the espionage drama "Burn Notice," Autolycus in both "Hercules: The Legendary Journeys" and "Xena: Warrior Princess," and reprise his role as Ash Williams in the "Ash vs Evil Dead" series.
The camaraderie among the cast and crew made all the difference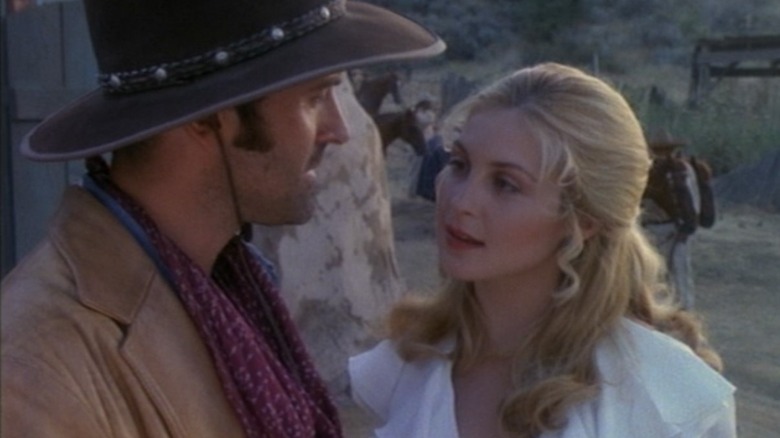 Fox/Warner Bros. Television
It's a magical thing when those involved in a collaborative project come together simply because they believe in it, as seems to be the case here. In the DVD set's retrospective documentary, four stars — Campbell, the late Julius Carry (Lord Bowler), Christian Clemenson (Socrates Poole), and Kelly Rutherford (Dixie Cousins) — discuss the excitement they felt after reading the cinematic pilot script. Further, they remember how they connected with their respective characters and how enthusiastic — and supportive — they were of each other's talents. Finally, they discuss how much effort they put into making something truly special that, unfortunately, just didn't receive the ratings it needed. There's even mention, around the 30-minute mark in the "Pilot Commentary," of the cast and crew enjoying on-set barbecues during the workdays!
In "A Brisco County Writer's Room" roundtable discussion — yet another wonderful DVD featurette — the writing team talks about tapping into this palpable energy and demonstrated chemistry, which ultimately led to Pete Hutter's (John Pyper-Ferguson) resurrection and Dixie becoming our hero's recurring love interest.
Most significant of all, though, is Lord Bowler and Brisco's transition from rivals to reluctant allies to scheming friends. In the documentary Cuse claims, "the character dynamics between Bruce and Julius were so great, and their scenes were so funny ... that it just sort of told us as we were writing the show that we should ... bring them more together, and so it was just a natural, organic evolution."
Filming came with its dangers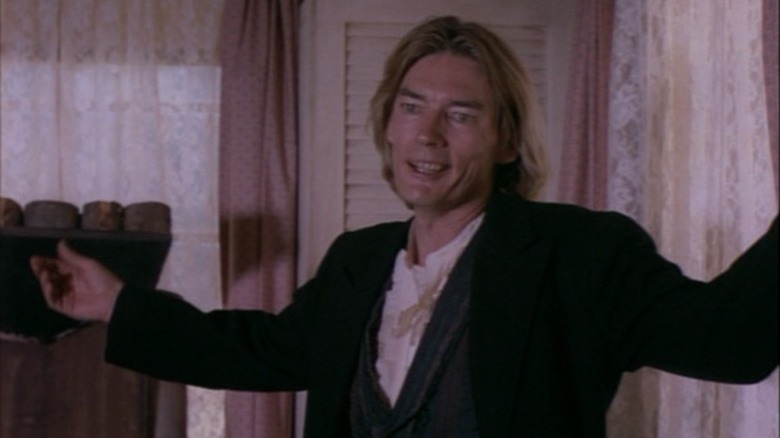 Fox/Warner Bros. Television
For a show like "The Adventures of Brisco County, Jr.," full of cartoonish gags, outlandish schemes, and literal cliffhangers, talented stunt doubles are an absolute must. According to Bruce Campbell (via "A Reading from the Book of Bruce"), "from struggling in quicksand and fighting underwater to running from burning buildings and being lashed on a railroad track, there's no question that stunt double, Clint Lilley, performed the most dangerous stuff."
Still, the actors did plenty of physically exhausting work themselves, such as learning how to ride horses and hanging from window sills. As Campbell tells it, "all stunts were meticulously planned ... but there was occasionally ... 'The X-Factor.'" Like that time he and a guest star were almost trampled by panicked cattle for real while filming the stampede scene in "Showdown." Also, fun fact — while the cameraman fled amid the chaos, "his camera stayed straight enough to capture the shot in all of its raw glory, and the footage appears in the episode."
In the "Pilot Commentary," Campbell also reminisces on the call he once received from his concerned mother who, after watching Brisco rescue a child right before a building blew up, thought her son was being forced into hazardous situations.
Though an all-consuming job at the time, Campbell knows it was all worth it. Not just because it opened doors career-wise, but because, years later, someone gave him their high school tassel, revealing that, for them, Brisco was a life-saving role model (via Slant).
Brisco is loaded with nods to other Westerns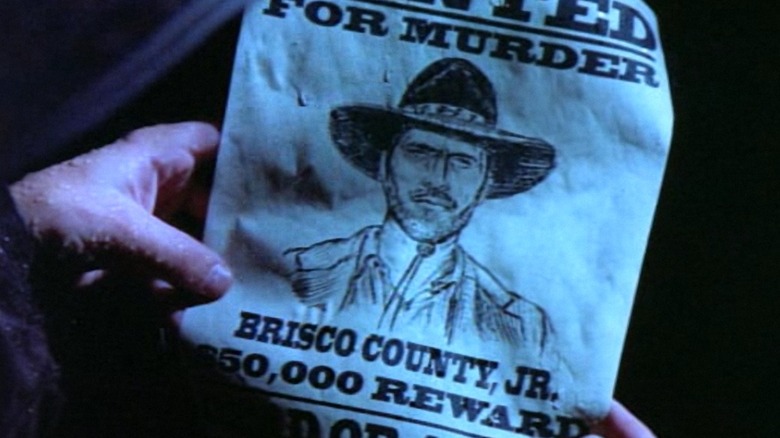 Fox/Warner Bros. Television
"The Adventures of Brisco County, Jr.," entrenched in the tradition of old serials, is loaded with nods to the Western classics that came before it. Some, like Tor, consider it a spiritual successor to "The Wild Wild West," and around the 5-minute mark in "The History of Brisco County" retrospective documentary, Cuse confirms that "Lord Bowler was a very direct homage to 'Butch Cassidy and the Sundance Kid.' ... his name was actually derived from Lord Baltimore, who was the head tracker of the super posse that was chasing Butch and Sundance in that movie."
In addition, according to the DVD's booklet liner notes — written by Campbell himself — the robber barons in the pilot episode are alums from other Westerns, including James Drury of "The Virginian," Stuart Whitman of "Cimarron Strip," and Robert Fuller of "Wagon Train." What's more, in the episode "Riverboat," our hero's Roscoe Merriweather outfit is essentially a copy of James Garner's from the classic series "Maverick," and stunt men who'd once doubled for stars like John Wayne make an appearance during a bar brawl in the mid-season episode, "Mail Order Brides."
On top of all that, "The Adventures of Brisco County, Jr." was one of the very last productions to film on Warner Brothers' legendary Laramie Street, which was used for shows like "Little House on the Prairie" (via The Cinemaholic) and movies like "Calamity Jane" and "Blazing Saddles" — before Hollywood bulldozed that part of their backlot and erased that bygone era (via Los Angeles Times).
Brisco is full of pop culture references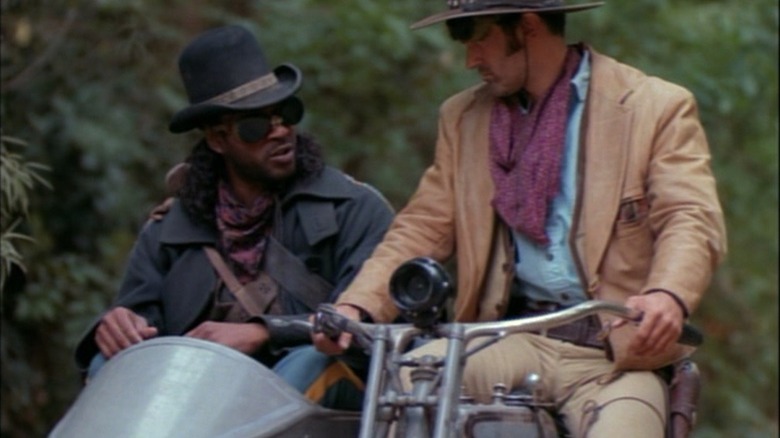 Fox/Warner Bros. Television
The show is also full of pop culture references — and nods to other non-Western films. For example, in the pilot episode, Dixie Cousins makes her grand entrance as a saloon singer, performing "I'm Going to File My Claim," a song originally sung by Marilyn Monroe in "River of No Return." In "The Adventures of Brisco County, Jr." it becomes Dixie's signature number — and we get to enjoy yet another entrancing performance in the show's fifth installment, "Brisco in Jalisco." Of course, Monroe's not the only star the series makes reference to. In "Hard Rock," Gary Hudson portrays Sheriff Aaron Viva, a very Elvis Presley inspired man who'd love the opportunity to patent his "day glasses."
Occasionally, "The Adventures of Brisco County, Jr." even leans into horror, boasting clear Hitchcockian vibes in the very "Psycho"-like "Bad Luck Betty" and in the "Lifeboat"-like "Stagecoach." The writers make a point to infuse subtle references into the narrative, too, like in "Deep in the Heart of Dixie." The episode, which sees Brisco searching for Dixie, offers a quick, quippy exchange between two characters that alludes to the '60s pop song, "The Little Old Lady from Pasadena."
As we all know, our hero's always looking for "The Coming Thing." Through that progressive forward-thinking — and through the inventions of the eccentric Professor Wickwire (John Astin) — we get fun little allusions to modern-day staples like showers in "Bad Luck Betty," drive-through — or "ride-through" — windows in "Hard Rock," diving suits in "Socrates' Sister," and even Dunkin' Donuts in "Showdown."
The unexpected success of The X-Files overshadowed the quirky charm of Brisco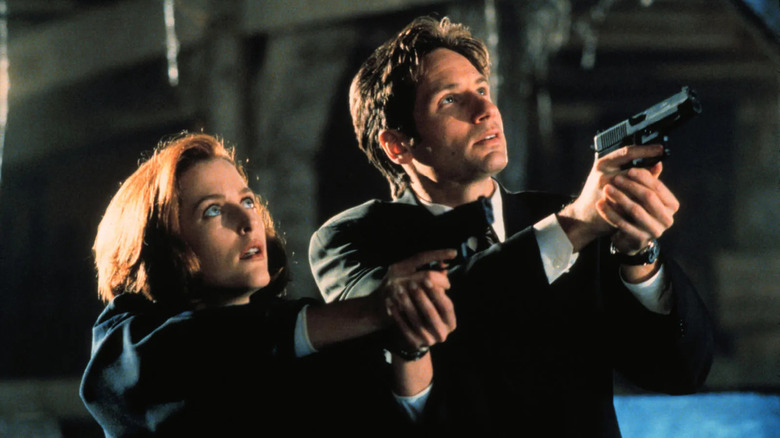 Fox Broadcasting Company
During its original run, "The Adventures of Brisco County, Jr." served as the lead-in for the now super famous paranormal police procedural, "The X-Files." According to Fox's former president, Sandy Grushow, the network threw all its promotional efforts into "The Adventures of Brisco County, Jr.," largely disregarding the Gillian Anderson and David Duchovny science fiction series — at least initially (via The Hollywood Reporter). Still, "The X-Files" arguably enjoyed the better Friday evening timeslot. In fact, around the 38-minute mark of the DVD's "Pilot Commentary," Cuse says he's convinced that, had "The Adventures of Brisco County, Jr." aired at a different (or later) time, it would have lived on.
In the end, the quirky, charming, and underappreciated "The Adventures of Brisco County, Jr.," a show Fox specifically commissioned, found itself on the network's chopping block after just one glorious season. Meanwhile, the (unexpectedly) successful "The X-Files" lasted until 2002 — spawning two movies and a series revival while growing into an iconic show that changed television on a fundamental level.
There's a fun bit of crossover between the shows, as Campbell guest starred in the sixth season of "The X-Files" as a literal demon in the episode "Terms of Endearment." It's an entry that is, coincidentally, directed by "The Adventures of Brisco County, Jr." alum Rob Bowman (via iHorror)!
The fate of Brisco foreshadowed the fate of Firefly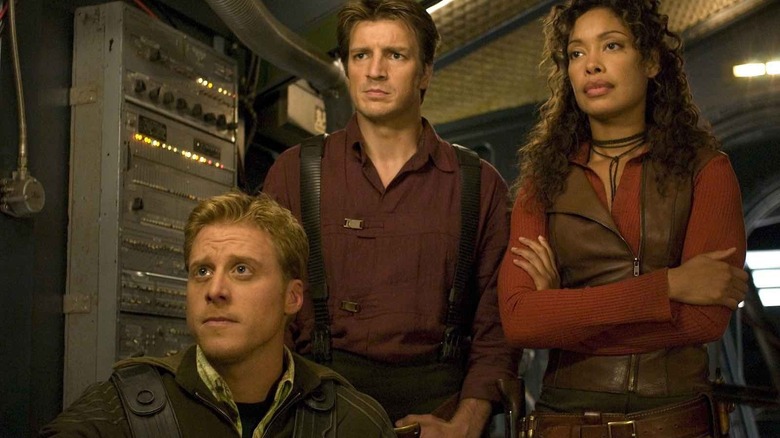 Fox/20th Television
History, as we all know, has a tendency to repeat itself, so it's really no surprise that the fate of our beloved "The Adventures of Brisco County, Jr." foreshadowed the fate of the beloved "Firefly." After all, both of these quirky, critically-acclaimed, Fox-produced shows boast a fascinating blend of genres, infusing their narratives with Western elements, science fiction, action, comedy, romance, drama, and even — at times — horror. Both fell victim to what's called the "Friday Night Death Slot," from which very few shows have escaped (via Entertainment Weekly). Thankfully, now both shows live on as cult hits.
What's more, like "The Adventures of Brisco County, Jr.," the cast and crew of "Firefly" boasted great chemistry and great enthusiasm regarding their collaborative project (via The Hollywood Reporter). In addition, according to Michael K. Johnson's book, "Hoo-Doo Cowboys and Bronze Buckaroos," the two shows even had some of the same props! Specifically, "Firefly" used "Bowler's modified shotgun and the mare's leg pistol used by Sharon Easton when she guest starred as another bounty hunter."
Season 2 would have featured Dixie and Brisco as a married couple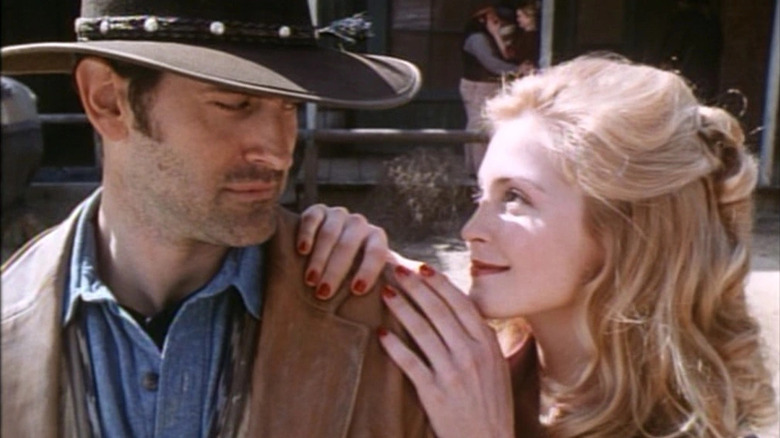 Fox/Warner Bros. Television
As it turns out, co-creator Carlton Cuse had big plans for Brisco and Dixie's romantic future, as revealed in the DVD's "Tools of the Trade" featurette. Had the series continued, the pair might have gotten married, moved to a new town, and settled down in the show's second season. We'll just say that a marital union between our always-bemused bounty hunter and our sultry thrill-seeker is definitely something fans would have loved to see! Cuse goes on to explain how the town itself would have been populated with eccentric residents and how Brisco would have served as their sheriff (via Fansided).
Another thing a second season of "The Adventures of Brisco County, Jr." would have explored was the Orb, which Christian Clemenson (Socrates) likens to the black rectangle featured in "2001: A Space Odyssey" in "The History of Brisco County."
Basically, if the show had lived on, the writers would have had the opportunity to develop the mythology surrounding this mysterious object. Throughout the narrative, we're told the Orb is, essentially, "the embodiment of faith," a mantra repeated by story editor John McNamara in "A Brisco County Writer's Room." Still, even years later, Cuse can't tell us much beyond that. The writers had plans to fill out the details when the time came, but they never got the chance.
Carlton Cuse is still upset over the show's premature cancellation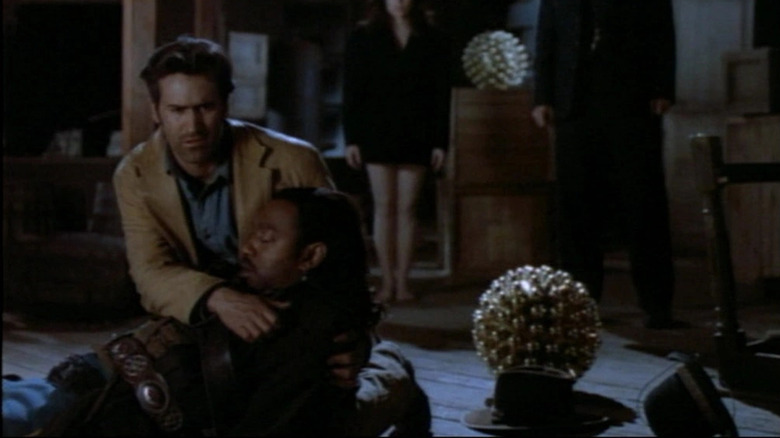 Fox/Warner Bros. Television
In "The History of Brisco County," Carlton Cuse admits that his immediate reaction to the news of the cancellation of "The Adventures of Brisco County, Jr." was tangible relief. Because this exhausting, all-consuming endeavor was over, he could finally relax. A few weeks later, though, deep mourning overtook that relief and he began to grieve for the ambitious project that gave him his first-ever experience as a showrunner (via The Gregg Sutter Website). What's more, in a 2014 interview with Vulture, Cuse reveals he's still upset over the cancellation.
During his conversation with Bruce Campbell in the "Pilot Commentary," he laments that their Friday night timeslot essentially doomed the show. He goes on to talk about TNT buying the rights and using the series for Saturday morning entertainment, which was a perfect choice considering the old serials the show was modeled after also aired on Saturday mornings. From there, Cuse reveals that, despite Fox's initial interest and enthusiasm, the network "struggled to figure out what the show was," thus sealing its unfortunate fate.
Still, just as it did for Campbell, "The Adventures of Brisco County, Jr." opened up a lot of doors for Cuse, essentially launching his lucrative career in television.
Bruce Campbell fully supports a reboot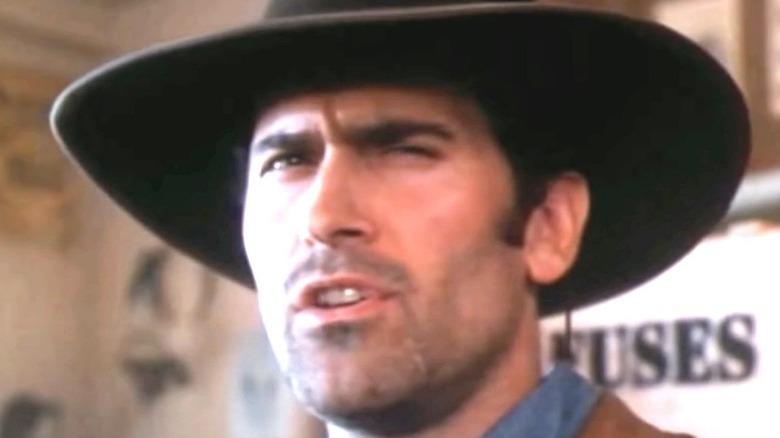 Fox/Warner Bros. Television
On April Fool's Day in 2020, Campbell made a Twitter post teasing the revival of "The Adventures of Brisco County, Jr." The faux news garnered a lot of excitement. In fact, it generated so much interest that Campbell later apologized in another tweet for viciously dashing everyone's hopes before declaring his full support for a reboot (via Horror Geek Life). We're happy to report that he didn't completely lead us on. In late July of that same year, many "The Adventures of Brisco County, Jr." veterans, including (but not limited to) Bruce Campbell, Kelly Rutherford, Christian Clemenson, John Pyper-Ferguson, and Carlton Cuse, came together — through the wonders of the Internet due to COVID lockdown restrictions — for a live table reading of the show's pilot episode (via MovieWeb).
What's more, in a 2021 interview with TV Goodness, Campbell reiterates his enthusiasm for an actual reboot or revival. He even gives us a sense of what a series like that might look like, envisioning a "passing of the torch" type of story and saying, "'Brisco' would be a lot of fun because you would update it. It would be in the 1920s instead of the 2020s and you can do the new gadgets of the new era, but then you'd have the next generation of Brisco and Bowler, the potential offspring of those two who can carry on the adventures. There's so many ways to go."
We can only hope that such a series might grace our screens in the future!