It's Kylo Versus Rey In Two New Last Jedi Posters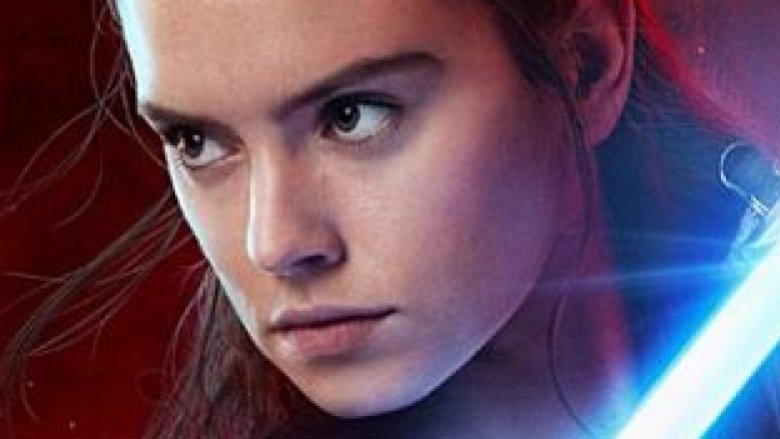 In the journey toward achieving balance in the Force, light and dark must battle. 
Nothing sums this tension up more than two new promotional posters for Star Wars: The Last Jedi, which were unveiled on Twitter Saturday morning. 
The images show Rey (Daisy Ridley) and Kylo Ren (Adam Driver) facing away from the camera, looking completely battle-ready as they grip their lightsabers (blue for Rey on the light side, bright red for Kylo on the dark). Though both posters feature a stunningly simplistic color palette, allowing for the characters' weapons to shine, the symbols that appear on each are different. Rey's respective still is stamped with the logo of the Rebel Alliance/Resistance, where as Kylo's poster sports the First Order's angular emblem. 
Designed by Matt Ferguson, an artist and the co-owner of Vice Press print house, these new posters were made exclusively for display at participating RealD and Odeon Cinemas in the United Kingdom. As Ferguson mentioned on social media, they will be available for purchase at select screenings in the U.K. throughout next week. 
Take a look at both below.
Star Wars enthusiasts outside of the U.K. may have a bit of difficulty scoring a copy of these posters to call their own, but they are certainly more than enough to kick anticipation for The Last Jedi up a few notches on their own. They may even shed new light on quotes we've heard before, especially Supreme Leader Snoke's (Andy Serkis) declaration that "darkness rises, and light to meet it."
Written and directed by Rian Johnson, The Last Jedi brings together Mark Hamill as Luke Skywalker, the late Carrie Fisher as General Leia Organa, John Boyega as Finn, Oscar Isaac as Poe Dameron, Lupita Nyong'o as Maz Kanata, Domhnall Gleeson as General Armitage Hux, as well as new-to-the-series actors Kelly Marie Tran as Rose Tico, Benicio del Toro as DJ, and Laura Dern as Vice Admiral Amilyn Holdo. 
The Last Jedi is set to premiere on December 15.