Pixar's Wall-E Just Made History In An Unexpected Way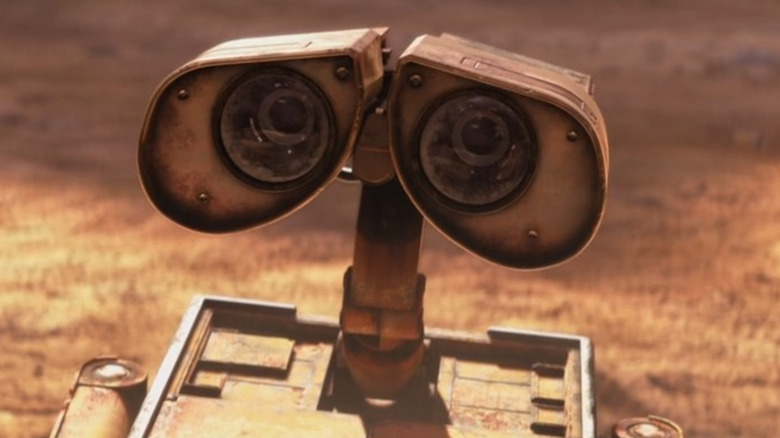 Walt Disney Studios Motion Pictures
Pixar's "Wall-E" is one of the greatest accomplishments produced by the studio, routinely making it near the top of ranked lists of the best Pixar movies from critics, writers, and fans. It's notable for its sparse dialogue and visual storytelling, two qualities that might increase its appeal among hardcore cinephiles. And now, "Wall-E," with its simple scenes of deceptive emotional power, is being honored by that particular group in a way that no other Pixar film ever has been.
"Wall-E" has always enjoyed plenty of critical acclaim since its release in 2008 when it was named among the best films of the year by the American Film Institute. It also took home the Oscar for best animated feature (via BBC), so it's not a film that could plausibly be called underrated or obscure by any stretch. But the latest accolade is still something of a surprise, and it's a feather in the cap for both Pixar and Disney as well.
Wall-E is the first Pixar film to be in the Criterion Collection
If you're at all interested in movies, you're doubtlessly familiar with the Criterion Collection, the home video label that specializes in "important classic and contemporary films," as the company itself famously puts it. The Criterion Collection now includes over 1100 films, and the brand recently dropped the announcement on Twitter that next up is going to be Pixar's "Wall-E."
"A high-water mark of digital animation, this prescient vision of a dystopian future is packaged within a dazzling pop-science-fiction love story, making for an urgent fable for our troubled millennium," rhapsodizes the "Wall-E" listing on the official Criterion site — something that many cinephiles and Disney fans probably never expected to see. In addition to the Blu-ray disc's 4K UHD transfer approved by "Wall-E" director Andrew Stanton, the Criterion edition of the film will boast special features like a director's audio commentary, a 2007 documentary about Pixar, deleted scenes, and much more, all placing "Wall-E" in a context where it seems more appropriate to call it a "film" rather than a "movie."
The three-disc set is scheduled to hit retailers on November 22, 2022, and as Criterion referred to it as its "first collaboration with Pixar," it's possible we'll see more Pixar projects in the Criterion Collection in the future.