Are Michelle Williams And Busy Philipps From Dawson's Creek Friends In Real Life?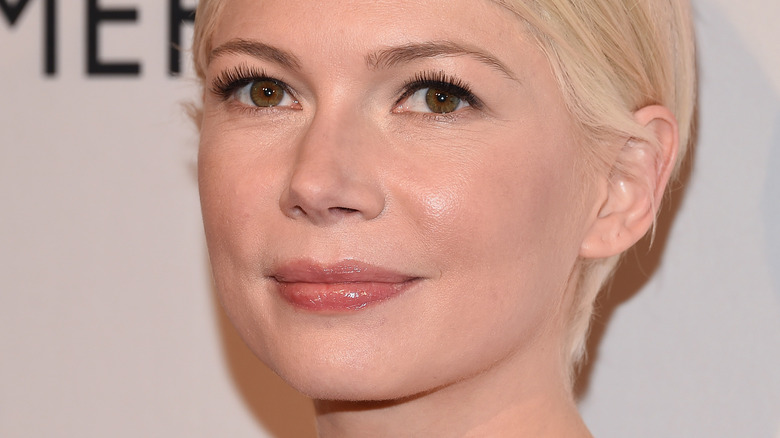 DFree/Shutterstock
The late-'90s popular teen drama "Dawson's Creek" was the breakout role for acclaimed actress Michelle Williams, as well as Busy Philipps' follow-up gig to the canceled-too-soon "Freaks and Geeks."
Created by Kevin Williamson, the series follows a group of high school (and, in later seasons, college) teens — including the titular Dawson Leery (James Van Der Beek) and his best friends Pacey Witter (Joshua Jackson) and Joey Potter (Katie Holmes), who live in the small, fictional town of Capeside. Williams plays Jen Lindley, a New York City transplant who has moved to Capeside to live with her grandparents and, subsequently, changes the dynamics of Dawson's established friend group. Meanwhile, Philipps joined the "Dawson's Creek" cast in Season 5 when her character, Audrey Liddell, is assigned to room with Joey in their college dorm. Audrey quickly becomes friends with Joey's group, including Jen.
Audrey and Jen may not have gotten much screen time together, but it was clear that they got along with one another and enjoyed being friends. So, for those curious, are Williams and Philipps friends in real life?
Williams and Philipps are best friends in real life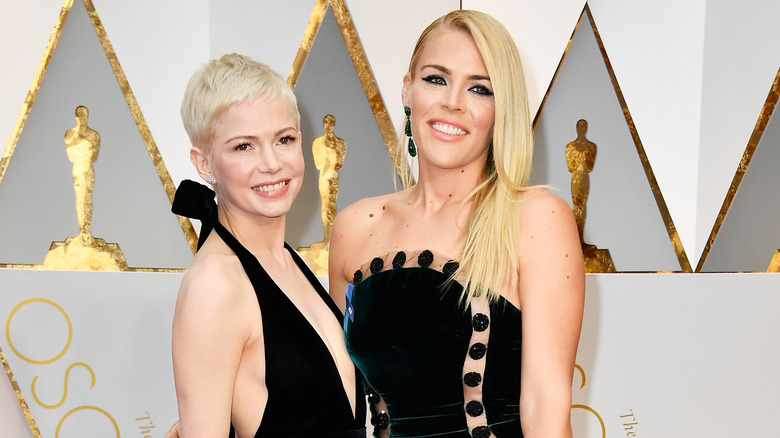 Frazer Harrison/Getty Images
Much to the delight of "Dawson's Creek" fans everywhere, Michelle Williams and Busy Philipps have remained best friends over the years. If you've ever tuned into an awards show in which Williams is one of the nominees, then you've likely seen Philipps there as well, as Williams frequently brings Philipps as her plus one. While speaking to Us Weekly in January 2021, Philipps revealed that their favorite part of their award show outings is hanging out together afterward. Philipps said, "We don't really need to hit the parties and schmooze. We'd rather just go out to dinner and talk."
In addition to their award show appearances, Williams shows up pretty frequently on Philipps' Instagram account. When Williams turned 40 in September of 2020, Philipps took to Instagram to post photos of the two of them together, complete with a heartwarming caption about their friendship.
Philipps wrote, "I really wish I could be with my friend tonight celebrating how special and incredible and brilliant she is. And to tell her in person how I'm eternally grateful that we met all those years ago because there's no one I'd rather weather all the storms with and celebrate all the wonderful things with." The actress then sweetly added that she can't wait for her and Williams to be old ladies together, getting to say that they've been friends for 50 years.
Philipps and Williams have nothing but praise for one another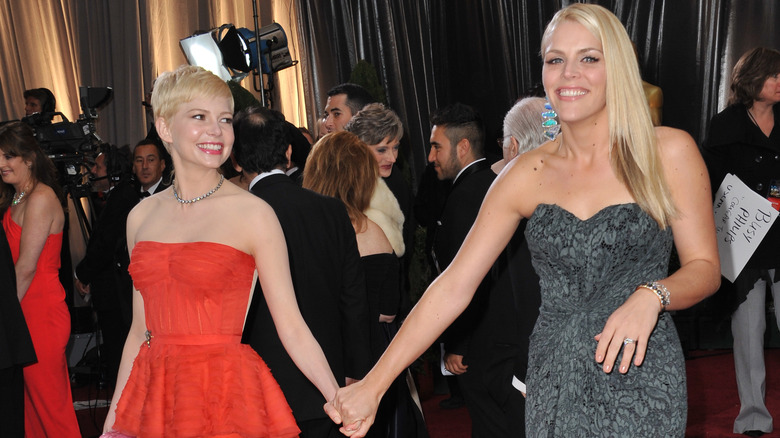 Featureflash Photo Agency/Shutterstock
Over the years, during their very public friendship, the two actresses have spoken openly about their admiration for one another. In an August 2019 interview with Us Weekly, Busy Philipps talked about her relationship with Michelle Williams again. After revealing that their children adorably call each other "god sisters" and are like cousins, she heaped on the praise for Williams. Philipps said, "I'm constantly impressed by her for so many reasons. She is brilliant, and she's incredible at her job, and she's an incredible mother."
Meanwhile, in September 2017, The New Yorker profiled Philipps — and Williams contributed to the piece, taking the time to gush over her longtime friend. Williams said, "People say, 'I'm in love with your best friend.' I'm, like, 'I know.' Everyone thinks she's their best friend. She listens, she's deep and really honest, she has a wicked sense of humor, and a lack of shame about being herself."
With this much love and respect for one another, it's no surprise that the two have remained such close friends over the years following the end of "Dawson's Creek." They even shared the screen once more in 2018 for the comedy film "I Feel Pretty." Further, Philipps has said that they are open to working together again in the future (via Us Weekly). In the meantime, fans can continue to get glimpses of Williams and Philipps' friendship through continuous Instagram appearances and award show outings.