Tom Cruise's Promo Stunt For Mission: Impossible - Dead Reckoning Has Fans Losing Their Minds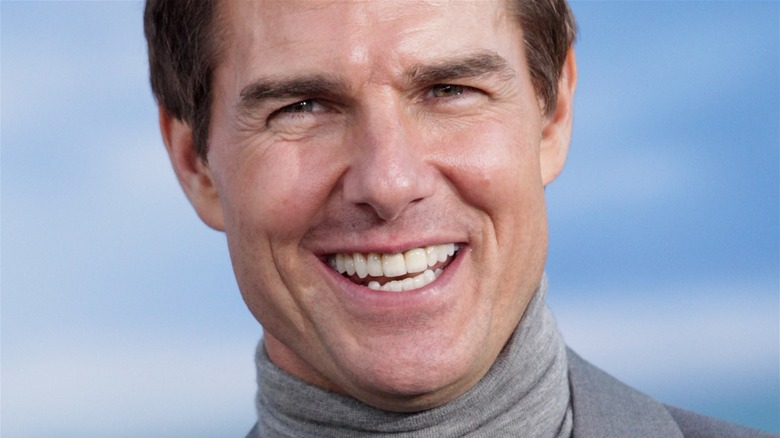 DFree/Shutterstock
Hearing the words "Mission Impossible" often invokes two different things in the minds of fans — the iconic theme song and Tom Cruise. As both a spy and action franchise, the "Mission Impossible" movies have seen Ethan Hunt (Cruise) travel the globe in order to stop rogue agents, powerful weaponized biological agents, nuclear escalation, eccentric arms dealers, and evil organizations that operate in the shadows.
According to The Numbers, the "Mission Impossible" franchise is incredibly profitable and has already made a little over $3.5 billion. This is due, in part, to Cruise's continuing performance in the series, and for incredible action and explosive packed scenes. It is known that Cruise often wants to do his own stunts in any of the movies he partakes in, and he once told The Hollywood Reporter when asked why he does his own stunts, "No one asked Gene Kelly, 'Why do you dance? Why do you do your own dancing?'"
With the next installment set to be released next year, Cruise has shared a promo stunt for "Mission Impossible — Dead Reckoning" that has elicited some powerful responses from the denizens of the internet.
Fans can't get over Cruise standing on a biplane in flight
A post on Twitter highlights Tom Cruise's penchant for performing his own stunts while simultaneously building hype for the upcoming two-part "Mission Impossible" film. The short clip starts with Cruise hunched over, and as he begins to speak, one can discern that there are certain sound filters being utilized. The camera then pans outward, and it is revealed that Cruise is sitting on top of a biplane that is currently in flight. Another biplane pulls up to remind Cruise that they need to get back to filming, so Cruise wishes everybody a wonderful summer, and the two planes bank hard to the left.
This snippet caused a deluge of responses, with Twitter user @EMP_Wrecker saying, "Wow wtf, if he can't get an Oscar at least they need to give him an achievement award for all the years of crazy stunts he has done in his movies, this guy works hard for his scenes." @R0nfl3xTV added, "I mean [how] can't you love him? dude's chilling standing on an airplane, god knows [how] high, talking to us like we're at the bar. Another level of cool."
@CarmelFay was also amazed by the clip and stated that they are glad the world has Cruise in it and they have nothing but respect for the actor. @Dantronica expressed their feelings by quoting Hunter S. Thompson: "There he goes. One of God's own prototypes. Some kind of high powered mutant never even considered for mass production. Too weird to live, and too rare to die." In other words, people are thoroughly impressed with Cruise's latest promotion for "Mission Impossible — Dead Reckoning."