The Dizzying Number Of Cars The Price Is Right Gave Away During Drew Carey's First 10 Years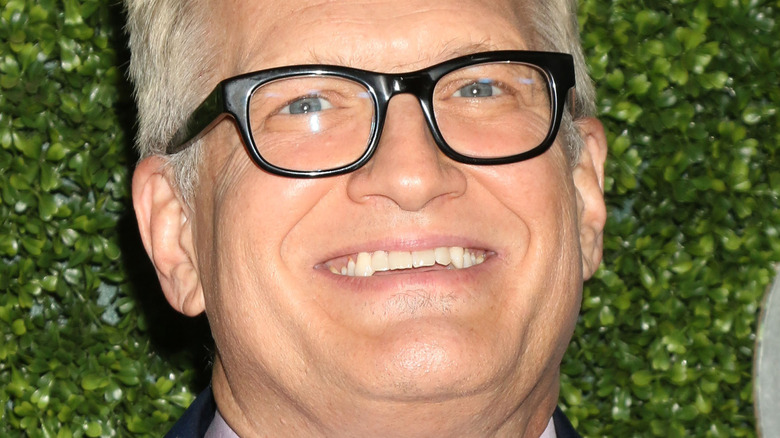 Kathy Hutchins/Shutterstock
As a contestant on "The Price is Right," there's a chance to win lavish getaways, costly furniture sets, gym equipment, and more. However, no prize incites as much excitement as a brand-new car.
Having the chance to take home a vehicle (or two) has been a staple of the show since the era of host Bob Barker. During his earlier years helming "The Price is Right," the cars up for grabs — as well as their price tags — looked much different. For example, in 1983, hairdresser Elizabeth won two Chevrolets that cost $5,880 and $7,065. This is a stark contrast to a giveaway in 2013, which saw Drew Carey name Sheree Heil the winner of a $157,300 Audi R8 Spyder — the most expensive prize ever to grace the stage, as reported by USA Today.
Some contestants, like 2021 player Adam who challenged model James O'Halloran to a push-up contest, can't contain their joy over winning a car. Others aren't so lucky and leave the set empty-handed. Then there's 2015 contestant Andrea, who earned a new set of wheels after model Manuela Arbelaez accidentally revealed the winning price before Andrea could keep guessing. The model told Inside Edition, "I was mortified."
Overall, many "The Price is Right" players are successful in their endeavors to win the sleek and shiny prize. In fact, during Carey's first decade as host, the show gave away a shocking amount of cars.
Drew Carey gave out 1,207 cars in his first decade as host
Drew Carey took over duties from longtime host Bob Barker in July 2007. During his first decade helming "The Price is Right," leading high-energy car giveaways proved to be a huge part of the job. According to CBS, the show gave out a whopping 1,207 cars between 2007 and 2017. Also during those 10 years, Carey gave out $129,835,932 in combined cash and prizes.
Even before stepping foot on the glitzy set of "The Price is Right," Carey was giving away cars. Upon his comedy "The Drew Carey Show" garnering success in the 1990s, he was given a Porsche by producers. With a Miata at home, Carey decided he didn't need both and gifted the Mazda sports car to a crew member who didn't own a vehicle.
For Carey, who didn't make it big on TV until his 30s, it's exciting to witness average Americans win both big and small on "The Price is Right." He said in an interview with Gold Derby, "I had a whole life of not having any money, scraping by paycheck to paycheck ... I can relate to people really well because of that."
It also helps that Carey is a bit of a car aficionado himself. In 2016, as reported by WKYT, the comedian was spotted at a gas station in eastern Kentucky ... and it's easy to see why. Carey was driving his Mini Cooper which was meticulously hand-painted to resemble the psychedelic pattern of Janis Joplin's Porsche. According to Car Collectors Club, over 500 hours went into creating Carey's masterpiece.