Kevin Smith Is Apparently Working On A Sequel To His Strangest Horror Film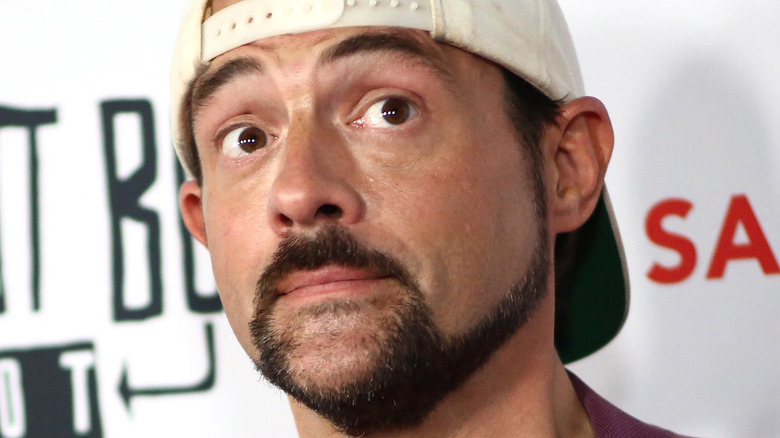 Tommaso Boddi/Getty Images
Kevin Smith's Hollywood career has been a fascinating one, to say the least, with more twists and turns than one would expect. After hitting it big with his low-budget and future cult-classic "Clerks" in 1994, he's had the chance to spearhead projects ranging from the 2010 Tracy Morgan and Bruce Willis buddy cop flick "Cop Out" to whatever 2016's "Yoga Hosers" was. Of course, when looking at Smith's varied filmography, one would be remiss not to highlight his attempts at keeping certain endeavors alive in the form of sequels and spin-offs.
Since the 2000s, Smith has attempted to carry on some of his films to varying degrees of success. For instance, while it pales in comparison to the original, most fans and critics agree that "Clerks II" is far from a disaster. Meanwhile, 2019's "Jay and Silent Bob Reboot" is considered a slight improvement over its predecessor, "Jay and Silent Bob Strike Back," from 2001. Therefore, Smith is keeping this trend going with 2022's "Clerks III," but that's not the only continuation the paragon of geek culture has on his plate at the moment.
As it turns out, Kevin Smith has his sights set on another sequel, this time branching off of one of his most bizarre cinematic horror outings.
Smith is working on a sequel to Tusk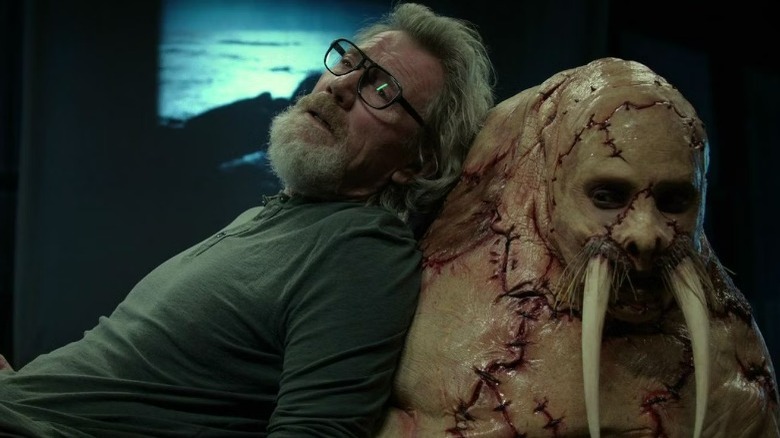 A24
In 2014, Kevin Smith subjected the world to "Tusk": a horror comedy about a man who's kidnapped and turned into a walrus by his captor, who has allowed his obsession with the animal to get the best of him. It's far from Smith's best work, according to both critics and general moviegoers, but that hasn't stopped the filmmaker from considering a sequel. In fact, as he revealed on his Fatman Beyond podcast on September 2, 2022, such a production is in the works. "I've got more story I'd like to tell. There's a reason we left him [Justin Long's Wallace Bryton] in the zoo at the end."
Smith goes on to explain what this 2024 sequel will be about, detailing Bryton's attempts to transform back into a person after spending so long as a stitched-together walrus. However, doing so will prove no easy feat as the mental anguish will leave Bryton a changed man — one who will begin to resemble the man who put him in the walrus skin, to begin with, Howard Howe (Michael Parks). Now a decade beyond the flop of "Tusk," Smith feels he can make "Tusks" (or, as he pitched it, "Tusk$") a reality and rectify his past mistakes with the controversial film that started it all.
As work on "Tusks" inches along, surely more information on this highly unexpected sequel will come to light.