The Worst TV Shows Of 2017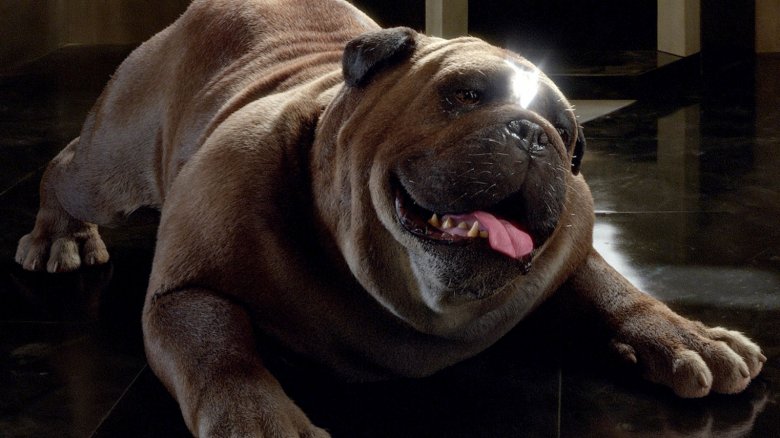 Between online content providers, broadcast networks, and premium cable channels, there's more TV than ever—and as the audience continues to fracture, the definition of a hit show keeps evolving. It's still a numbers game, however; healthy ratings and positive reviews are key, and with each new success, there's always a clunker awaiting to be axed. On that front, Vox reports that the 2017 fall TV season has been the worst in quite some time, and they may not be far off. Taking the earlier months into account, we've rounded up the ten worst shows that premiered this year.
Emerald City
Just a few years ago, Uproxx reported on five vastly different Wizard of Oz TV adaptations in development. In 2017, the only one that made it to air was Tarsem Singh's Emerald City. It was the first television outing for the visually distinctive director—whose previous works include The Cell, The Fall, and Mirror Mirror. As beautiful and violent as it was, the effects-heavy series couldn't hide the weak storyline.
It's clear NBC was hoping for their own Game of Thrones. The combination of the visuals, action, and cast—Adria Arjona, Oliver Jackson-Cohen, and Vincent D'Onofrio are all great here—wasn't enough to keep audiences interested. As The Hollywood Reporter put it, "Emerald City ... runs into this odd middle ground where the silly merges with the violent, fumbling the tone on down the Yellow Brick Road (which here is made of opium)."
With all those effects, the show couldn't have been cheap—which meant that low ratings quickly doomed the 10-episode season, which the network quickly burned off over two months. After premiering the show in January, NBC canceled Emerald City in May.
APB
When APB premiered on Fox, it came with a good amount of potential. The series wanted to be a sci-fi satire, taking aim at America's police state in the making—but it always felt more like a comedy than the drama it really needed to be.
Following tech billionaire Gideon Reeves (Justin Kirk), the program explored the story of a privately funded police force equipped with flashy drones, mobile apps, and tech gadgets all with the sole purpose of catching the bad guy. Unfortunately, it focused mostly on Reeves' technological innovations, leaving barely any character for the audience to connect with. "APB is just an empty, run-of-the-mill cop show that separates itself from the hundreds upon hundreds of previous TV cop shows by having an app that citizens of Chicago use, thus circumventing 911," The Hollywood Reporter pointed out. "That's not an advancement of the genre—it's just stupid." 
APB earned a 35 percent rating at Rotten Tomatoes, which is understandable. The series relied heavily on style over substance, ended up buckling under its own distorted morality, and was canceled after just 12 episodes aired.
Taken
NBC tried to tap into a particular set of skills with Taken—a TV series prequel to Liam Neeson's popular film franchise. With Neeson nowhere in the series, the network took a hit when it premiered the spy drama.
Clive Standen (Vikings) stars as a young Bryan Mills, giving audiences a perspective into the past of Neeson's hardened espionage agent, but as much as it positions itself as a prequel to the films, Taken is still a procedural falling more in line with dramas like The Blacklist and Blindspot, and it's struggled to live up to the kinetic pacing and compelling action of the movies that inspired it.
"What Taken actually proves to be as a series is just another NBC action drama in which a government team faces a different limited threat each week," said The Hollywood Reporter. "The enigmatic and tortured hero at the center of the show spends two minutes per episode getting to the root of his own individual psychosis, breaking bits and pieces of protocol along the way."
Poor reviews aside, Taken performed fairly well in its timeslot prompting NBC to order a Season 2. According to Deadline, only the Jennifer Beals and Standen will return for the next 16-episode run—which means some restructuring is definitely taking place.
Star
Due to the massive success of Empire, Fox brought another hip-hop-themed drama from Oscar-nominated director Lee Daniels to the small-screen. But audiences quickly discovered Star was nothing like the network's lavish Lyon family drama. 
The series follows the melodramatic aspirations of Star Davis (Jude Demorest) as she aims to get famous with her R&B girl group—or die trying. Scandalous storylines abound in the series, which features big-name talent like Queen Latifah and Benjamin Bratt. Without these two heavy hitters in the mix, Star may not have made it to a second season.
The one-dimensional characters, cheesy storylines, and each episode's over-the-top music video segments make it difficult to take the program seriously. That guilty pleasure aspect may be the show's selling point. "If Dreamgirls and Showgirls had a baby, it'd probably be Fox's Star," Screener surmised. That dynamic makes Star a fun chaser to any insidious mess the Lyons family finds themselves in.  
When they returned with new episodes in the fall, Fox aired a two-hour crossover for Empire and Star; according to Variety, this helped to boost the sophomore drama's ratings. But will that be enough to keep it alive for a Season 3? Only time will tell.
Wisdom of the Crowd
A ragtag group of heroes join an enigmatic, but troubled, leader to fight crime. Wisdom of the Crowd taps into the tried and true formula CBS has previously found success with: shows like NCIS, Scorpion, and Hawaii Five-O all follow this narrative structure. But since its premiere, Wisdom of the Crowd has struggled to connect with viewers. "Lousy idea. Lousy show," The Washington Post said.
Ultimately, Wisdom of the Crowd feels like it was cut from the same cloth as Fox's APB. Both shows follow a tech mogul using their resources to fight crime and find justice over the death of a loved one. Instead of focusing on its technology, though, Wisdom finds its strength in Piven's emotional performance as Jeremy Tanner—a father seeking vengeance over his daughter's murder. 
The CBS series has brought in low viewership since it premiered, according to TV By The Numbers, but they weren't the show's only problem. On November 27, The Los Angeles Times reported that sexual assault allegations against Piven prompted the network to officially drop the series after its initial 13-episode run.
Training Day
While Taken was renewed for a second season at NBC, CBS's small-screen adaptation of Antoine Fuqua's Training Day wasn't so lucky. Coming in at 22 percent on Rotten Tomatoes, the series was mired in one horrible review after another as soon as it premiered. 
"Training Day, the series, becomes its own hackneyed, dreadfully written carbon copy of every crummy cop show you've ever seen," Vulture argued. "What could be, like the film, an exploration of the dangers posed by unscrupulous, vindictive men with too much power is, instead, a Jerry Bruckheimer–produced excuse to show a maverick cop and his colleagues taking down bad dudes and hombres every week."
The series flipped the script on the 2001 film's original story, pairing a rookie African American Det. Kyle Craig (Justin Cornwell) with seasoned white officer Frank Rourke (Bill Paxton). It proved to be a both an intriguing concept and a risky move for CBS, who relied mostly on Paxton's scenery-chewing acting chops to carry the series.
Paxton's talents couldn't save the show's overused exposition and slow pace, though. The show was on the bubble as soon as it premiered, and after Paxton's untimely death in February, TV Line reported that CBS moved the series from its Thursday night time slot to Saturday. According to Deadline, the network officially canceled the series just months later.  
Disjointed
Chuck Lorre knows a thing or two about sitcom success. He's the dude that brought Two and a Half Men and The Big Bang Theory to CBS—two comedies that were regularly panned by critics while still garnering huge ratings. Moving from network TV to Netflix's streaming platform, Lorre has continued doing his thing with the pot comedy Disjointed.
Disjointed stars Kathy Bates as Ruth Whitefeather Feldman, the owner of an offbeat medical marijuana dispensary smack dab in the middle of Los Angeles, where each episode explores the misadventures of the shop's staff through Lorre's signature three-camera setup. "Disjointed is a caricature of stoners the way The Big Bang Theory is a caricature of nerds, or Two and a Half Men is a caricature of masculinity," pointed out The Daily Dot. "And just as real "nerds" tend to reject the heightened, shrill versions of themselves they see on The Big Bang Theory, real pot smokers are likely to reject or even be offended by their portrayal on Disjointed."
The series may be summer 2017's weirdest new show. According to The Wrap, it was also the summer's worst. 
Marvel's Iron Fist
Marvel and Netflix have proven to be a worthy partnership over the past few years. In 2017, though, things hit a rough patch with the release of Marvel's Iron Fist. From Daredevil to Jessica Jones, fans grew accustomed to edgy comic book stories mixed with a heaping helping of action and intrigue. Unfortunately, that all came to a halt when Iron Fist hit the platform. 
The conflict came slow, the fight sequences fell flat, and Finn Jones' performance as Danny Rand failed to live up to expectations. Rand's eventual love interest—and future Daughter of the Dragon—Colleen Wing (Jessica Henwick) helped to breathe some much-needed life into the series, but it wasn't enough to lift Iron Fist out of the muck. 
"Ultimately, Marvel's Iron Fist feels incredibly inessential, even boring at times," said Indiewire. "It's a show that doesn't push for bigger themes, doesn't seek to have its own voice beyond the Buddhist philosophy spouted by a white guy. It just... didn't need to happen. Marvel could have taken a pass on this one, or found a more interesting take on it. They chose not to. But that doesn't mean you have to choose to watch it."
According to Entertainment Weekly, Netflix hopes you'll watch new episodes, because Danny Rand will be joining forces with Luke Cage in Season 2 of Iron Fist. Here's hoping their Harlem partnership can lift the series out of the Netflix doldrums.
9JKL
Not only does 9JKL utilize the antiquated three-camera sitcom setup, the CBS series feels as if it was cut straight from mid-'90s TV cloth. Loosely based on the life of actor Marc Feuerstein, it stars Feuerstein as Josh, a struggling actor who struggles to find himself after the show he starred in was canceled.
To deal with his failure, Josh moves far from Hollywood to a sizable New York apartment. He finds himself living rent-free—which would be cool if his new place weren't positioned inconveniently between his overbearing parents (played by Elliott Gould and Linda Lavin) and oversharing brother and sister-in-law.
"Once a season, CBS strands an overqualified cast in an undercooked multi-cam series that has no hope of pulling Big Bang Theory-sized (or even Kevin Can Wait-sized) ratings," wrote The A.V. Club. "9JKL has all the makings of this fall's live-in-front-of-a-studio-audience sacrifice. This despite the sincere desire to please that Feuerstein radiates in every scene, the charisma of an old pro who's missing the fact that 9JKL is a funny anecdote to tell over drinks, not the basis for 24 episodes a year."
Marvel's Inhumans
At just 10 percent on the Tomatometer, Inhumans comes in as Marvel's worst-ever comic book adaptation. ABC had high hopes it'd work opposite Marvel's Agents of S.H.I.E.L.D. on Tuesday nights—but things haven't really panned out.
According to Indiewire, it's "the worst thing Marvel has done in decades." The Telegraph calls the series "a caped catastrophe." A Disney budget and the star power of Hell on Wheels' Anson Mount and Game of Thrones' Iwan Rheon wasn't enough to fill IMAX theaters for the show's limited theatrical release: Box Office Mojo reports just $2.9 million in ticket sales hit box offices before the series' network premiere. And once it did take off at ABC, TVSeriesFinale reports the show's averaged under 2 million viewers for weeks.
Are poor reviews and dismal viewership enough to justify canceling the series? Maybe not. According to a report by ScreenRant, Disney stepped in to block Agents of S.H.I.E.L.D.'s cancellation in September. Marvel's original plans for Inhumans called for a big-screen MCU blockbuster, but that doesn't mean Disney won't step in to greenlight more episodes on ABC's behalf. Bright side: if more seasons do come, at least we'll get to see more of that cute giant dog.