What Hellraiser's Jamie Clayton Really Looks Like Out Of The Pinhead Costume
Clive Barker's "Hellraiser" was a film that took horror cinema to new and unexpected visceral heights when it was released in 1987. This was a horror movie that wasn't playing around with jump scares or hidden psychopaths in the shadows tracking down gullible victims. Based on Barker's novel "The Hellbound Heart," the novelist was granted the freedom to direct the film adaptation, and the final product was a modest box office success based on its relatively low budget for the time (via The Numbers). Its success at the box office, as well as its originality compared to typical horror cinema fare, would lead to a string of sequels, none of which could ever capture the author's bold imaginative style. A fresh take on the original material is, in many ways, the only option left, and Hulu has met this undertaking with an all-new "Hellraiser" reboot.
The makeup and prosthetic effects of the original "Hellraiser," chiefly the work done on the Cenobites and their leader Pinhead (Doug Bradley, as shown above), were inimitable examples of transgressive horror that live on in horror iconography. In the reboot, Pinhead will be played by Jamie Clayton, which offers a new and interesting female perspective on the character. Pinhead is a character that truly lives up to the name with metal pins drilled into the head so effectively that both Bradley and Clayton are completely unrecognizable in the roles. We've already gotten a first look at Clayton as Pinhead thanks to an exclusive from Entertainment Weekly, so how does she really look when out of the costume?
Rest assured Jamie Clayton looks nothing like Pinhead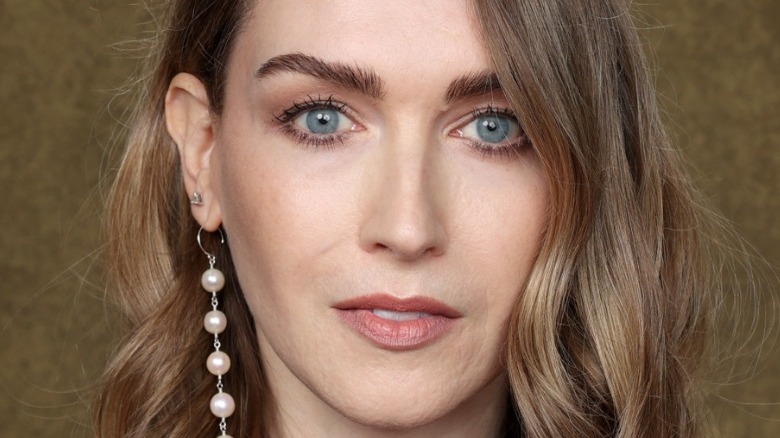 Rich Polk/Getty Images
By taking a quick look at Jamie Clayton's Instagram, it can be seen that she looks totally normal and elegant. The "Sense8" actress shared a screenshot of herself in character as Pinhead, which is immediately striking when you take the stellar makeup work into account and then look at the actress' other pictures where she is simply living her best life with style and sophistication. As a trans woman, Clayton has been breaking new ground in terms of transgender representation in the acting field. Her performances on the dearly-missed "Sense8," as well as "The L-Word: Generation Q" and "Designated Survivor," have helped establish that casting decisions based solely on gender identity are starting to evolve.
A female Pinhead is a groundbreaking evolution for the horror franchise and a decision for which Doug Bradley also shares his true feelings of intrigue and excitement. "Loved Sense8! Disappointed we didn't get another season. Contrary to any rumors, I am fully supportive of your casting and looking forward to your performance! Peace and Pain, Doug," Bradley tweeted. The actress was quick to share her excitement about the original Pinhead's endorsement and replied to his tweet by saying, "OMG Y'ALL. The OG has spoken! GET INTO IT! THANK YOU DOUG!!"
Catch Jamie Clayton's striking transformation into Pinhead when "Hellraiser" debuts on Hulu on October 7, 2022.