Better Call Saul's Mark Margolis' Favorite Part Of Playing Hector Salamanca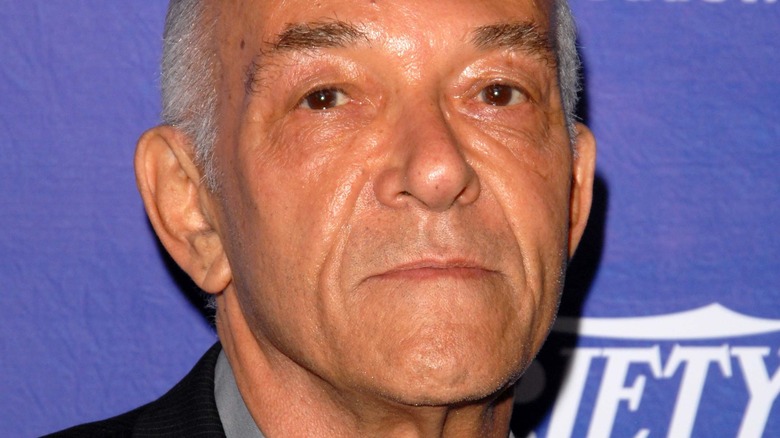 s_bukley/Shutterstock
Created by Vince Gilligan and Peter Gould, "Better Call Saul" — the prequel spin-off series to "Breaking Bad" — follows Jimmy McGill (Bob Odenkirk), a former con artist and earnest new lawyer, as he transforms into the shady, greedy criminal defense lawyer who helps Walter White (Bryan Cranston) and Jesse Pinkman (Aaron Paul) with their meth business in the predecessor series. Jimmy's world is filled with plenty of new characters — namely, a slew of fellow lawyers: his brother Chuck (Michael McKean), Chuck's colleague Howard Hamlin (Patrick Fabian), and Jimmy's eventual wife Kim Wexler (Rhea Seehorn).
But, "Better Call Saul" features a second storyline: that of "Breaking Bad" character, Mike Ehrmantraut (Jonathan Banks), resident fixer and the right-hand man of Gustavo Fring (Giancarlo Esposito). In Mike's storyline, we see quite a few familiar faces from "Breaking Bad" show up, Gus Fring included. With Gus' involvement, it likely comes as no surprise that a major player in "Better Call Saul" is also Hector Salamanca (Mark Margolis), a leader of the cartel and rival to Gus. Within the run of "Better Call Saul," we even get to see Hector before the stroke that cost him his voice and put him in a wheelchair.
Between the two shows, Margolis played Hector over the course of eight years in a total of 30 episodes (via IMDb). So, for those curious, what's Margolis' favorite part about playing Hector Salamanca? The actor opened up about that very detail in a discussion with AMC.
Margolis loves his character, as well as the cast and crew
In 2016, right at the beginning of Mark Margolis' run on "Better Call Saul," he spoke with AMC about what it was like to return to his "Breaking Bad" character for the prequel series. During the talk, the interviewer asked Margolis what his favorite part of playing Hector is — and Margolis had a difficult time picking only one thing.
Margolis began by explaining what he likes about the character itself — namely, the duality that Hector possesses. He said, "I loved being in the chair and not having the ability to speak, but [I also love] having a mind that works to show I'm still connected to what's coming at me." Margolis also loves the company that the role allows for — he continued, "I love working with Vince Gilligan and the crew. They are just amazing. It's hard to pick one thing. In this case, I was thrilled about having an opportunity to work with Jonathan Banks."
As Margolis explained, he likes the fact that Hector isn't able to talk. This is why it makes sense that Margolis was a bit nervous about the change of pace when, for "Better Call Saul," he found out that he would actually be walking and talking, portraying Hector pre-stroke. Margolis said, "[The first thing I thought about was] that I had to start speaking and that my notoriety would probably go down the tubes once I started talking. I was pretty good when I didn't speak!"
Margolis almost missed out on playing Hector
When Mark Margolis was a guest on the "Better Call Saul Insider" podcast, he revealed that the role of Hector was originally offered to another actor, a friend of Margolis' who has since passed away.
Margolis explained that, after his friend read the script, he ended up turning it down because he didn't like the fact that Hector didn't have any speaking lines. However, that was exactly what attracted Margolis to the role. The actor explained, "I looked at the script and thought oh my, I don't have to learn any lines. I just have to fly out to New Mexico, get into the scene and think. And for me it was heaven."
The "Breaking Bad" star then elaborated that, had his friend wanted the part, he thinks that he would have gotten it — meaning that Margolis would have missed out on the chance to play Hector. According to Margolis, his friend was from Albuquerque and spoke fluent Spanish, something Margolis believes would have given him a leg up. Ironically, Margolis explained that he eventually needed a tutor for his Spanish-speaking lines on "Better Call Saul." Margolis continued, "So he probably would've gotten it if he hadn't been uptight about no lines."
Luckily, his friend was stubborn about the lack of lines because it's hard to picture anyone besides Margolis as the silent but menacing Hector Salamanca.