SNL's List Of Returning Cast Members For Season 48 Just Got Even Shorter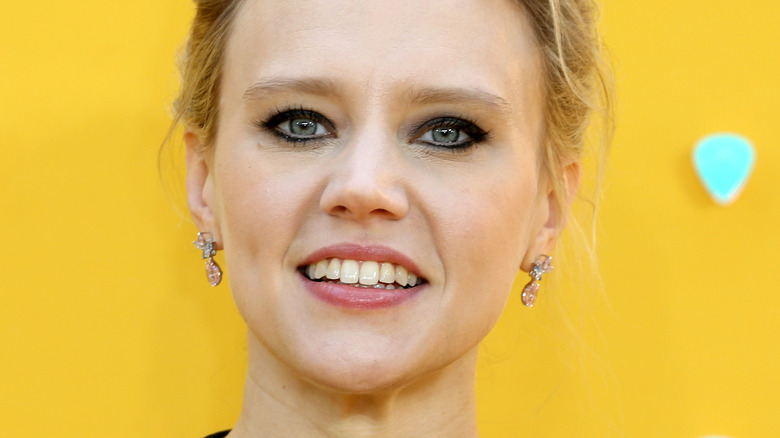 Cubankite/Shutterstock
Like sands through the hourglass, so are the cast shake-ups on "Saturday Night Live." If there is one constant in the long-running sketch comedy series, it is the cyclical purging and hiring of new talent. While some cast members exit with little fanfare, other seasons mark generational shifts for "SNL" viewers. Season 20, for example, was the final season for veteran players like Mike Myers, Adam Sandler, and Chris Farley, whose mass exodus helped usher in the late-'90s era of Molly Shannon, Will Ferrell, and Ana Gasteyer.
A similar upheaval seems to be happening now, between the end of Season 47 and the start of Season 48 this fall. In May, "Saturday Night Live" said goodbye to Kate McKinnon, Aidy Bryant, Pete Davidson, and Kyle Mooney — McKinnon and Bryant both joined the cast way back in 2012. More exits and shake-ups appear to be happening backstage, too. In August, longtime producer Lindsay Shookus announced her departure after 20 seasons (via Variety).
Now, the returning cast list for "SNL" Season 48 has gotten even shorter.
Alex Moffat and Melissa Villaseñor are leaving SNL
Alex Moffat and Melissa Villaseñor, who both joined the show as featured players in 2016, are the latest "Saturday Night Live" cast members to say goodbye to studio 8H, The Hollywood Reporter confirms.
Moffat brought a repertoire of political impressions to "SNL," including one of many Joe Bidens, and commentators Tucker Carlson and Joe Scarborough. He also lent his skills as a reliable straight man in a number of sketches. Villaseñor also demonstrated her imitative chops, doing everyone from Kathy Griffin to Alexandria Ocasio-Cortez. She was also the first Latina cast member to be promoted to repertory player (via Deadline). Aristotle Athari, who joined "SNL" last season, also announced that he would not be returning for Season 48.
Although the exodus may seem surprising to casual viewers, in a May piece in The New York Times, "SNL" honcho Lorne Michaels hinted that 2022 may see some significant changes at the show. That prediction appears to have been accurate.