Why Mera From Justice League Looks So Familiar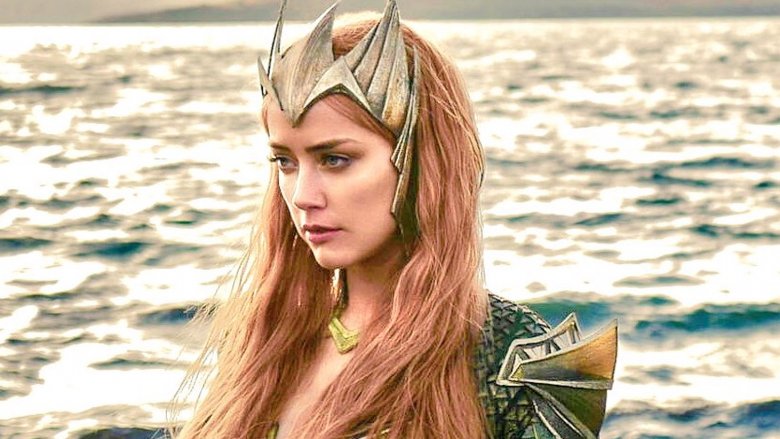 Justice League features the debut of the newly-united titular team of superheroes, but it's not the first we've seen of most of the characters—Jason Momoa's Aquaman, Ezra Miller's Flash, and Ray Fisher's Cyborg all made their debuts in Batman v Superman: Dawn of Justice. That said, there's one very notable Justice League debut: Mera, one of Aquaman's fellow Atlanteans. 
Mera, played by Amber Heard, will figure far more prominently into 2018's Aquaman—an appearance that will likely catapult her even further into stardom. But she's far from inexperienced, already having appeared in everything from an Oscar-winning drama to a stoner action-comedy before diving into the DC Extended Universe. Here's a look at some of her most noteworthy early roles, and why Mera may have seemed familiar when she showed up in Justice League.
Friday Night Lights (2004)
Heard made her brief but memorable big-screen debut in 2004's high school football drama Friday Night Lights, appearing as Maria, a classmate of Garrett Hedlund's Don, a football player on the local high school team. She most prominently figures into a scene in which the two are in the midst of a hookup when they're caught by Don's father, played by country music singer Tim McGraw. Don's dad begins to abuse him in front of her, and the scene quickly escalates from there.
That scene, however brief, is unforgettable thanks to the actors involved—Heard included. It feels raw and real in a way that's simultaneously uncomfortable and enthralling. Heard couldn't have asked for better material to work with for her debut.
All the Boys Love Mandy Lane (2006)
Heard's would-be big break came in the form of indie horror outing All the Boys Love Mandy Lane, in which she appears as the titular character, a quiet, reserved high schooler who, after coming into her own over the summer, becomes the desire of every guy at her school. It ends up scoring her an invite to a weekend at a secluded ranch to party with some of her more popular classmates—kids who, just a year prior, treated her best friend Emmet like trash. As one would expect in any movie featuring teens getting into trouble in a house in the middle of nowhere, bodies start dropping once night falls.
All the Boys Love Mandy Lane had all the makings of a breakout moment for Heard, but unfortunately studio issues kept the film in limbo for several years, and it remained unseen in U.S. theaters outside the festival circuit. When it was finally released in 2013, Heard had already started building a career for herself, and it never ended up being the big break it should have been—but it's still a smart horror film with a killer (ahem) twist and easily one of her highlights. 
Pineapple Express (2008)
While still building her early filmography, Heard appeared in Seth Rogen and James Franco's hybrid stoner comedy/action movie Pineapple Express, which gave her a memorable role and a good chunk of screentime. She plays the still-in-high-school girlfriend of Rogen's weirdo burnout Dale, who's significantly older. Throughout the film their relationship is a hilarious roller coaster of either literally proposing marriage or hating each other's guts with very little in between. Heard plays off Rogen well, and their comedic chemistry is quietly excellent; the subplot of Dale finally coming to a dinner to meet her parents pays uproarious dividends. In a movie stacked with comedic all-stars like Rogen and Danny McBride as well as character actor stalwarts like Gary Cole, Heard manages to make an undeniably strong impression.
Zombieland (2009)
Heard's role in 2009's zombie action comedy Zombieland is confined to a single scene, but it's one of the most memorable moments in the movie. She appears as "406," neighbor to Jesse Eisenberg's Columbus (named for her apartment number). Her sole scene in the movie is a hilarious send-up of a rom-com trope as well as Columbus's first exposure to zombies. From beginning to end it's a hoot, with every gear turning in sync with the others to create comedic gold. Little details like Columbus pouring 406 a coffee mug full of Mountain Dew Code Red to calm her down cement it as one of the best moments of an already-great movie. Heard's appearance in Zombieland is proof that, as the old saying goes, there are no small parts. 
The Ward (2011)
2011 saw Heard take the lead in legendary genre director John Carpenter's first new film in nine years, The Ward. She plays Kristen, a girl committed to a psychiatric ward who finds herself haunted by the ghost of a former inmate, and shoulders a film chock full of solid talent, from fellow inmates played by Lyndsy Fonseca and Danielle Panabaker to a vaguely sinister doctor played by Jared Harris. Overall, the film wasn't received too well, but it had far more to do with the story and direction than Heard's performance, with Bloody Disgusting arguing "If someone other than Carpenter had been at the helm of The Ward, then nobody would be talking about it." It didn't matter much for Heard, though: her star was rising, and soon she'd leave this forgettable horror flick far behind.
Drive Angry (2011)
Only a few actors working in Hollywood can lay claim to having appeared in the single craziest movie produced by the mainstream film industry in recent memory. Heard is on that short list. 20011's Drive Angry is wall-to-wall madness: sometimes it's good, sometimes it's bad, but it's never boring.
Heard plays Piper, the partner of Nicolas Cage's John Milton, an undead criminal who has escaped from Hell with Satan's gun to hunt down a cult leader who wants to sacrifice his grandchild to the Devil to bring about the apocalypse—all the while being pursued by the Accountant, an assistant of Satan played by William Fichtner (of course). Still with us? It's a lot to take in.
Heard is the supporting lead in the film and very much plays the straight man to, well, everything else. She's perfectly serviceable as Piper, but ultimately plays something of a reactionary role to the insanity surrounding her character. Unfortunately, it was a massive bust at the box office, but it's the kind of bugnuts insane movie that feels like it could develop a cult following at any minute. 
The Rum Diary (2011)
Heard beat out some pretty stiff competition for her next role in 2011's The Rum Diary, based on the novel of the same name by Hunter S. Thompson. The film is a lazy romp through Puerto Rico in the 1960s, with Heard absolutely magnetic as Chenault, a woman engaged to the antagonist (played by Aaron Eckhart) who's engaged in some shady business Kemp tries to expose through his writing. Along the way he becomes involved with Chenault, complicating things significantly.
Heard has spoken very highly of the shoot, which took place on location in Puerto Rico, calling it "the best experience ever." Filming was notoriously boozy, with director Bruce Robinson even breaking his sobriety for the first time in years to get in on the fun. The film was met with pretty mixed reviews, but nothing could stop Heard's rising star at this point.
Paranoia (2013)
If you don't remember Paranoia hitting theaters in 2013, don't worry, you're not alone. The Liam Hemsworth vehicle was a notorious box office bomb, coming in at No. 13 over its opening weekend. Heard appears in the film as Hemsworth's love interest and a figure in the world of corporate espionage, with other notable players including Harrison Ford, Gary Oldman, and Richard Dreyfuss. It's a wildly star-studded cast for such a lousy flick, and the opportunity to see Oldman and Ford play off each other would likely be a can't-miss scenario in any other movie. Unfortunately it clocked in at 6 percent on Rotten Tomatoes, so it's not like its poor performance at the box office was unwarranted. But if you're one of the handful of people that saw it in theaters, there's a chance you saw Heard at work.
Magic Mike XXL (2015)
Heard appeared opposite Channing Tatum and a bunch of other obscenely fit shirtless men in the male stripper road trip movie Magic Mike XXL, playing Zoe, a laid-back artist with her sights set on New York City. She bonds with Tatum's titular Mike and they form a budding friendship and maybe-romance as they continuously run into each other over the course of the film. Heard and Tatum have a fun, easygoing chemistry and it largely benefits from their relationship not being a focal point of the film; it feels relaxed and devoid of pressure, which lends to it feeling all the more authentic.
The fact that Heard had a legitimately great time shooting the movie no doubt helped fuel that chemistry. She's talked about her experience filming the climactic lap dance routine and claimed, "I didn't see it for real until I was in hair and makeup and 1,000 screaming extras were surrounding me ... So a lot of [my facial] reactions were genuine. I couldn't stop laughing the entire time. It was fun." It's hard to blame her—and to imagine keeping a straight face while Channing Tatum effectively uses you as a prop in a massively sensual dance number.
The Danish Girl (2015)
In 2015 Heard appeared in director Tom Hooper's Oscar-nominated The Danish Girl, a nonfiction film that tells the story of transgender pioneer Lilli Wegener. Heard plays Ulla Paulson, a friend of Lilli and her wife Gerda, and a free-spirited ballet dancer who stays by the Wegeners as Lilli begins coming into her own as a woman. Her role in the story is pivotal, as it's Ulla's absence from a painting session in which she's supposed to serve as Gerda's model that causes Lilli to stand in—and causes Lilli to begin to reconsider her relationship with her gender. It's even Ulla who suggests Lilli's new name when she shows up to the session.
As Ulla, Heard provides genuine comedic charm in an otherwise immensely dramatic story. While she didn't see an Oscar nomination for the film (though her costar Alicia Vikander went on to win one), she's a standout in the film, and that's truly saying something considering the caliber of performances throughout.