Little Demon Episode 1 Features The Voice Talents Of A Major DCEU Villain
Countless movies and television series have shown that getting into business with the Devil is bad. Of course, it's even worse when one is expected to carry, give birth to, and raise his child. From the controversial "Rosemary's Baby" to "The Omen," demonic offspring are rarely a force for good in the medium of entertainment. However, FXX's animated series "Little Demon" adds a new twist to the formula by supplying more laughs than apocalyptic scares.
The series centers around Laura (Aubrey Plaza), a single mother who wants to live a simple life with her daughter, Chrissy (Lucy DeVito). Unfortunately, her daughter's father is none other than Satan (Danny DeVito), and he wants custody of the child. Furthermore, Chrissy is going through adolescent changes, causing her demonic side to unexpectedly erupt and cause carnage whenever she feels emotional.
The Devil might be the big bad on "Little Demon," but the show also features the voice talents of an actor who's been known to bring some wickedness to DCEU projects in the past.
Michael Shannon voices a character on Little Demon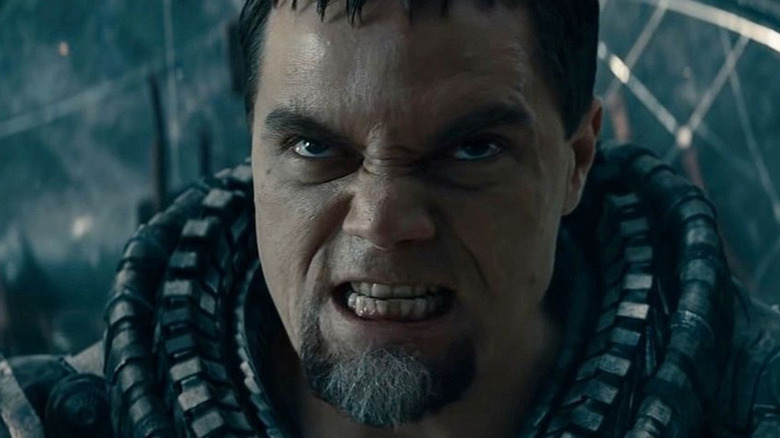 Warner Bros.
According to Variety, Danny DeVito's performance as Satan is arguably the biggest selling point of "Little Demon." With a legendary actor playing such an iconic villain, it's easy to overlook some of the other performances on display. However, the first episode of "Little Demon," titled "First Blood," features an appearance from a mysterious character called Unshaven Man, a demon hunter whose sole mission in life is to put an end to Chrissy and make sure her old man doesn't mingle with humanity.
The episode in question sees Shannon play a somewhat menacing character who loves his job a little too much. Then again, this type of role is very much in Shannon's wheelhouse as he's used to playing intimidating characters on occasion.
Per IMDb, he portrayed the villainous General Zod in the DCEU's "Man of Steel" and "Batman vs Superman" movies. Shannon is regarded as one of the best things about "Man of Steel" too, as his outing was praised for adding a ruthless streak to Zod.