TV Shows With Terrible Rotten Tomatoes Scores You Should Watch Anyway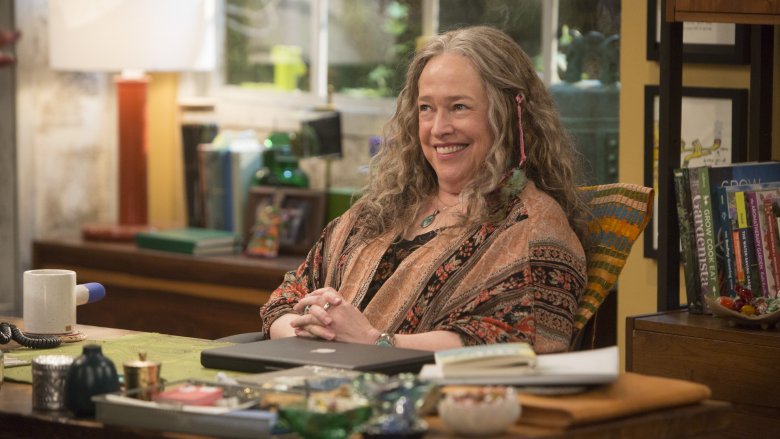 To say television has come a long way over the last decade would be an understatement. With streaming services getting into original scripted content, there are more viewing options than ever; according to a report published by Variety in August of 2017, more than 340 scripted series aired during the first seven months of the year—compared to 325 over the same period in 2016.
Naturally, not every show can be a critical winner. Every network wants to find the next Game of Thrones or Handmaid's Tale, but taste is subjective, and trends are constantly shifting. With so many options at the viewer's disposal, it's easy to write off many of them—especially if they have low Rotten Tomatoes scores. 
Sure, poorly rated shows often deserve their bad rap. But negative reviews don't necessarily mean a show is all bad. Every dark cloud has a silver lining—let's find that silver lining in some of Rotten Tomatoes' lowest-rated TV series, shall we?
Fuller House — 32 percent
When Fuller House premiered, critics everywhere panned the show—not surprising, considering how avidly they hated Full House, the long-running sitcom it revived. The Washington Post said Fuller House "immediately crosses that line" between nostalgia and necrophilia. The Telegraph simply called it "garbage." Through it all, executive producer Jeff Franklin remained positive. "I kind of look at bad reviews as good luck for us," he told Business Insider. "When Full House came on the air, the reviews were pretty vicious as well. I think we got an 'F' from People magazine and 30 years later we're on the cover."
The show's appeal escapes critics, but it keeps bringing audiences back. Netflix's sequel series has done its best to tap into the escapist quality that made ABC's TGIF lineup from the '90s so appealing, and there's undeniable nostalgia that comes with revisiting the Tanner Family after all these years. There are also dumb jokes and silly antics for days, but the show's lack of stakes come as part of its original DNA.
The Olsen twins aren't part of the reboot, but as long as Andrea Barber keeps killing it as Kimmy Gibbler and John Stamos regularly stops by to bring the cool, Fuller House won't ever be considered a failure. According to Indiewire, the show brought in roughly 14.4 million viewers per episode during its first season. Franklin put it best: "This is not a show that depends on good reviews for people to watch it."
Pure Genius — 27 percent
Pure Genius premiered on CBS in October of 2016. The series, created by Jason Katims (Friday Night Lights, Parenthood), followed Silicon Valley tech billionaire James Bell—played by Augustus Pew—who aimed to cure the incurable through a special hospital equipped with the most advanced cutting-edge technology. Imagine if Mark Zuckerberg decided to scrap his Facebook endeavors to get into medicine.
The series set itself apart from other medical procedurals by highlighting science and technology in a positive light. Bell's energetic wonder and excitement drove every episode, offering a nice dynamic opposite Dermot Mulroney's pessimistic Dr. Walter Wallace. It also lacked the familiar formulaic soap opera elements one would expect from a primetime drama—which was its gift as well as its curse.
According to Deadline, the network scrapped any plans to more episodes of Pure Genius just one month after it premiered. Half a year later, the network officially pulled the plug on the program. 
"I think we got caught between two different shows," Pew told TVLine. "I think CBS wanted something a little more procedural, and [executive producer] Jason [Katims, of Friday Night Lights/Parenthood fame] wanted something a little more character-driven." Each episode was filled with compelling performances and futuristic gadgets that helped make medical science cool. And in the high stakes world of primetime television, that was quite an accomplishment.
Friends From College — 24 percent
With an ensemble cast including Colby Smulders, Keegan Michael Key and Fred Savage, it's easy to see what made Friends from College a series worth Netflix's attention. The comedy could easily be looked at as an anti-thirtysomething, but when a series following the reunion of four old friends quickly reveals that every character is in fact a horrible person, sticking around for every episode may feel less than ideal. What if, though, the point of the series was to flip the sitcom formula on its head?
The Hollywood Reporter may have put it best, arguing, "The process of watching Friends from College is not a traditionally pleasant one. But what if that's completely intentional? What if Friends from College is an elaborate meta-commentary on toxic TV sitcom friendship?"
The relationship dynamics in Netflix's comedy are ... complicated. Each character comes with a whole load of flaws, and it's hard to find any positive personality trait to latch onto. They make stupid decisions and hurt the ones they love. And yet the same could be said for Seinfeld, and the popularity of that show has only grown. One has to wonder whether critics would have enjoyed it more if the Nicholas Stoller-created series came with a laugh track or a studio audience. A season 2 renewal was announced by Deadline in August of 2017. Friends from College will be back—laugh track, not guaranteed.
Feed the Beast — 23 percent
Feed the Beast followed childhood best friends Tommy Moran (David Schwimmer) and Dion Patras (Jim Sturgess) as they followed their dreams of opening their own restaurant. It premiered on AMC in June of 2016—and came as quickly as it went.
At the height of peak TV, when hundreds of originally scripted series are at a viewer's disposal, it's possible the show could have performed better during another era. Instead, the program tried too hard to mirror the similar anti-hero formula featured in the network's previous successes, Breaking Bad and Mad Men. Variety called it a "flavorless concoction about the opening of a restaurant," and just months after the premiere, The Hollywood Reporter reported the show had been canceled.
It was bad, but it wasn't Low Winter Sun bad. One thing the foodie-drama did have going for it was a top-notch performance from Schwimmer. If his work as Robert Kardashian in American Crime Story: The People v. O.J. Simpson hadn't distracted audiences months before Feed the Beast's release, it's possible this series would've gained more attention. The world will never know.
Disjointed — 21 percent
Disjointed may easily be the weirdest sitcom Netflix has ever featured on its platform. The Chuck Lorre-created series cemented itself as "the worst-reviewed show of the summer," according to The Wrap, but that isn't to say the stoner comedy doesn't have a few redeeming qualities—it stars Emmy and Academy Award-winning actress Kathy Bates which in and of itself is a reason to tune in.
She stars as Ruth Whitefeather Feldman, the owner of Ruth's Alternative Caring—a pot shop that employs the ragtag cast of characters the show's based around. It's a huge departure from the gruesome roles she's played in recent seasons of American Horror Story. "I'm not stabbing or slicing anybody up," Bates tells The New York Times. "But there's an intensity being in front of a live audience again that's so much fun."
The jokes are dumb and the characters are one-dimensional, but Disjointed has another thing going for it. No, it's not the prerequisite that one must be high in order to enjoy the series—although that'd probably help. Almost every episode features animated story-within-a-story segments which delve into the PTSD-riddled mind of Carter, the store's ex-military security guard played by Tone Bell.
The cartoon psychedelia mixes with deep-seated trauma to explore the very real issue many military vets face on a daily basis. Disjointed ultimately failed at striking a balance between the deep message and derpy humor, but the attempt is intriguing enough to make the series worth a watch.
Mulaney — 17 percent
John Mulaney's Fox sitcom had all the makings of a successful program. But there was one small caveat. As Time pointed out, the show's structure and formula was too reminiscent of Seinfeld. Mulaney was a three-camera sitcom which, in 2014, felt stylistically antiquated when compared to single-cam comedies like The Office, Modern Family, and Louie.
The comedic talents of Nasim Pedrad, Martin Short, and Elliott Gould rounded out Mulaney's supporting cast, making the show look like a surefire hit. But the program had a bit of an identity crisis before debuting. According to TVSeriesFinale, the Mulaney pilot was first ordered by NBC, but the series never picked up steam at the network and ended up moving to Fox, where it lasted just 13 episodes.
Ultimately, the show earned mixed reviews. The aesthetic similarities to Seinfeld and the sitcom formula didn't end up fitting with the Fox's overall brand. For audiences, they'd been there and done that. Mulaney, for his part, has said he wouldn't change a thing. "If I had to go back," the former SNL writer told Vulture, "I would have made the show I made because I wanted to make that show. I wanted to get it out of my system. It wasn't like if I could go back in time I'd do a single-cam." Never able to find its footing, Deadline reports Mulaney was nixed in January of 2015.
Damien — 11 percent
When former The Walking Dead showrunner Glen Mazzara brought Damien—a sequel series to the classic 1976 horror film The Omen—to A&E, horror fans were equally excited and confused. Adapting classic genre movies into TV shows was a fairly new trend when the series went into development in 2014. Hannibal, Bates Motel, and The Exorcist have all proven to be compelling TV adaptations, but there's something to be said for the dated nature of the subject matter those shows are based on.
"The Omen has a type of very specific horror in it, in which you have these macabre accidents take place," Mazzara explained to Collider. "They are very well-designed horror sequences that are thrilling and suspenseful." The series continued exploring the antichrist story director Richard Donner introduced audiences to 40 years ago. It stayed true to the genre's slow burn pacing, which ultimately proved to be its downfall. It was no match for today's quick-moving television narrative.
Mazzara had plans for a five-season series, but according to Entertainment Weekly, Damien was canceled after only one. Still, the show opened up The Omen canon for the small screen, bringing the classic genre tale to modern audiences—and it did so with epic performances by each and every member of the cast.
Dr. Ken — 7 percent
Community's Ken Jeong stars in Dr. Ken—a sitcom loosely based on the actor's life. Before getting into comedy, Jeong earned his degree from the University of North Carolina, where he worked as a doctor. Add in Jeong's awkward bedside manner and you've got yourself an intriguing concept for a TV series.
"This is such a personal project for me, because the project's based on my life and growing up as a real-life physician," Jeong told Hollywood Today Live. There aren't many primetime sitcoms about an Asian family, and while Fresh Off the Boat has become a mainstay in ABC's primetime comedy lineup, Dr. Ken wasn't able to overcome the onslaught of negative reviews it received when it first premiered. The sitcom was canceled after two seasons, according to Variety.
While that can definitely be looked at as a failure, an interesting report by The Ringer puts the emotional importance of Dr. Ken into perspective. The article references a study run by Canvs—a company that uses a language algorithm to connect TV audiences' emotional reactions from Nielsen's real-time Twitter data—and identifies love as the top emotion felt by viewers of the show. This report accounted for "43.6 percent of those reactions," which was "13 percent higher than ABC's primetime average." Love is a strong motivator. But in the cutthroat world of primetime television, it's unfortunately not all you need.
Dads — 0 percent
Every dark cloud has a silver lining. Finding one in Seth MacFarlane's short-lived sitcom Dads is a challenge. Not only is it the only show on this list with a zero percent rating, it comes with a fair share of sexist jokes, racist one-liners, and lazy writing. That awful score is well-deserved. 
Dads told the tale of Eli (Seth Green) and Warner (Giovanni Ribisi), best friends and co-owners of a successful video game company. Once their out-of-touch dads end up moving back in with them, chaos ensues. The series was an exercise in baffling patience as viewers waited for Fox to drop the axe. "It's not just willing, but determined to take the easy way out at almost every turn," Maureen Ryan's The Huffington Post review argued. "It's like a cook preparing every single dish in the deep-fryer, no matter what ingredients are on hand."
According to Entertainment Weekly, the show was canceled after Fox toyed with ordering another season. Why exactly would any network ponder such a decision? Aside from the network's loyalty to MacFarlane, there are two things the series had going for it: The Odd Couple-style relationship dynamic of Green and Ribisi and the talented (yet under-utilized) Brenda Song. Those two components are reason enough to give Dads a shot, but be warned—it's not for the easily offended.