The Actress Who Played Nani Pelekai In Lilo & Stitch Is Gorgeous In Real Life
It's hard to believe that as of 2022, "Lilo and Stitch" turned 20 years old. The animated film is a rare hit from the dark era of early '00s Disney, earning more than $270 million worldwide at the box office and garnering an Academy Award nomination for best animated feature (via Box Office Mojo). The heartfelt film centered around the unlikely friendship between a lonely girl and an alien from another planet. "Lilo and Stitch" is ultimately a story about family, even if said dynamics are unorthodox. 
Obviously, a blue six-legged alien busting into anyone's family home would undoubtedly cause problems. However, Lilo's home life was already rough, something only adults may have truly noticed, and the arrival of her best friend Stitch was a much-needed change. Lilo lived alone with her older sister Nani, and their dynamic was often tumultuous. Nani is trying to make ends meet for her and her sister following the death of their parents, and Lilo feels misunderstood by her sister. Nani's character is pivotal in the development of Lilo and Stitch's tight-knit relationship. But even die-hard fans of the Disney film may not know much about the actor who voices the important supporting character in "Lilo and Stitch." 
Nani is voiced by a multi-faceted actress and musician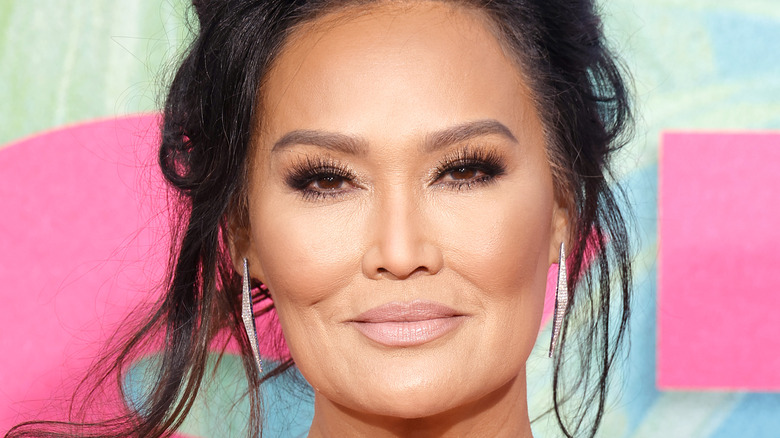 Frazer Harrison/Getty Images
Nani from "Lilo and Stitch" is voiced by Hawaiian-born actress Tia Carrere, who is also of Filipino and Chinese descent. Her acting work consists of a mix of both traditional and voice-acting roles. Carrere's breakout was as Cassandra Wong in 1992's "Wayne's World," for which she also appeared on the soundtrack. More recently, she appeared in the 2022 comedy "Easter Sunday." 
Even though Carrere has an impressive filmography, she's also known for her TV roles. She portrayed Jade Soong in the 1980s on "General Hospital" for more than 30 episodes and starred as series lead Sydney Fox on "Relic Hunter." In 2020, she also portrayed the villainous Lady Danger in Netflix's "AJ and the Queen," starring RuPaul. Her voice acting work outside of the "Lilo and Stitch" franchise includes credits for "Johnny Bravo," "Scooby-Doo!," and "Family Guy" (via IMDb). 
Carrere has seen massive success, but it wasn't an easy road for her to break it into Hollywood. She was pigeon-held to defaulting to Asian stereotypes like speaking with an accent, and her characters were never in interracial romantic relationships, she told Variety. "There were network TV shows where I gave great reads, and the casting director would say, 'That was really great, but the word comes down that we weren't thinking of going ethnic with that role.' Or they would say they weren't going to go 'exotic,'" she said.