The Only Acting Credit Mikhail Gorbachev Ever Had Was In A Willem Dafoe Movie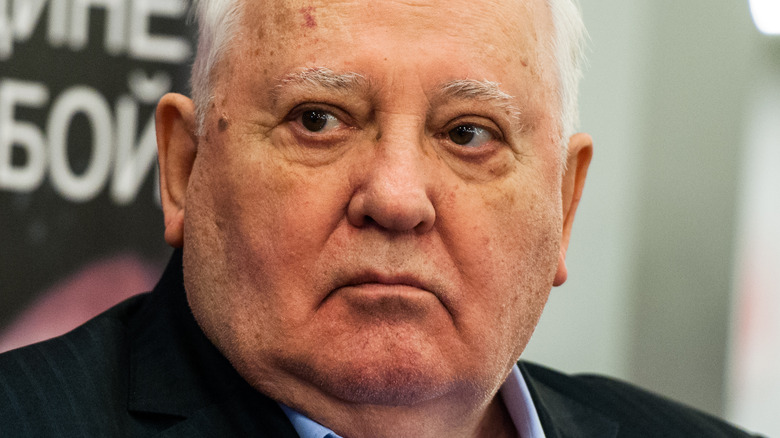 Evgeny Eremeev/Shutterstock
There have been lots of situations where real-life celebrities play versions of themselves in movies, often exaggerated to the hilt. However, these cameos tend to be from big showbusiness personalities, like The NPH (Neil Patrick Harris) in "Harold & Kumar Go to White Castle," or, more recently, Nicolas Cage in "The Unbearable Weight of Massive Talent." It's not quite as common to see a former head-of-state in the same situation, especially one as infamous as the former leader of the USSR, Mikhail Gorbachev.
Gorbachev, the former Soviet president responsible for bringing down the Iron Curtain and peacefully ending the Cold War, died on August 30 at the age of 91. During his tenure, he introduced reforms that opened the communist Soviet Union up to more democratic thinking, and his role in ending the Cold War made him a hugely visible and influential figure at the end of the 20th century.
With news of Gorbachev's death, reports of the leader's accomplishments abound, but few probably discuss the one movie in which he had an acting credit.
Mikhail Gorbachev had a role in a Wim Wenders film
Life was different for Mikhail Gorbachev after his 1991 Soviet presidential resignation. He continued working toward goals begun during his presidency, including Russian democracy, nuclear disarmament, and environmental issues, per CNN. To raise money for these causes, he appeared in a now-famous Pizza Hut commercial and participated in a spoken word album of Prokofiev's "Peter and the Wolf," alongside narrators Bill Clinton and Sophia Loren — with whom he shares a Grammy award.
Along with these odd appearances, Gorbachev also made his movie debut in a small role as himself in the 1993 Wim Wenders film "Faraway, So Close!," a sequel to Wenders' 1987 feature "Wings of Desire." In it, an angel, Cassiel (Otto Sander), decides to become human, while a devilish Willem Defoe as Emit Flesti ("time itself" backward) has other plans for him. Gorbachev's dissolution of the Iron Curtain and the resulting reunification of Germany, Wenders' home country, is an inspiration in the film. Furthermore, the former Soviet leader's inclusion is even more poignant considering, per The Los Angeles Times, that Wenders shot the movie in East Berlin, which he was unable to do with his original "Wings of Desire" because of the wall that Gorbachev helped bring down.