Kelly Bishop Reveals The Simple Key To Gilmore Girls' Success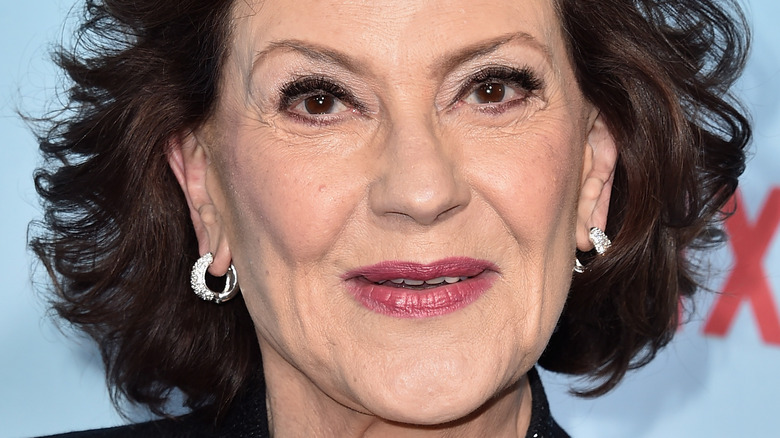 Alberto E. Rodriguez/Getty Images
When "Gilmore Girls" premiered on The WB in 2000, people weren't exactly jumping at the chance to familiarize themselves with single mom Lorelai (Lauren Graham), her daughter Rory (Alexis Bledel), and the townsfolk of Stars Hollow.
During a 2021 appearance on "Jimmy Kimmel Live!," Graham reflected on how Amy Sherman-Palladino's show aired opposite "Friends," which was entering its seventh season following the long-awaited engagement of Monica Geller (Courteney Cox) and Chandler Bing (Matthew Perry).
"No one even really knew we were on," said Graham. "It was a miracle every year we got picked up."
Still, thanks to streaming platforms like Netflix, new life has been breathed into "Gilmore Girls," even if there are a few unresolved plotlines. While Millennials can revisit their favorite moments, Gen Z is experiencing Luke's Diner, the Dean Forester (Jared Padalecki) vs. Jess Mariano (Milo Ventimiglia) battle, Lorelai's coffee obsession, and more for the first time. There are even TikTok accounts like @starshollowhigh dedicated to the series.
What has made "Gilmore Girls" stand the test of time and be accepted and loved by the next generation? There could be many reasons, from the various love stories and rivalries to the small-town quaintness. However, Kelly Bishop, who portrays Rory's strict but loving grandmother Emily Gilmore, believes the answer is straightforward.
Kelly Bishop believes there's a basic sweetness to Gilmore Girls
In a 2016 appearance on "TODAY," with Lauren Graham and Scott Patterson (who plays Luke Danes) by her side, Kelly Bishop shared her thoughts on why "Gilmore Girls" is still so popular 15 years after its finale.
"There's a basic sweetness to the show. There's a goodness," she said.
A big draw for "Gilmore Girls" is that it's female-centric and features some hard-working heroines. As Lorelai navigates being the single mother of a teenager while operating the Dragonfly Inn, Rory is working to excel at Chilton and launch a career as a journalist. At the same time, said Bishop, the men of "Gilmore Girls" must be applauded. Though Luke, Jess, and the rest have their share of unfavorable moments, she believes that none of them have poor intentions concerning the ladies of Stars Hollow.
"There's no bad guys. There's no jerks," she said. "They're all just trying to make their way ..."
Several fans agreed that, despite the occasional heartbreak and drama, there's a simplicity to "Gilmore Girls" that keeps viewers coming back for more. On Reddit, u/janeaustenfan99 described it as "the TV equivalent of comfort food." U/clairdelunem added, "The humor in it is amazing. Sex is not so much in your face. I love all the characters, all catchphrases, the small-town nature. Really makes me feel better watching the show. It's a lifestyle."
Others praised the special bond between Lorelai and Rory, the slew of pop culture references, the fast-paced, witty banter, and the relatable moments and characters in "Gilmore Girls."