10 Things I Hate About You's Julia Stiles Finally Debunked A Wholesome Heath Ledger Rumor
Cindy Ord/Getty Images
The teen romantic comedy "10 Things I Hate About You," directed by Gil Junger, is one of the most beloved rom-coms of the '90s — and, for many, of all time. Written by Karen McCullah and Kirsten Smith — and based on Shakespeare's "The Taming of the Shrew" — the film follows a scheme set up by new student Cameron James (Joseph Gordon-Levitt), who instantly develops a crush on popular girl Bianca Stratford (Larisa Oleynik) — whose strict father (Larry Miller) has a rule that Bianca isn't allowed to date unless her older sister, the anti-social feminist Kat (Julia Stiles) does. Thus, Cameron pays the school's resident bad boy Patrick Verona (Heath Ledger), to pursue Kat.
Many fans of "10 Things I Hate About You" would say that one of the film's best parts is Ledger's charming and endearing performance as Patrick. Further, his palpable chemistry with Stiles makes it a remarkable example of the genre.
In a December 2019 interview with Stiles, a specific famous scene of Ledger's from "10 Things" was brought up — and Stiles debunked a wholesome rumor about it.
Stiles says she is not the one who suggested the song Ledger sings — but that she loved watching it
During an appearance on Watch What Happens Live with Andy Cohen, Julia Stiles participated in a round of fan questions. One fan brought up "10 Things I Hate About You" and wanted to know if it was true that she was the one who suggested that Heath Ledger sing "Can't Take My Eyes Off You." In the scene, Patrick uses the stadium stairs as a stage to sing the song as a way to win back Kat after the two get into an argument.
Stiles, at first, jokingly takes credit for the song choice before revealing that the rumor isn't true (although she wishes it was). However, she does have great memories from that day of filming. Stiles recalled, "My favorite memory of that day — the whole day. [Ledger] was just phenomenal, running up and down those stadium steps. And nobody knew that he had this amazing voice, and he just went full out, and I got to watch it."
Stiles has praised Ledger in the past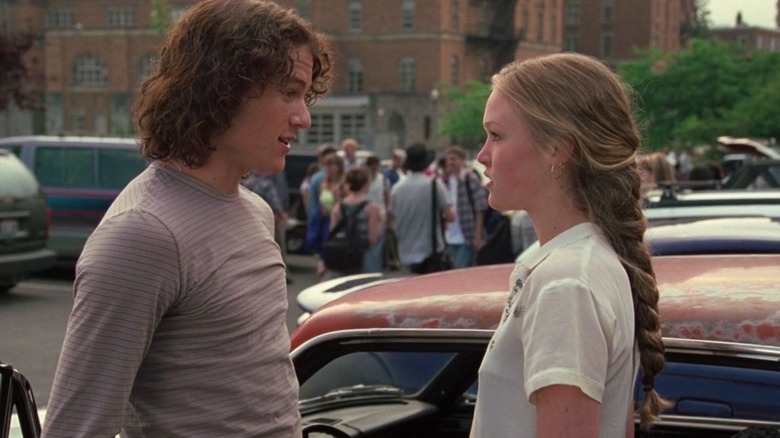 Buena Vista Pictures
Over the years since "10 Things I Hate About You" came out in 1999, Julia Stiles has praised Heath Ledger on multiple occasions, citing nothing but fond memories of starring in the rom-com together. In July of 2021, Stiles appeared on the podcast "People in the '90s." During the discussion, she recalled what Ledger was like as a scene partner (via People). Namely, what she remembers most is the decision he made not to have too much of a reaction during Kat's tearful reading of her poem for the focus to remain on Kat.
Stiles explained, "He wasn't trying to compete with me. He stood back, and he was like, this is your scene. When they did his reaction shot, he didn't well up. He didn't go, 'Okay, now I have to do something with my side of the camera.' He was just like, 'That was beautiful, and this is your scene.'" The actress added that she appreciates his ability to take a step back when necessary because she has found that not all scene partners are willing to do so.
Further, Stiles also spoke about her admiration for the late actor in 2021 during an interview with 9Honey Celebrity. Stiles declared, "Heath was such a magnetic person, larger than life. I'm so honored that I was a part of a thing that brought him to audiences all over the world."