The Only How I Met Your Mother Star To Ever Miss Some Episodes
Ben Gabbe/Getty Images
"How I Met Your Mother" aired for nine seasons on CBS and managed to keep all of its core cast members for its entire run. The popular sitcom follows Ted Mosby (Josh Radnor) and his four best friends — Barney Stinson (Neil Patrick Harris), Robin Scherbatsky (Cobie Smulders), Marshall Eriksen (Jason Segel), and Lily Aldrin (Alyson Hannigan) — as they navigate life and love in New York City. Their adventures are then retold by an older version of Ted (voiced by the late Bob Saget), who uses these stories to explain to his kids (David Henrie and Lyndsy Fonseca) how he met their mother.
As Ted gets closer to finding his future wife, the show weaves in some big life changes for each character. Lily and Marshall start a family, Robin and Barney realize they have feelings for each other, and Ted makes a career shift from architect to college professor. Big life changes were happening behind-the-scenes as well, and it led to probably one of the most legendary character disappearances in "How I Met Your Mother" history.
The brief storyline change for one character in Season 4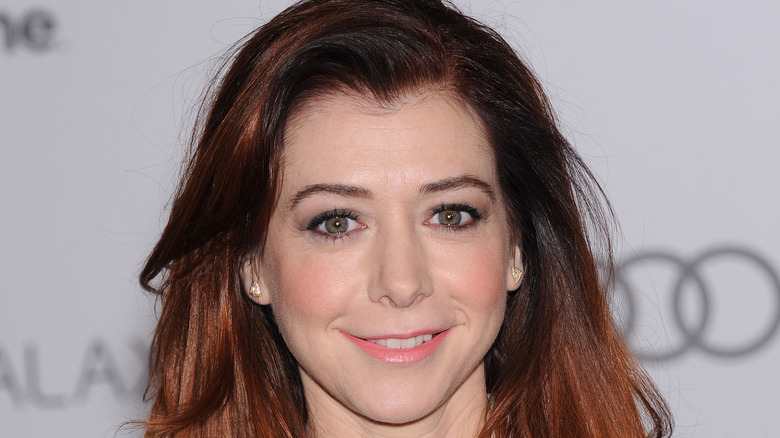 DFree/Shutterstock
In Season 4 of "How I Met Your Mother," Lily disappears for three episodes. In Episode 20, "Mosbius Designs," Barney tells Lily a dirty joke, with which she replies, "I cannot hang out with you anymore." In Episode 23, "As Fast as She Can," Lily walks into MacLaren's Pub, tells Barney that she took some time to think about the joke, and found the humor in it.
It turns out, Alyson Hannigan took a brief hiatus from the show after giving birth to her first child, so the writers wrote this storyline to explain Lily's disappearance. In a 2009 interview with The Chicago Tribune, Craig Thomas — the show's co-creator and executive producer — talked about the challenges of filming around the pregnancy of not one, but two main cast members. Cobie Smulders also got pregnant at the same time as Hannigan, which was a surprise for the creators. "After the shock wore off, we found a way to write around it or have fun with it," Thomas said, explaining how the writers winked at viewers by hiding Hannigan's pregnancy in plain sight.
When it came to Hannigan's hiatus, Thomas said they used it as an opportunity to give Barney and Marshall's friendship more screen time. Meanwhile, Smulders and Hannigan used their time on set to share their pregnancy experiences with each other. In a 2009 interview with People, Smulders said, "you have babies on the brain, and you can't help but talk about it a lot. From creams, doctors, birth methods, dilation...You talk about everything."