Sylvester Stallone Has Collaborated With His Brother Frank More Times Than You Probably Know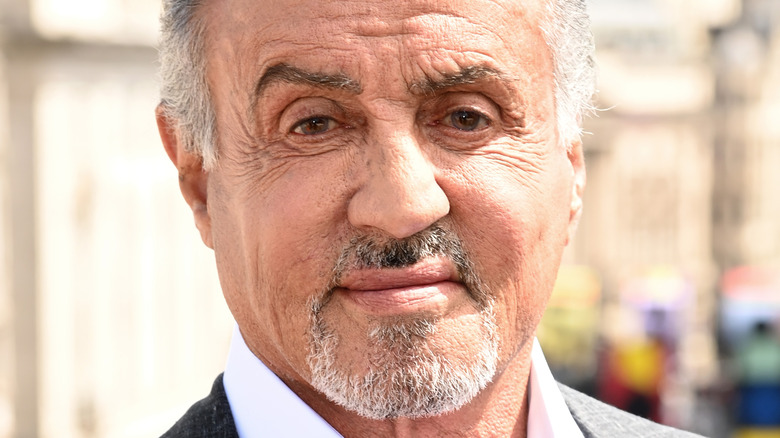 Dave J Hogan/Getty Images
No discussion about the biggest silver screen stars in history is complete without Sylvester Stallone. Since getting his start in the early 1970s, he's gone on to lead in some of the most recognizable franchises in Hollywood and play some of pop culture's most iconic names. Now decades deep into his acting career, he continues to pile projects onto his already impressive filmography, ranging from brand new endeavors to long-awaited sequels. Although, it's worth remembering that Sly isn't the only member of the Stallone family who's consistently landed gigs in the entertainment world.
Sylvester Stallone's younger brother, Frank Stallone, has quite the Hollywood résumé himself that almost dates as far back as his sibling's. From made-for-TV movies to blockbusters, as well as more than a few TV shows, he has built and continues to build a solid career for himself without sharing the spotlight with his brother. At the same time, that's not to say that Frank and Sly Stallone haven't stood in front of the camera simultaneously before. Rather, they've collaborated on a few high-profile productions over the years — many of which you've likely watched at one point or another.
Here's a look at all of the times that Sylvester and Frank Stallone worked together on an on-screen project.
Frank and Sylvester Stallone have shared the screen multiple times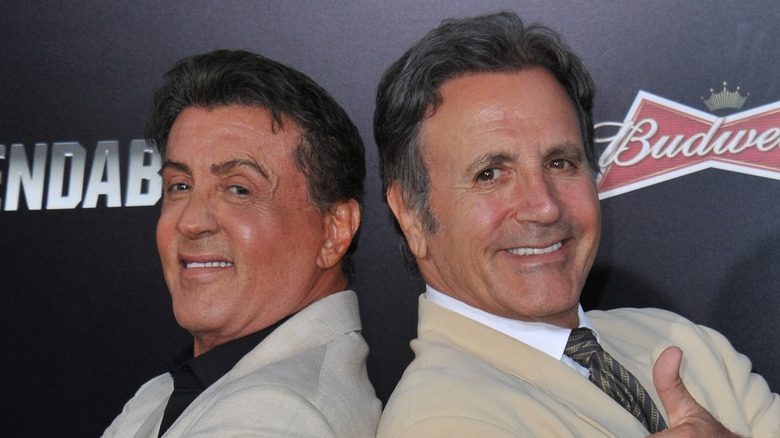 Jaguar PS/Shutterstock
At the time of publication, Sylvester and Frank Stallone have collaborated at the movies nine times. Their first came in 1976's "Rocky," which became so successful that they were able to share the screen in "Rocky II," "Rocky III" — which could've involved the Pope — and "Rocky Balboa" down the line. Outside of the boxing classics, the brothers worked together in "Paradise Alley," "Staying Alive," "Get Carter," and "The Good Life." Their most recent fiction teaming came in 2014's "Reach Me," though considering that both Frank and Sly are still going strong as actors, it stands to reason that they'll work together again sooner rather than later.
In addition to their narrative films, the Stallones have collaborated on a handful of documentary works as well. Most notably, they both contributed to "Stallone: Frank, That Is," which arrived in 2021 to tell the story of Frank's life, his film and music careers, and more. In an interview with Vegas Film Critic to promote the film, Frank even touched on his relationship with his brother that revealed just how deep their bond runs. "If he needs me or I need him, everything else goes out the window," he said. No matter the fight or disagreement they may be dealing with at the moment, their brotherly bond always takes priority.
Family clearly comes first among the Stallones, so don't expect Frank and Sylvester to end their cinematic collaborations any time soon.