Actors You Only Know Because Of Their Bloopers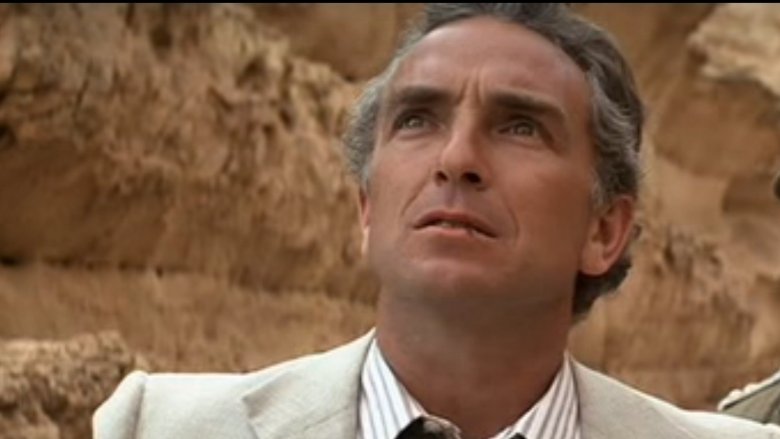 Being a character actor is a pretty sweet deal. While they don't earn the fame, fortune, or accolades afforded movie stars, some do get to live their dream and become very well regarded for the niche work they become known for. There are other perks to the gig: like, say, they make a big goof one day and get to be part of the movie or show's delightful, crowd-pleasing gag reel. Here are some performers who, at the end of the day, are probably most recognizable for a well-known blooper.
Christopher Darga, Bruce Almighty
Jim Carrey improvises so much on set that directors are left with a wealth of extra, hilarious, and often unusable footage. This means that any day player who had a scene with Carrey could also wind up in the gag reel. That's what happened to Christopher Darga, who played a baker interviewed by Carrey's reporter character in Bruce Almighty. With the bloopers running over the film's credits for the vast movie-going public to see, Darga was forever immortalized in film history as a guy who can't stop from laughing as Carrey jokes and wildly improvises. 
Ken Foree, Halloween
Horror movies are all about death, but they provide a cathartic, psychological release—a way to confront the sad fate that awaits us all. To enjoy a horror movie is to laugh in the face of death, and when actor Ken Foree quite literally does that, he provides perhaps his most famous screen work. While filming his very violent death-by-stabbing for Rob Zombie's 2007 remake of Halloween, he giggles uncontrollably as the prop knife goes in and the fake blood comes gushing out.
Some kid, North by Northwest
One of the most memorable outtakes from classic cinema comes from Alfred Hitchcock's 1959 classic North by Northwest. It includes one of Cary Grant's best performances, but the actor who really made history is an anonymous child extra. Grant's costar, Eva Marie Saint, is about to fire a gun in a crowded cafeteria, which we the audience know because about five seconds before the loud bang, a child in the background plugs his ears in protective anticipation.
Paul Freeman, Raiders of the Lost Ark
Imagine for a second that in the late 1970s, character actor Paul Freeman consulted a psychic, and this soothsayer told him that he would soon appear in one of the most acclaimed and highest-grossing blockbusters of all time. Not only that, but a scene focused squarely on Freeman would wind up being one of the most talked about and scrutinized pieces of the entire movie. That would sound pretty good ... until the humbling, amusing reality emerged. Paul Freeman is most famous for his role as conniving archaeologist Belloq in 1981's Raiders of the Lost Ark, and his most famous scene is one where a fly crawls into his mouth.
Soupy Sales, The Soupy Sales Show
Unlike other iconic kiddie TV show hosts like Captain Kangaroo or Mr. Rogers, Soupy Sales didn't run a cuddly educational show. Lunch with Soupy Sales, aka The Soupy Sales Show, was pure comedy. For example, he took a pie to the face most every day, and he used a stage door from where all manner of crazy guests would emerge. Perhaps because the show was light and ephemeral, or perhaps because it wasn't rerun for decades, Sales is probably best remembered for a stage door prank/outtake. Sales hears an offstage scream, answers the door, and a topless dancer greets him. (Obviously, this gag did not actually air.)
Stanley Anderson, Spider-Man
Probably thanks to an extensive theatrical background, Anderson projects a lot of gravitas and hubris, which certainly helped him win the role of General Slocum, a high-ranking and intimidating military official who can handle bossing around Willem Dafoe in 2002's Spider-Man. He can deal with the huge sets and acting against one of the finest actors of our time, but Anderson just can't get through the word "predecessor," which means he'll live on forever in the gag reel.
Brian Steel, Blade: Trinity
Even the biggest fan of Wesley Snipes' vampire-hunter trilogy probably wouldn't recognize Brian Steele if they saw him in another movie or on the street. In Blade: Trinity, he played the mighty Dracula, which required layers of prosthetics and makeup. Spoiler alert: Blade kills Dracula by injecting him with a virus. Steele was supposed to play his character's death as an extremely painful one, but the situation was just so over-the-top that he ends up laughing his way through it.
Rachel Dratch, "Debbie Downer"
A remarkably talented comedian and actress, Rachel Dratch, is best known for her seven-year stint (1999 to 2006) on Saturday Night Live. She performed several recurring characters, including one of the openly erotic "Luvahs," heavily accented Boston teenager Denise, and Debbie Downer, a sullen woman who bums everybody out with depressing facts. Alas, despite seven years of classic sketch comedy work, the piece for which Dratch will forever be remembered is a Debbie Downer sketch that went completely off the rails. While portraying a family eating breakfast at Disney World, almost everybody—Dratch, Jimmy Fallon, Horatio Sanz, and guest host Lindsay Lohan—cracks up.
Til Schweiger, Inglourious Basterds
While German writer-director Til Schweiger is quite well-known in Europe, he's popped up here and there in American movies, with small roles in things like Muppets Most Wanted and New Year's Eve. His most memorable American screen appearance: Sgt. Hugo Stiglitz in Quentin Tarantino's 2009 World War II movie Inglourious Basterds. Arguably, Schweiger's most famous scene in that movie is when he rises from the dead to say hello to Sally Menke, the only person who would theoretically see his "return," since, after all, she's the film's editor. "Sally, I am not dead!" Schweiger assures. "I'm just pretending!"