Whatever Happened To Wee Man From Jackass?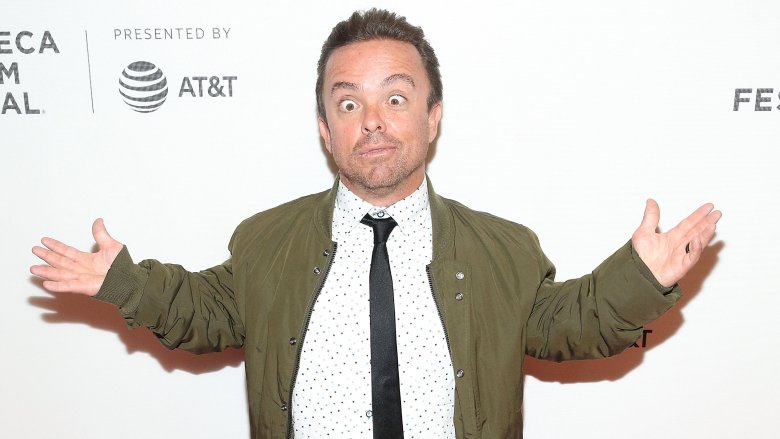 Getty Images
Known for kicking himself in the head, running around in public naked, and skateboarding while dressed as an Oompa Loompa on MTV's hit stunt-show Jackass, Jason Shannon Acuña — AKA Wee Man — is one of the most easily-recognizable television personalities alive today...but that doesn't mean he spends much time in the spotlight. In fact, unless you're a dedicated Wee Man fan, you probably don't know much about what the Italian-born Californian has been up to since the early 2000s.
But don't worry! We've got you covered, and we'll give you a hint: it involves tacos.
He starred in 'Armed and Famous'
In 2007, Acuña starred alongside Erik Estrada, La Toya Jackson, Jack Osbourne, and Trish Stratus in the ill-fated reality TV show Armed & Famous — in which the five celebrities received a crash-course in police training before hitting the streets to "fight crime and give a little something back."
Of course, Acuña and crew weren't actually making arrests, as much as they were just following around real-life cops as they chased down and offered small-time offenders $150 and a T-shirt for signing a release allowing the celebs cuff 'em. As you might expect, the prostituting or marijuana-slinging Muncie criminals were often confused by the cameras, cash, paperwork, and presence of B-list celebrities, which created some small time controversy. Then again, there are far worse ways to get arrested than by receiving cash to get cuffed and stuffed by Trish Stratus.
The show premiered on January 10 that year, but was pulled from CBS before the month was over.
He joined the (Celebrity) Circus
A year after starring in the poorly-rated reality TV show Armed and Famous, Acuña joined the cast of another short-lived and disappointing celebrity-reality TV show, Celebrity Circus — which pitted Antonio Sabato, Jr., Blu Cantrell, Christopher Knight, Janet Evans, Rachel Hunter, Stacey Dash, and Wee Man against each other in a competition of various circus acts.
Acuña actually put on a good show, receiving the first average score of 10 and taking third place overall. The same can't be said for Cantrell and Evans, who were eliminated early, or Knight, who broke his arm–twice.
He opened a 'Chronic Tacos' in Redondo Beach
In 2010, Acuña put some of his Jackass and reality-TV money to good use by opening a Chronic Tacos franchise in Redondo Beach.
As a high-profile member of California's cultural landscape, Wee Man proved to be the perfect partner in the still-small-scale fast-food chain's early expansion. "I was blown away," Chronic Tacos cofounder Randy Wyner claimed when first learning of Wee Man's interest in the company. "Because I knew the mix would be rad."
Acuña's personal interest in the company stemmed from not only wanting to invest some of his savings, but also his desire to have some fun while doing it. 
"I mean, that's what I've always said -– if it's not fun, why do it?" Acuña asked. "It's not about the money, it's not about whatever. I just want people to come in and for like 30 minutes of their day eat and have a great time...And who doesn't like tacos?" Nobody, that's who.
He opened another location in Long Beach
Acuña ultimately closed down his Chronic Tacos franchise in Redondo Beach due to some issues with the location, but he opened a new restaurant at Stearns Street and Bellflower Boulevard in Long Beach, California, in 2017.
Acuña has long been a staple of the Long Beach community, and he's happy to be able to serve up authentic Mexican cuisine to his favorite neighborhood. "All the people who live in this neighborhood right here all walk over," he told Long Beach Post. "You just hear good stories."
He became the superhero 'Elf-Man'
Though Acuña is known by most as Wee Man on the not-so-family-friendly Jackass, the actor actually starred in a very family-friendly, direct-to-video Christmas movie titled Elf-Man.
Released in November 2012, the film features Acuña as a left-behind elf who — thanks to the help of some friendly kids — becomes the titular superhero Elf-Man. Though he's "slower than a speeding bullet" and "less powerful than a locomotive," Elf-Man helps save a family's new invention from some incompetent thieves and, in doing so, saves Christmas.
As you've probably guessed, it's not the best Christmas movie ever made — but fans of Wee Man will probably get a kick out of it nonetheless.
He trolled people at the X Games
If you're a fan of extreme sports, you've probably caught glimpses of Acuña on televised coverage of the X Games. Wee Man has hosted his own segments at both the 2014 X Games in Austin and the 2015 X Games in Aspen, during which he makes the rounds and conducts some interviews while breaking rules and trolling unsuspecting townsfolk.
As is to be expected anytime Wee Man does anything, the segments are always a little bit cringey and a whole lot of hilarious.
He still shreds in style
It's a well-known fact that Wee Man used to skateboard while dressed up as an Oompa Loompa on Jackass, but fewer people realize that Acuña still shreds with the best of them. Long Beach natives may frequently catch Acuña rolling up in his 1962 Chevy Impala before watching him grind some rails at a local skatepark.
If you don't live in California but want to watch Acuña shred, don't worry — he frequently posts skateboarding clips on his social media accounts.
He dissed Justin Bieber
Acuña's not exactly one to worry about offending others, especially when it involves pop singers on skateboards.
When asked by TMZ if Justin Bieber is one of his favorite celebrity skateboarders, Wee Man scoffed at the suggestion. "Nah, he's like a fruitcake singer," the Jackass star responded. "How can he be a skater?" The reporter then asked Acuña if he thinks he could take the Biebs in a skateboard competition, to which he casually replied: "I don't know, you tell me. You probably wanna catch up on my footage."
While it might initially seem like a pretty stupid question, since Acuña is well-known for his considerable skills while Bieber only recently took up the sport. But the Biebs has actually gotten pretty decent in recent years.
He owns his own skateboard company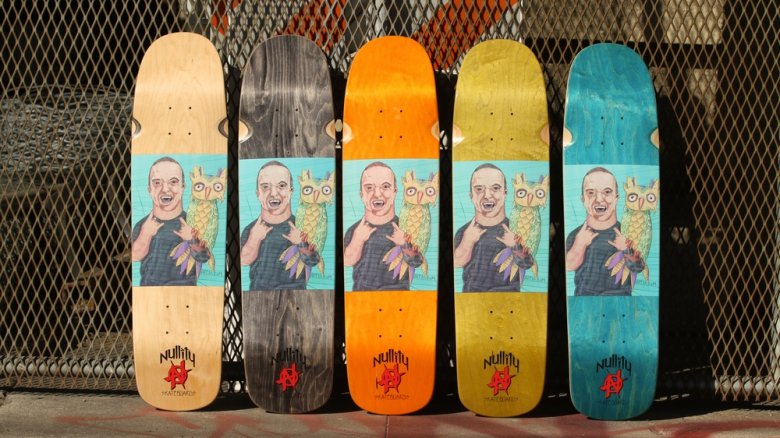 For most of his career, Acuña wasn't a sponsored skater, choosing instead to shred on whichever board suited his fancy — until he decided to start his own company. Named Nullity Skateboards, Acuña's small business features a limited selection of unique skateboards that the former Jackass star sells out his garage.
When it comes to his product selection, Acuña has gone for the quality-over-quantity approach. "I didn't want to just put out popsicle stick boards," Wee Man told Gorilla Flicks. "I said, 'I'm going to put out some shapes. There's no shapes in smaller sized boards.' So I made about three samples before I figured out the two shapes that had the perfect wheelbase and perfect nose. They're not cruiser boards, they're not just small, little, weird boards. They're a good size 8-inch wide board with shape."
You can keep up with Wee Man's rad skateboard company on Instagram at nullity_sk8brds.
He's still famous, world-wide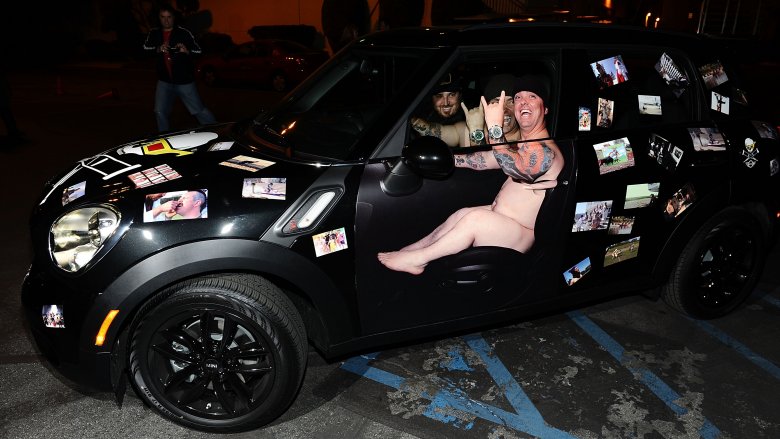 Getty Images
Acuña isn't just "kind of a big deal" in California. The former Jackass star is famous wherever he goes — even outside of the United States. "We're still really huge in Australia... they love us there," Acuña told The Pantagraph. "We walk down the street, and it's 'Wee-Man! Wee-Man!' In England, we have one of our biggest fan bases. And, in Japan, that's when I knew this...was really big, with people running after us yelling our names."
Who knew kicking yourself in the head on MTV could have such an international impact?
He's still a Jackass
Even though Acuña is well into his forties, he's still a Jackass.
Touring with fellow former cast members Chris "Party Boy" Pontius, Dave England, and Preston Lacy, Wee Man and crew still make live audiences cringe — and occasionally barf — with live shows all over the world. 
"We're just living the rock star lifestyle," Acuña told The Pantagraph, while also claiming to be the driving force behind the group. "Chris is the party guy, Preston is the comedian, Dave's the grossest...but I'm the aggressor."
While taking things to the extreme as a middle-aged adult might seem like a questionable decision to many, Wee Man has no regrets, stating: "Hey, I'm not cleaning toilets in the men's room at the airport."