How Aubrey Plaza Really Feels About Those Tomb Raider Casting Rumors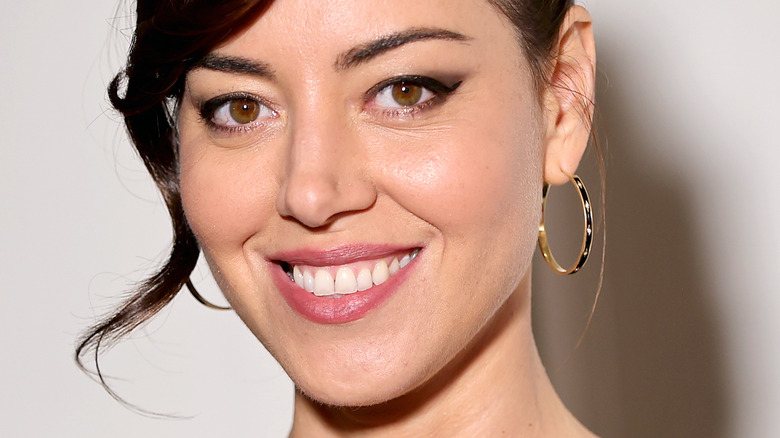 Matt Winkelmeyer/Getty Images
Aubrey Plaza has been captivating audiences since her early role on "30 Rock" and the beloved 2009 hit sitcom "Parks and Recreation" as April Ludgate. Her character's dry sense of humor and dark persona hides a charming sentimentality that reveals itself to a select and lucky few. This element carries throughout Plaza's varied roles, including the dangerous water-bending twin Eska in "The Legend of Korra," oven stealing fiend Lenny Busker in Marvel's "Legion," and fierce mother Karen in the 2019 "Child's Play" reboot.
Recently, Plaza's multifaceted performances include the titular spot in 2022's Sundance favorite "Emily The Criminal," where she breaks bad with "Luke Cage" and "Sons of Anarchy" breakout Theo Rossi. In the film, Emily is struggling to make ends meet and resorts to stealing and reselling products to pay back her loans. This turn follows Plaza's recent trend of choosing interesting and distinctive parts like the dark comedy "Ingrid Goes West" with Elizabeth Olsen. 
"Emily The Criminal" will see Plaza in more heart-racing action than in previous roles, which raises the question, what's next for her? Parenting the Antichrist in FXX's "Little Demon" as her mother Laura and then taking a well-deserved vacation in Sicily with "The White Lotus" on HBO as Harper Spiller. Plaza's friend and director Edgar Wright has some ideas after mistaking her for an iconic video game character. 
Aubrey Plaza is up for some tomb raiding
The mixup comes from the "Last Night in Soho" director's snafu of assuming a poster promoting "Emily The Criminal" was a new iteration of Laura Croft. Newsweek captured Plaza's reaction, "It was so funny when [Edgar] texted me that because I didn't realize how strikingly similar those photos are. Emily is carrying a purse strap and Lara Croft has a gun holster; those are very different. It's very weird and totally accidental, but I'll take it." With her incognito attire, Plaza could easily pull off the adventurous Croft or even a Marvel hero undercover in their signature disguise. 
While nothing is remotely in the works for Plaza and Croft, stranger things have happened. The action gig may seem unconventional for the actress; however, she actually had a lesser-known early start in science fiction, even incorporating her unique sense of humor. Playing Laura Croft would be an excellent cap off to her acting career so far, incorporating death-defying feats with witty and dry one-liners. 
Croft has been formerly played by Angelina Jolie in 2001 and 2003, then rebooted with Alicia Vikander in 2018, who unfortunately dropped out after a disappointing release. With Newsweek, Plaza expands her thoughts on taking on the title character in the future  "I would love it if somehow that turned into a real thing, but who knows, I have no idea. That's an iconic character. She's the original badass."