Fans Of Friday The 13th Just Got A Potential Tease Regarding The Franchise's Future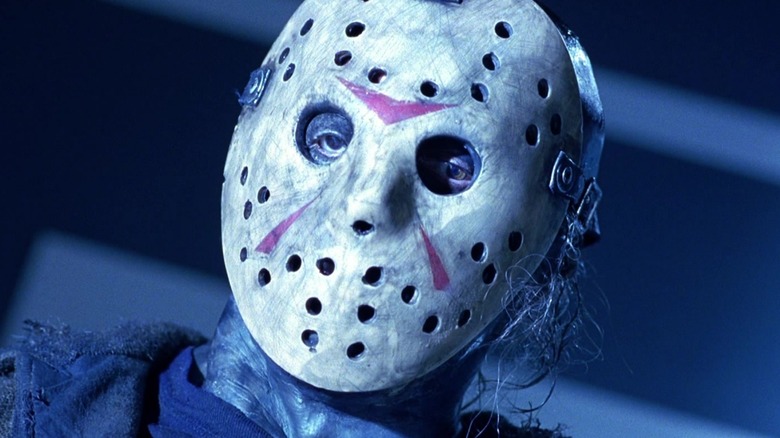 New Line Cinema/Paramount
The original "Friday the 13th" movie came out in 1980 and launched a horror franchise for the ages. Not only have there been 11 sequels, spin-offs, and reimaginings since the original massacre at Camp Crystal Lake, but Jason Voorhees has become a horror icon. It has been 13 years since horror fans were graced with a new film in the franchise — the last was the 2009 reboot aptly titled "Friday the 13th" — and the reason as to why is a little messy and confusing. The original film's director, Sean S. Cunningham, and the original film's writer, Victor Miller, have been in a battle over who gets what rights to the movie. In 2018, a judge ruled that Miller owns the U.S. rights to the original screenplay, but that leaves open questions like who owns the rights to the character of adult Jason Voorhees, who didn't premiere in the franchise until "Friday the 13th Part 2" (via Bloody Disgusting).
The legalities surrounding the franchise seem to be why fans of the classic slasher films haven't seen a new entry in over a decade and have little to do aside from ranking their current favorite "Friday the 13th" films in the occasional franchise rewatch. However, it now looks like things might be about to change for the better regarding the slashing future of the machete-wielding character.
Director Sean S. Cunningham claims a new Friday the 13th movie is coming soon
As noted by Bloody Disgusting, "Friday the 13th" film director Sean S. Cunningham has updated his Cameo bio page to say, "Sean S. Cunningham directed and produced the seminal horror film Friday 13th, creating the iconic villain Jason Voorhees. The movie has spawned 12 installments with a 13th scheduled for next year." Yes, you read right: according to Cunningham, there is a new "Friday the 13th" movie coming out in 2023. However, that bio update is far from an official announcement, and considering the franchise's legal issues, it's hard to tell exactly what his statement means. But earlier in August, Bloody Disgusting also reported that horror super-producer Roy Lee teased that news regarding the franchise could be coming soon, so Cunningham's seemingly random statement may actually have legs.
At the time of writing, it's unknown whether Cunningham and Victor Miller have reached some kind of agreement. With other popular horror franchises like "Halloween" and "Hellraiser" getting new films added to their libraries, fans are impatiently waiting for "Friday the 13th" to get its chance. As @BlackMajikMan90 said on Twitter, "All these iconic horror franchises are getting amazing movies, yet Friday the 13th has had to wait over 13 years for a new entry. This is sickening."
Whether Cunningham is working on his own project or he and Miller are working together, the storyline of a new installment is impossible to predict as the "Friday the 13th" movies' endings follow their own rules. Hopefully, fans will get some official news soon.