Why Dustin's Mom From Stranger Things Looks So Familiar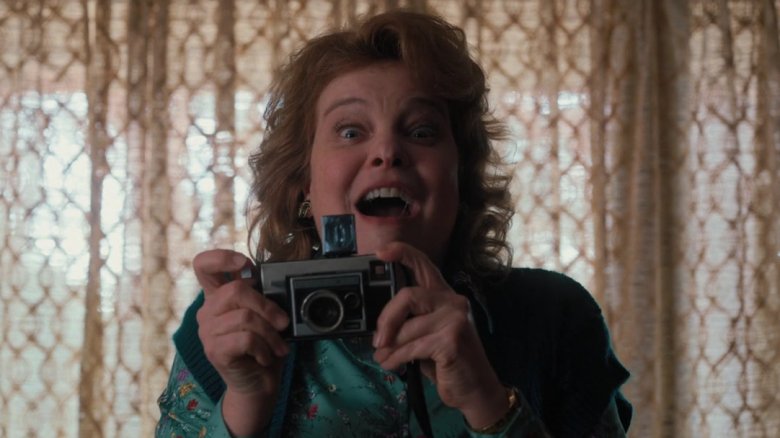 With more than 75 on-screen credits to her name, you've surely seen Stranger Things' actress Catherine Curtin — aka Dustin's mom — many times before... but don't worry if you're left scratching your head as to where. Very few of her roles have garnered mainstream attention, but she's had plenty of memorable ones nevertheless.
While we can't point out every cameo and take note of every recurring role, we can certainly take a look at the pearls of her career. (We wanna see those pearls.)
The Naked Brothers Band (2007-2009)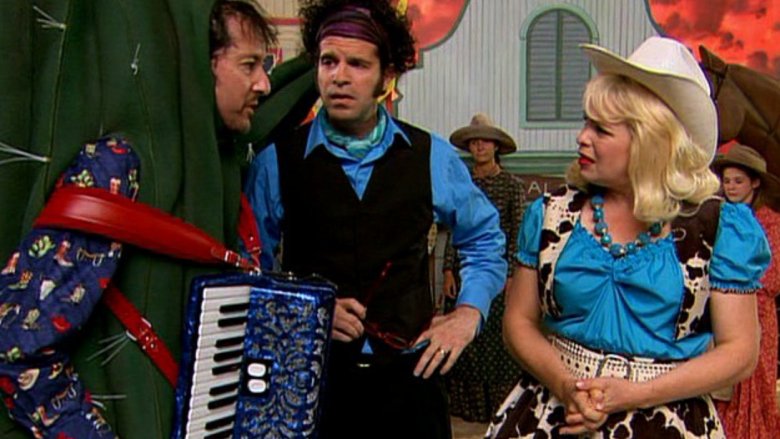 One of Catherine Curtin's most prominent early roles is that of the blonde-wig-wearing Betty on Polly Draper's Nickelodeon mockumentary The Naked Brothers Band.
As a recurring character, Curtin first plays a "cleaning specialist" who, as opposed to doing the cleaning herself, only advises others on how to clean. She later starts playing the ukulele in a two-member band, named "The Honey Bunnies," with her boyfriend — whom she eventually ditches for his jazz-musician twin brother, Miles.
Extremely Loud and Incredibly Close (2011)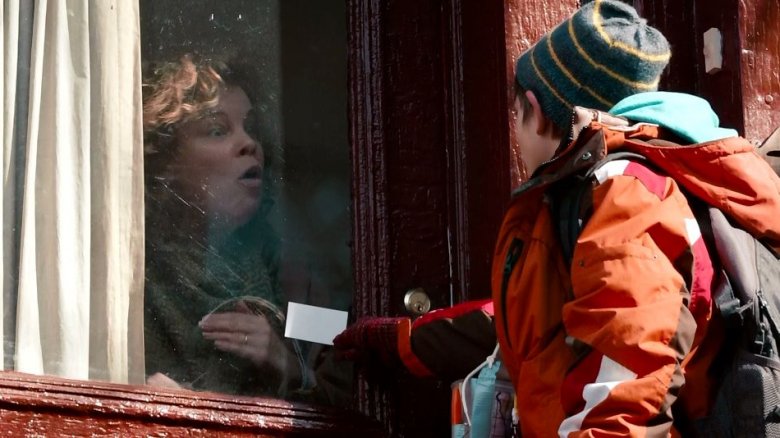 One of the many brief instances where Catherine Curtin has popped up is in the film adaptation of Jonathan Safran Foer's novel Extremely Loud & Incredibly Close.
The film follows a young boy's search through New York City for the last message from his father, who died in the 9/11 terrorist attack on the World Trade Center. One person the boy meets is Curtin's scary Leigh-Anne Black — a role the actress had no problem playing, given that she herself is a native of the Big Apple.  "I'm really sure [in] what I do," Curtin told Kobsupang Robertson. "I have played quite a few of these characters. I'm channeling something. I guess my rage at the injustice in the world..."
The Wolf of Wall Street (2013)
Catherine Curtin briefly appeared as an unnamed F.B.I. agent in 2013's biographical black comedy The Wolf of Wall Street.
Though she actually auditioned for a more important role, Curtin was just happy to be a part of the award-winning film. "I auditioned for a bigger part, but I didn't get it," Curtin told Kobsupang Robertson. "It was very sweet of them to hand this role to me. They were like 'We like you.' I'm just grateful."
Curtin also doesn't have enough nice things to say about the film's famous director, Martin Scorsese. "He is an icon," she says. "He's a legend."
Orange is the New Black (2013-2017)
Catherine Curtin's most recognizable role is undoubtedly that of "squat-and-cough" correctional officer Wanda Bell on Netflix's hit prison drama Orange is the New Black.
Surprisingly, Curtin was only supposed to appear in the series' pilot, but her strong point-of-view and vision for Bell helped secure her role as the recurring cast member. "They liked what I did, so they brought me back," Curtin told Kobsupang Robertson. "I think it was because I have a strong point of view about the prison culture in the American society and [how] we as a first world nation incarcerate more people than any first world nation..."
Unbreakable Kimmy Schmidt (2015-2017)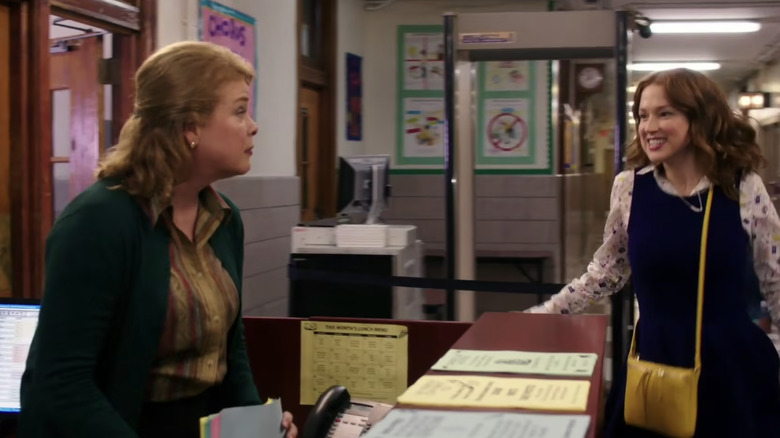 Netflix
Stranger Things and Orange is the New Black aren't Catherine Curtin's only claims to fame on Netflix. The New Yorker has also appeared in the streaming service's hit series Unbreakable Kimmy Schmidt — in the episodes "Kimmy Kisses a Boy!" and "Kimmy Goes to College!"
"I love Netflix," Curtin exclaimed to Starry Constellation Magazine. "Netflix seems to know that I exist and wants to be one of my employers and, for that, I am incredibly grateful. Anyone who wants to employ me I love!"
Jokes aside, Curtin isn't afraid to give Netflix credit for the ways in which they run the show and produce their series. "I feel like working on some of the Netflix shows I've done is like working on an indie film set as opposed to an ABC or an NBC or a network set. It can be a more intimate way to work." That, and the streaming service spares no expense when producing its original content.
Insecure (2016-2017)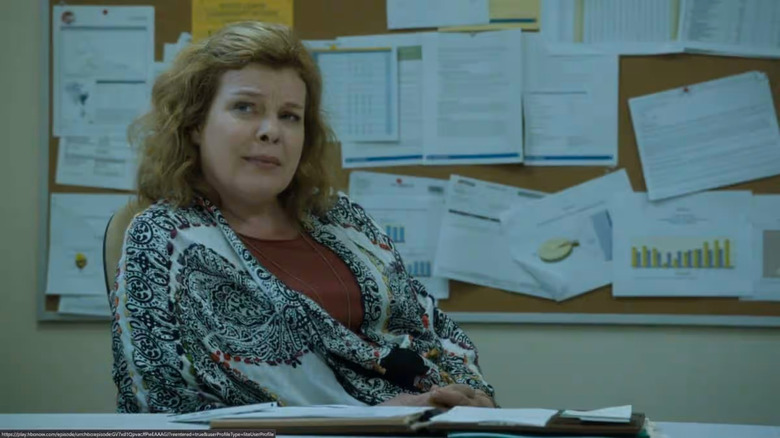 HBO
Catherine Curtin hasn't only been on a Netflix hot-streak lately — she also has a recurring role on HBO's comedy-drama series Insecure — partially based on creator Issa Rae's web series Awkward Black Girl.
To Curtin, Insecure is just one example that proves we are currently experiencing a renaissance of television programming. "I love where TV is going and I think we are in a golden age of television," the actress told Starry Constellation Magazine." I am humbled and so proud to be working on all these incredible shows and I am in awe of the talent their smart storytelling."
The Light of the Moon (2017)
2017 would prove to be an extremely busy year for Catherine Curtin, who — in addition to her roles on various Netflix shows — also appeared in a slew of films, including Jessica M. Thompson's drama The Light of the Moon.
The film deals with the hot-button topic of sexual assault — a conversation Curtin believes is extremely important for the United States to lead. "As a first-world nation, it is our responsibility to be the leaders in this dimension of what's going on with women–and men, but especially with women," Curtin told MaximoTV at the film's premiere screening in New York. "If we don't sort of talk about it and make films about it and bring it to the media and have the news report on it and indict people...then what choice does some little girl have?"
Beauty Mark (2017)
Catherine Curtin also appeared as the troubled Ruth Ann in Harris Doran's affecting 2017 drama Beauty Mark — a film in which a poverty-stricken young mother is evicted from her newly condemned building and forced to seek financial assistance from her childhood abuser.
A fan of emotionally heavy films, Curtin was all-in on Beauty Mark from the get-go. "I fell in love with the film as soon as I read the script," Curtin told Starry Constellation Magazine. "I remember reading it and thinking it was the most beautiful script I had ever read; literally, top of my list. I thought Ruth Ann was just one of the most incredible characters to play."
Camera Obscura (2017)
Appearing as somewhat of an outlier on Catherine Curtin's CV is Aaron B. Koontz's horror/thriller Camera Obscura — in which a veteran war photographer struggles with the horrific psychological effects of PTSD. Curtin plays a detective in the frightening film, but scary movies aren't usually her thing. "I'm not like a horror genre person," Curtin told the Asbury Park Press' Fan Theory podcast. "My husband is very into the horror genre, but I get totally terrified when I see really scary films."
Still, as evidenced by her penchant for films with heavy subject matter, Curtin is drawn to Camera Obscura's psychological aspects. "I love psychological drama," she says. "And so this, to me, seemed very existential, and the idea that this guy didn't really know if it was happening or not and we don't really know and there's a lot of moral ambiguity here, that's what really attracted this to me."
Gold Star (2017)
Last but not least, 2017 saw Catherine Curtin star in Victoria Negri's drama Gold Star, another emotionally-involved film in which a young music-school dropout must come to terms with the meaningless of life while struggling to care for her dying father.
It's difficult not to watch Negri's film and not feel all sorts of emotions, and Curtin — who plays Negri's mother — credits that fact to the director's selfless personality. "You're the kind of person that people are drawn to," Curtin told the director during an interview with Brief Take. "I was so enamored with you on set...You genuinely touched my heart and impressed me."