Heated Shark Tanks Moments That Pushed The Sharks Too Far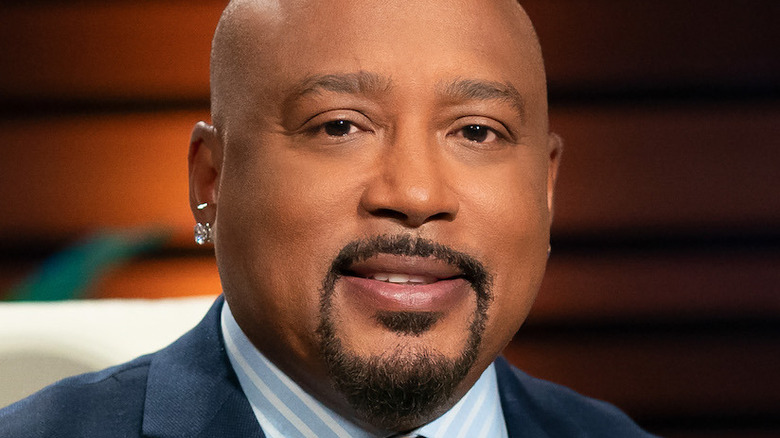 Christopher Willard/ABC
This content was paid for by Sony and created by Looper.
There have been some heated arguments in the tank on ABC's wildly successful "Shark Tank." Most of the time, these arguments occur between the sharks and those pitching their companies, because tensions can flare when hundreds of thousands of dollars in investments are on the line. We've also seen the sharks get into arguments with entrepreneurs, which sometimes leads to disrespect. We all remember Scott Jordan of SCOTTeVEST in Season 3, who told the sharks, "You're out!" before storming out of the tank.
But not all tank fights are limited to those pitching their product. Sometimes the shark loves a product so much that they'll fight with any other panelist who gets in their way. Kevin O'Leary (aka Mr. Wonderful), Barbara Corcoran, Mark Cuban, Lori Greiner, Robert Herjavec, and Daymond John are not afraid to fight for what they want...but sometimes things go too far. Here are the biggest fights between the sharks on "Shark Tank."
Scholly — Season 6, Episode 20
Christopher Grey likely didn't know what was coming when he walked into the tank. The Season 6, Episode 20 pitch was for Scholly — a paid app designed to help prospective college students find scholarships they might not have known about. Lori and Daymond went in together on an offer and landed the deal with Grey. But after the Scholly creator left the tank, a massive blowout began between the entire panel of sharks. 
Mark, Kevin, and Robert were extremely disappointed in their "Shark Tank" co-stars for taking what they saw as a "charity" deal with Scholly. In a move you don't often see on the show, Mark, Kevin, and Robert left the tank to get away from Lori and Daymond. It definitely seemed like the right choice to get up and go, as things were getting way too heated between the sharks. Lori has admitted on Instagram that the sharks are all friends in real life, so the exit of Mark, Kevin, and Robert might very well have saved some friendships that day.
Toor — Season 8, Episode 8
Junior Desinor entered the tank with a pitch for Toor, the world's smartest lockbox. While he might have been one of the most prepared pitchers we've ever seen on "Shark Tank," he could never have been prepared for guest shark Chris Sacca's response to it all. From the get-go, Sacca couldn't have been more disinterested in what Junior was selling. The investor was so sure the patent-pending lockbox Junior presented already existed, but his annoyance at it all seemed to take some of the other sharks by surprise. 
After nabbing a deal with Barbara Corcoran and Kevin O'Leary, Junior exited the tank while Chris was still foaming at the mouth. Mark entered the chat and clashed with Chris over the technology in an argument that consisted of one eye-roll after another. The jabs at one another's intelligence took the fight to a whole other level, but thankfully they were each seated on the far ends of the panel. It's easy to go back and forth with Barbara, Lori, and Mr. Wonderful acting as buffers.
Brightwheel — Season 7, Episode 26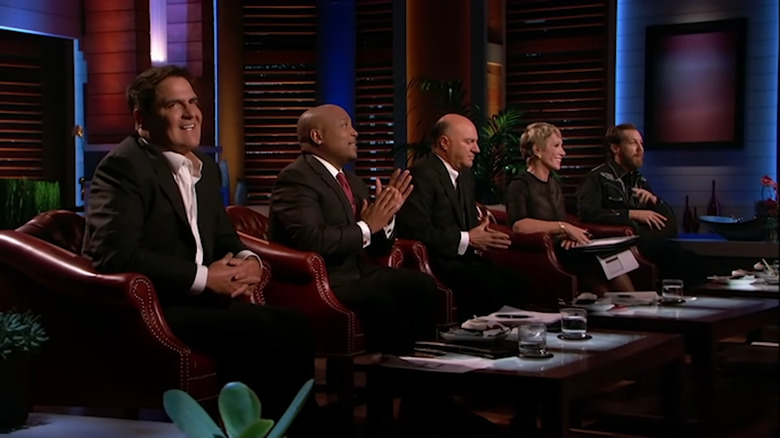 ABC/YouTube
It's never a good thing when a shark lets out a massive sigh after a creator reveals how much money they're looking to obtain. Brightwheel founder Dave Vasen might have lost Daymond from the get-go on the pricey $400,000 investment for a 4% stake, but that didn't matter as guest shark Chris wanted in on the pre-school app — which lets parents check their kids' progress — right away. If you can believe it, a fight broke out between Chris and Mark when the former suggested the other sharks couldn't bring anything to the table for Brightwheel. The viewers at home weren't the only ones who noticed the tension, as Daymond started chanting "Shark Fight" as the two men got riled up.
But not every fight in the tank ends with people storming off and smart remarks. Sometimes the unthinkable happens, and enemies come together. In a move no one saw coming, Mark and Chris made a deal to go in together on Brightwheel. That's because there's no room for pettiness when millions are on the line.
Simple Habit — Season 9, Episode 1
Most fights between the investors on "Shark Tank" are harmless and usually come from hurt feelings of losing out on a deal or thinking a co-star made a mistake. Words are exchanged, side glances are given, and everyone moves on, ready to fight over the next product that comes through the door. But there has been a time when a fight on the series got somewhat physical. Punches might not have been exchanged, but things were definitely thrown.
As longtime viewers probably know, there's always potential for things to get spicy when a guest judge hops aboard the shark panel. Even still, when Virgin CEO Sir Richard Branson entered the tank, things seemed easier going among the group. That is, until Mark called the founder of Simple Habit, Yunha Kim, a golddigger, for asking for money he didn't think she needed. Certainly, no gentleman who has been knighted will stand for the disrespect of a woman, so Branson picked up his glass and tossed water on Mark. In understandable retaliation, Mark threw water right back, and two soggy sharks watched as no one landed a deal with Yunha for her app.
Cozy Bug — Season 4, Episode 5
Who knew pillowcase dresses could get two sharks all in their feels? Entrepreneur Aly Lessor certainly didn't know what was coming when she pitched Cozy Bug to the panel, but she caused some serious tension between pals Lori and Daymond. Both sharks wanted in on the company, which seemed like the perfect fit for either of them. The always delightful and respectful Lori took her gloves off and came after Daymond, saying she's driven past lemonade stands that move more merch than the FUBU founder. It's rare to see Lori go that hard on one of her co-stars, especially with such a cutting jab, but it was a testament to how much she wanted in on Cozy Bug.
Lori fought much harder for the company than Daymond did, but with his reputable background in the garment world, he knew the deal was his. And just like that, Aly chose Daymond to be her investor, noticeably perturbing the QVC queen.
Lulu Bang — Season 8, Episode 6
There's no way we were going to make it through without mentioning a fight with Kevin "Mr. Wonderful" O'Leary at its core. Creators of Lulu Bang BBQ sauce Jorrae and Kelly Beard luckily didn't have to watch this shark fight go down, as it happened after they left the tank empty-handed. The sharks had nothing but great things to say about the Beard sisters, but the investors were berated by Mr. Wonderful, who felt none of them were truthful with the women.
It was a four-on-one brawl between the sharks, something not unfamiliar for O'Leary. Thinking his co-stars weren't being truthful with the two entrepreneurs, Mr. Wonderful prided himself on being the honesty police. It's not easy to hear the fight play out as everyone gets heated, but insults are thrown at the man in the middle seat, with Mark calling him an idiot. The Dallas Mavericks owner gets up and leaves to escape O'Leary's ramblings about being truthful, knowing better than any of the other sharks that the best way to get out of anything with Mr. Wonderful is to exit stage right.