She-Hulk Fans Are In A Frenzy After Noticing This On Jen's Phone In Episode 2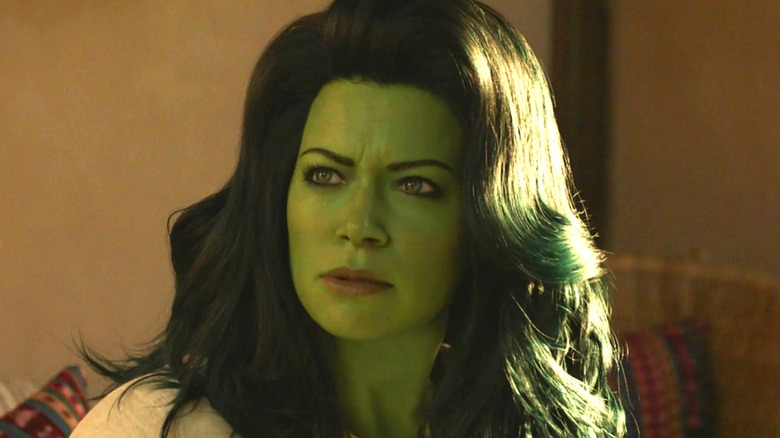 Marvel Studios/Disney+
It's evident that Jennifer Walters (Tatiana Maslany) has a thing for Steve Rogers (Chris Evans). Who can blame her, honestly? In Episode 1 ("A Normal Amount of Rage") of "She-Hulk: Attorney at Law," Jen pesters her cousin Bruce (Mark Ruffalo) on the topic of Steve's virginity. She's adamant about finding out if Cap ever got lucky, and she's not successful in her first attempt to get the information. Later, in the post-credits scene, she pretends to be drunk, and Bruce finally admits Steve lost his virginity in 1943 while on the USO Tour. Jenn, and the MCU fandom, finally got confirmation on something that was discussed a little too much over the last several years.
"She-Hulk" director Kat Coiro revealed last week that we hadn't seen the last of Captain America references in the Disney+ series. "It's something that comes back, that's all I'll say," the director told Total Film. Well, it came back sooner rather than later as Episode 2 ("Superhuman Law") of "She-Hulk" is perhaps the silliest easter egg in the series so far.
Jennifer really is obsessed with Steve Rogers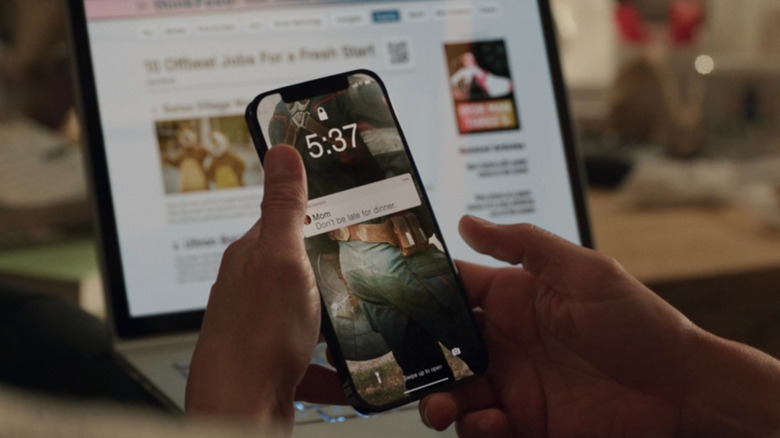 Marvel Studios/Disney+
Jen gets a text message while sitting on the couch with Nikki (Ginger Gonzaga) while continuing her job hunt online. It's from her mom, reminding her not to be late for family dinner that night. It's easy to miss what's going on in the background if you're honing in on the text message, but Jen's iPhone wallpaper is hilarious. As if we needed more proof of her obsession with Steve Rogers (Chris Evans), we see that her lock screen is of Captain America's butt. Steve's face is not in the photo, but the uniform is clearly Cap's, and the person can be seen holding a round metal shield. It looks like Jen is a major fan of "America's A**."
Once fans started discussing the wallpaper on Twitter, the jokes started rolling. "Jen having steve's a** as her [lockscreen] wallpaper is everything to me," @delicatesteven tweeted. "Jen having a full America's A** as her wallpaper is so me," @Renxxxie___ posted. "Jen 's wallpaper hit so hard in she hulk episode 2," another user added. 
Is this the last Captain America reference we'll get in "She-Hulk?" At this rate, it doesn't look like it.