Barbie Ferreira Makes A Surprising Announcement About Her Involvement In Euphoria Season 3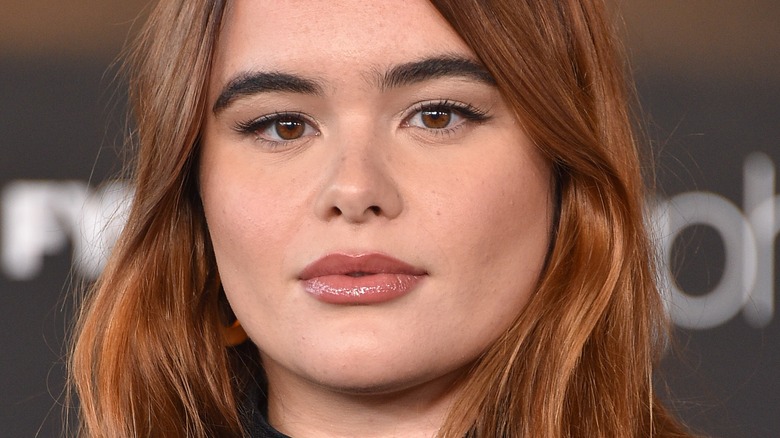 DFree/Shutterstock
Barbie Ferreira's Kat Hernandez has become one of the most beloved and yet most ignored characters on "Euphoria." The show's inaugural season features Kat struggling with her self-image after gaining weight during a family vacation and being subsequently dumped by her boyfriend. She tries to shake her insecurity by exploring everything from working as a camgirl to using her status as a fan fiction writer to assuage her worries and gain power, money, and self-confidence. Yet, in spite of the fact that she made a splash on the show, Kat was persona non grata during Season 2.
One couldn't help but notice that Kat's character became defined by her anxiety over the sex work she had done and her lack of self-worth when it came to her relationship with Ethan Daley (Austin Abrams). Instead of embracing the confidence she'd found, Kat spends Season 2 deciding that Ethan doesn't excite her and nudges him into breaking up with her. But mainly, Kat just seemed to be shoved into the background while the rest of the characters experienced major love and life drama. 
If you've been wondering how the show will treat Kat during Season 3, a recent shocking announcement by Ferreira will put your curiosity to rest.
Ferreira appears to have left Euphoria ahead of Season 3
Eddy Chen/HBO Max
Per an image posted to her Instagram stories, Barbie Ferreira will not be appearing on Season 3 of "Euphoria." It looks like fans will never get to see the Kat storyline she was hoping to play out on the series someday.
"After four years of getting to embody the most special and enigmatic character kat, I'm having to say a very teary-eyed goodbye. I hope many of you could see yourself in her like I did and that she brought you joy to see her journey into the character she is today. i put all my care and love into her and hope you guys could feel it. love you katherine hernandez," Ferreira signed off, concluding the post with a heart and cat face emoji. The text was superimposed over fan art of Kat in the middle of one of her cam shows.  
HBO has not yet released a statement corroborating Ferreira's post, and there's no word as to how Kat may be written out of the series as of press time. Ferreira was seen recently as part of the cast of Jordan Peel's horror film "Nope," and also appeared in HBO Max's movie "Unpregnant."