The Handmaid's Tale Character You Likely Forgot That Sydney Sweeney Played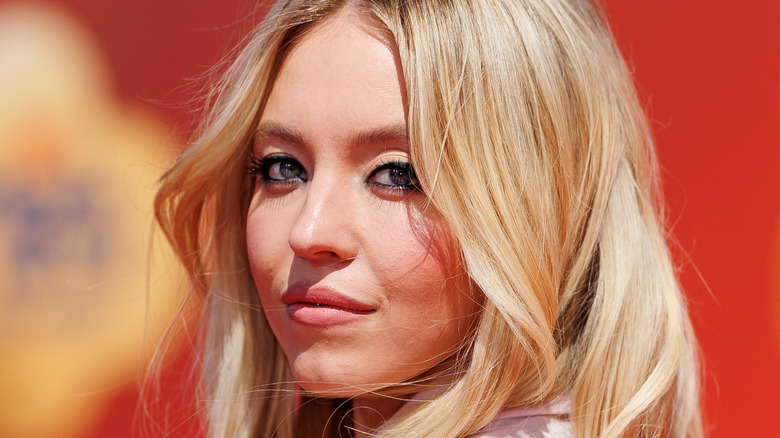 Rich Polk/Getty Images
In the years since it first premiered, not only has "Euphoria" made Twitter history, but it has also catapulted a number of its cast members into Hollywood stardom. That's especially true for Sydney Sweeney, who has become one of Hollywood's most well-known young stars over the past few years.
Sweeney began to receive critical acclaim and attention in 2019 for her performance as Cassie Howard in Season 1 of "Euphoria." Her up-and-coming star status was confirmed once and for all, though, when Sweeney reprised her role as Cassie in "Euphoria" Season 2. Not only did Sweeney's Cassie continue to be the topic of countless online discussions among "Euphoria" fans throughout the HBO drama's sophomore season, but the actor also received a Primetime Emmy Award nomination (via IMDb) for her performance in it.
That said, "Euphoria" is far from the only notable TV show that Sweeney has appeared in over the course of her career. In fact, back in 2021, Sweeney memorably appeared as Olivia Mossbacher in the critically acclaimed first season of another popular HBO original series, "The White Lotus." Several years prior, Sweeney also turned in standout supporting performances in the Amy Adams-led miniseries, "Sharp Objects," as well as the short-lived Netflix coming-of-age series, "Everything Sucks!"
In addition to those shows, Sweeney also briefly played an important character in Hulu's "The Handmaid's Tale."
Sydney Sweeney played Eden Blaine in The Handmaid's Tale Season 2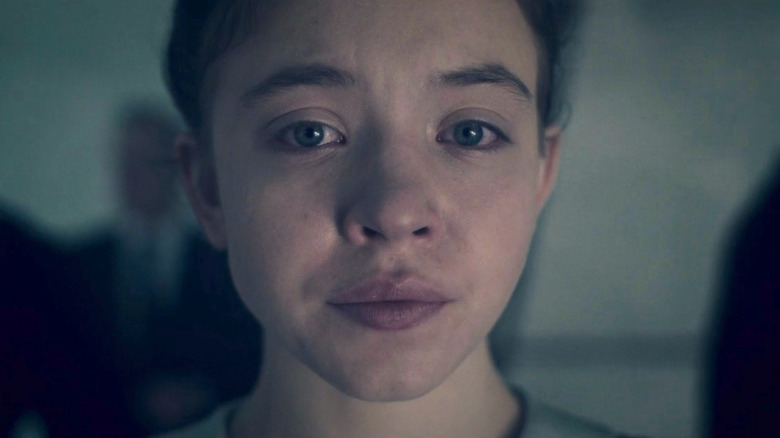 Hulu
Sydney Sweeney appears in seven episodes of "The Handmaid's Tale" Season 2 (via IMDb) as Eden Blaine. Introduced in Episode 5 of "The Handmaid's Tale" Season 2, Eden is a young girl who is assigned to be a child bride for Nick Blaine (Max Minghella). However, Nick's affection for June Osborne (Elisabeth Moss), affects his and Eden's arranged marriage. Consequently, Eden ends up falling for a young Guardian named Isaac (Rohan Mead).
Together, Eden and Isaac attempt to escape Gilead only to be caught and captured by the Gileadean authorities. The two are immediately sentenced to death and, in Sweeney's last appearance on "The Handmaid's Tale," Eden and Isaac are shoved into an abandoned swimming pool with weight strapped to their waists. The two lovers ultimately drown together, much to the heartbreak of many of their friends and loved ones. Nowadays, Eden and Isaac's executions are still considered to be some of the most brutal deaths in "The Handmaid's Tale."
For her part, in a 2018 interview with Three If By Space, Sweeney discussed how difficult it was to leave "The Handmaid's Tale" after only a few episodes. "There were many tears and lots of hugs given," the "Euphoria" star said. "There are so many great times that I will take with me. Not being able to work with these people anymore was so sad."
Fortunately for her, Sweeney has managed to follow up her memorable turn in "The Handmaid's Tale" with a number of even more notable TV and film performances. In fact, in the years since she appeared in "The Handmaid's Tale" Season 2, Sweeney's popularity and acclaim have only continued to rise. There isn't any reason to believe right now that Sweeney's star power is going to dip anytime soon, either.