1883's Isabel May Tells The Sweaty Truth About Filming In The Harsh Texas Heat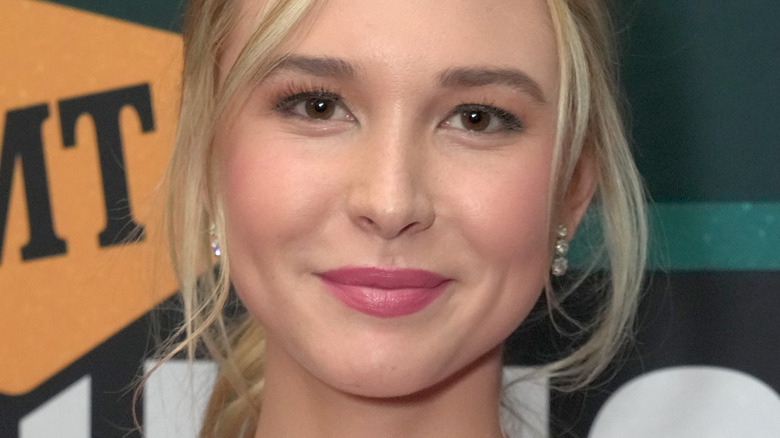 Kevin Mazur/Getty Images
"1883" puts its characters through the wringer over the course of its 10 episodes, and it sounds like the show's cast members didn't have an especially easy time making it, either. The Paramount+ series, which made its long-awaited premiere in December of 2021, is the first of creator Taylor Sheridan's planned "Yellowstone" spin-offs.
As its title suggests, "1883" takes place near the end of the 19th century and, therefore, over 100 years prior to the events of its parent series, "Yellowstone." It follows James (Tim McGraw) and Margaret Dutton (Faith Hill), a married couple who leave a post-Civil War version of Tennessee in the hopes of building a new life for themselves and their children in the wide open land of the Old West. 
In addition to McGraw and Hill, the cast of "1883" also includes Sam Elliott, LaMonica Garrett, Eric Nelsen, Martin Sensmeier, and Isabel May. The latter actor stars in the series as Elsa Dutton, the oldest daughter of James and Margaret. Throughout all 10 installments of "1883," Elsa's trip out west proves to be more perilous and challenging than she likely expected it to be, too. 
Along the way, May's Elsa experiences a number of intense, violent moments and suffers several surprising losses. With all that in mind, May recently opened up about what it was like making "1883," and how the show's difficult filming conditions actually helped her portray her character's difficult journey.
The cast of 1883 didn't mind its difficult filming conditions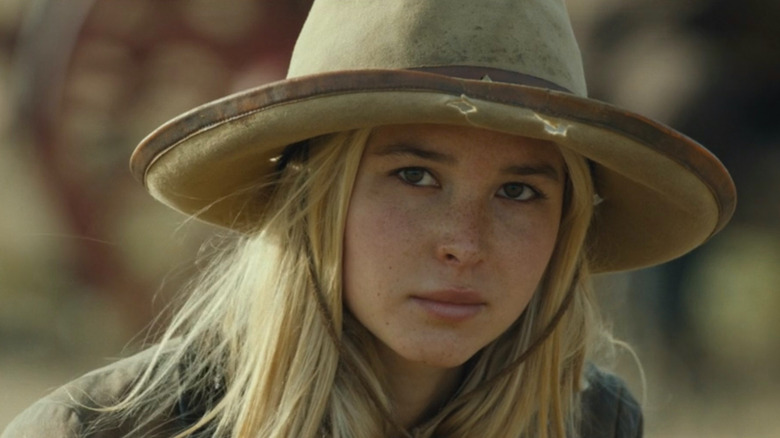 Paramount+
During an appearance on "The Kelly Clarkson Show," Isabel May recalled what it was like filming "1883" on location in Texas. Speaking with Clarkson, May noted, "Sweat poured down parts of my body I didn't know sweat could pour down." However, while May was quick to admit how unpleasant it really was shooting "1883" in such intensely hot conditions, the actor didn't go so far as to actually complain about the experience.
Instead, May claims that she actually thinks the weather conditions on the "1883" set helped her and her co-stars better understand and portray the taxing journeys that their characters undertake throughout the series. "You know, I kind of also enjoyed it somewhat," May said. "You kind of wanna be miserable because that's exactly what [our characters were experiencing]." The actor added, "It was so authentic [on set]. It was so real. It was so visceral that I don't think many of us, when it came to weather conditions, were acting."
May's comments, notably, echo many that her fellow "1883" stars have made when discussing the Paramount+ series. In fact, in April, Tim McGraw even told Deadline, "We were burning hot or freezing cold. There weren't a lot of showers until I was forced every now and then. It was hard work." However, much like May, McGraw added that he and his co-stars were willing to deal with the show's weather conditions because it helped them bring the harsh realities of "1883" to life.
"We were so committed and believed in the story so much. It's the truth. We wanted to do whatever it took to make it happen," McGraw said.
Isabel May's struggle reflected her character's journey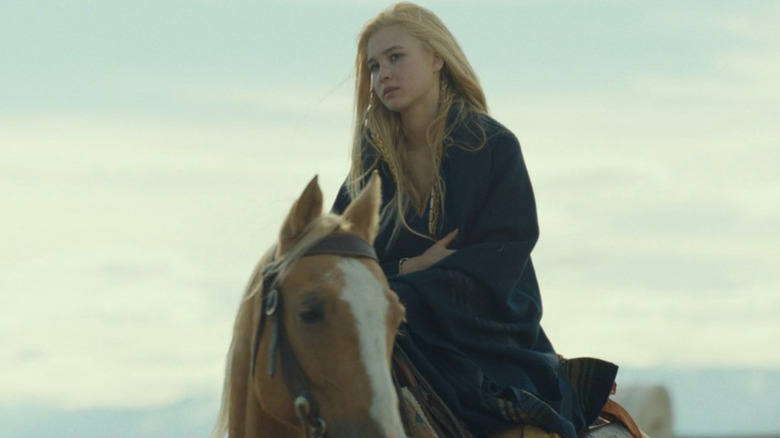 Paramount+
As "1883" viewers already know, the Duttons' trip out west ends up being more costly for Isabel May's Elsa Dutton than most of the series' other characters. Not only does Elsa lose her first love, Ennis (Eric Nelsen), in a sudden bandit attack, but she also gets fatally shot with an arrow several episodes later. In a surprising narrative subversion, the ending of "1883" sees Elsa subsequently die in her father's arms.
Elsa's death understandably came as a major shock to "1883" viewers everywhere. However, in an interview with Newsweek, May revealed that she knew all along what was going to happen to Elsa in "1883." Talking to the outlet, May said, "[Elsa's fate] was quite literally the first thing that came out of Taylor [Sheridan]'s mouth when he called me and wanted me to be in this and play Elsa."
In other words, it seems like May was spared the shocking level of heartbreak that "1883" viewers experienced when her character met her untimely end. That doesn't mean Elsa didn't leave a bit of a mark on May though. "It's the classic actor thing to say of 'She's within me forever' and I'm being very sarcastic when I say that but there's some validity to that," May admitted. "She feels like she's someone that I wish I was and a weird little phantom friend of mine so I don't think I ever said goodbye to [Elsa]."
Taking those comments into account, it seems safe to say that, as was the case with the show's weather conditions, her character's fate was not severe enough to stop Isabel May from giving it her all while filming "1883."