Jumanji: Welcome To The Jungle Early Reactions Released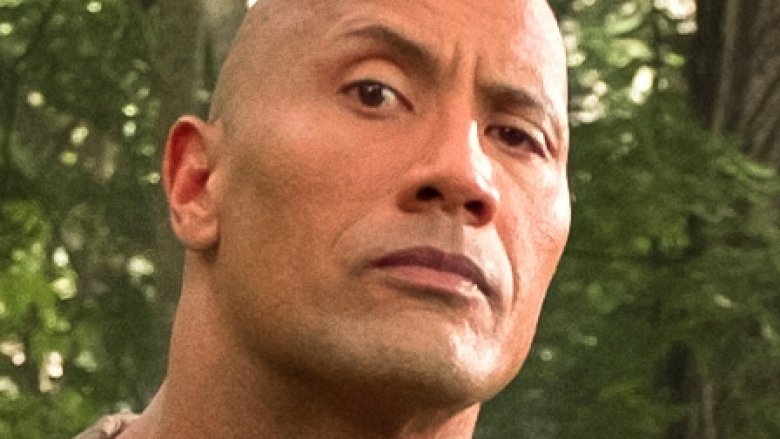 Sequels to classic films tend to drum up a fair bit of criticism, and director Jake Kasdan faced a wave of it when it was announced he was continuing the beloved Robin Williams-led flick Jumanji with Jumanji: Welcome to the Jungle. Many argued that a sequel wasn't necessary and that Jumanji should be left alone. Others insisted that they would avoid anything and everything related to the film as an act of pseudo-protest. But much to the surprise of fans of the original movie, Jumanji: Welcome to the Jungle is actually really enjoyable and a unique follow-up to the 1995 adventure pic–at least according to early reactions, that is. 
CinemaBlend editor Corey Chichizola caught the film early and shared his thoughts on Twitter. "The new Jumanji is a ton of fun and succeeds by not trying to make a film even remotely similar to the original," he wrote. "It's vindicated of comparisons, while also giving a nice nod or two to Robin Williams."
Eric Eisenberg, another editor at CinemaBlend, expressed similar sentiments. "Happy to say that I was pleasantly surprised by Jumanji: Welcome to the Jungle. It's fun and funny in equal measure, and makes smart use of its great stars. Not much of a universe-builder for a fantasy sequel, but definitely a reinvention that works," he tweeted. 
Brandon Davis of ComicBook.com praised Jack Black's performance as cartographer and cryptographer Professor Shelly Oberon, the in-game avatar of popular high school cheerleader Bethany Walker, played by Madison Iseman. He also noted that Dwayne "The Rock" Johnson, who plays archaeologist and explorer Dr. Smolder Bravestone, and Kevin Hart, who takes on the role of zoologist and weapons specialist Franklin "Moose" Finbar, "need to keep working together." In all, Davis called the sequel "a ton of fun" that has "great nods to the original."
Rebecca Pahle of Film Journal took a slightly silly approach in her reaction, stating that "Jack Black's performance is perfection personified and deserves 12 Oscars." 
Fandango managing editor Erik Davis was blown away by how good Jumanji: Welcome to the Jungle is, writing on Twitter, "I can now say that the biggest surprise of the holiday season is Jumanji. It's super entertaining and very funny with terrific cast chemistry (especially between The Rock and Kevin Hart). Video game fans will dig it even more. See it with the whole family."
IndieWire editor Kate Erbland felt much the same. To her, Jumanji: Welcome to the Jungle comes across as "the kind of family-friendly outing that should help settle a lot of debates this holiday season." And like many others, Erbland wrote that "Jack Black is very, very funny," and offered her appreciation to the film's creatives for attempting "to make it a true sequel to the original."
But it was SlashFilm owner and editor Peter Sciretta who made perhaps the boldest statement of all. After admitting on Twitter that he was "expecting the worst" when going in to see the film, he argued that Jumanji: Welcome to the Jungle is "one of the best 'video game movies' ever made, maybe under only King of Kong, Scott Pilgrim [vs. the World], Edge of Tomorrow, and Wreck-It Ralph (none of which are adaptations)." 
It sounds like all previous worries about the upcoming film can be washed away, as viewers will be seriously impressed by how much fun they have watching it. 
In addition to Johnson, Hart, Black, and Iseman, Jumanji: Welcome to the Jungle stars Alex Wolff as Spencer Gilpin, whose avatar is Dr. Smolder Bravestone; Ser'Darius Blain as Anthony "Fridge" Johnson, whose avatar is Franklin "Moose" Finbar; Morgan Turner as Martha Kaply; and Karen Gillan as Martha's avatar Ruby Roundhouse. Nick Jonas as the mysterious game guide Alex and Bobby Cannavale as the main villain John Hardin round out the main cast.  
Jumanji: Welcome to the Jungle stomps into theaters on December 20. Until then, check out a few more reactions below.
There's a lot of laughs and heart in #Jumanji. Cast has some pretty special chemistry and the game angle totally works. Props to @TheRock @KevinHart4real @karengillan and Jack Black for playing kids so well!

— Rob Keyes (@rob_keyes) November 27, 2017
Saw #Jumanji! It's light on nostalgia (besides a handful of Easter eggs), but a lot of fun. The body swap stuff is SO good. Could watch Jack Black play a teenage girl stuck in Jack Black's body, or @TheRock newly discover his muscles, forever. #WelcomeToTheJungle pic.twitter.com/yRIoQsWASV

— Mike Rougeau (@RogueCheddar) November 27, 2017
#Jumanji is such a fun adventure movie. @TheRock @KevinHart4real & the rest of the cast did an amazing job.

— Yesha (@YeshaCallahan) November 27, 2017
got to see #Jumanji and it is fun as heck! @TheRock totally steals the show, but everyone gets a chance to shine.

— Zachary Ryan (@ZachariusD) November 27, 2017