Sylvester Stallone Was Frightened By A Very Unexpected Game Of Thrones Character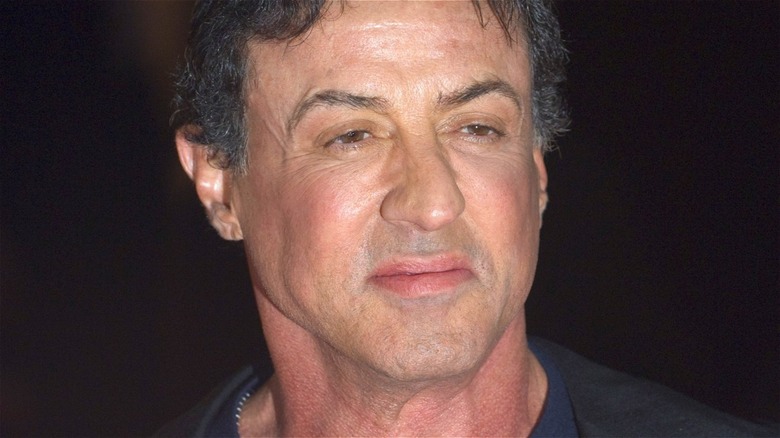 Entertainment Press/Shutterstock
Thanks to his legendary titular roles in the "Rocky" and "Rambo" franchises — as well as dozens of other turns, including Barney Ross in "The Expendables" movies and the voice of King Shark in "The Suicide Squad" — Sylvester Stallone has established a dominating screen presence over the decades as characters you don't want to mess with. As such, when Stallone and his fellow filmmakers are looking for adversaries to go toe-to-toe with him on screen, they need to find an actor who makes you believe that they are actually capable of winning the battle.
Intense physical battles are key to the story in Stallone's new superhero adventure "Samaritan," which debuts exclusively on Prime Video Friday, August 26. Stallone stars in the film as Joe Smith, a reclusive sanitation worker in the crime-ridden metropolis of Granite City. Sam (Javon "Wanna" Walton), an inquisitive 13-year-old boy who lives on the garbage man's route, is convinced that Joe is, in reality, Samaritan, a superhero who is thought to have perished in a massive fire in Granite City 25 years earlier along with his brother-turned-adversary Nemesis.
Once Sam proves that Joe has superpowers, the boy's new friend becomes his mentor. That's a relief to Sam's hard-working single mother, Tiffany (Dascha Polanco), who has been struggling to keep her son off the violent streets. Unfortunately, the young teen has already become indebted to Cyrus (Pilou Asbæk), a ruthless gang leader looking to unearth the weapons of the villainous Nemesis as part of his plans to take over Granite City. With Sam's life in peril, Joe has no choice but to come out of hiding to save the boy and the city.
Given that Cyrus is a crucial role in "Samaritan," Stallone, who also produces the film, was saddled with the major responsibility of finding the perfect villain — and he happened to be watching the right show at the right time to find him.
Sylvester Stallone was unnerved by Pilou Asbæk's chilling look and intelligence in Game of Thrones
Amazon Prime
Looking for someone to play the villain is never easy for a filmmaker, but luckily for Sylvester Stallone, he's had plenty of experience looking for certain qualities in a bad guy. "The key to the good guy is the bad guy. He really is. Good is pretty simple to play," Stallone said in a press conference for "Samaritan" attended by Looper. "Bad is complex, because you either do it so badly, like twisting the mustache, that the audience goes 'Aw, come on, he's no threat." [A good bad guy], for example, is a Mr. T [who played Clubber Lang in 'Rocky III'] or [an Ivan] Drago [played by Dolph Lundgren in 'Rocky IV']. They just radiate like, 'Oh s**t, I don't want to be around this.'"
Of course, Rocky's boxing foes in those particular movies represented a different level of villainy. For "Samaritan," Stallone needed an unforgiving brute of a human being with Cyrus, and he had an epiphany of who it could be while watching the smash series "Game of Thrones." Stallone spotted Pilou Asbæk — who appears in a recurring role as the murderous menace Euron Greyjoy — and the "Samaritan" star-producer instantly knew he had the radiating villain qualities he was looking for.
"When I saw him in 'Game of Thrones,' there's something in the eyes. You go, 'He's special. There's something going on there that is truly frightening, but intelligent.' That's really scary," Stallone recalled. "It's one thing to be chased by a dumb bad guy. To be chased by a smart bad guy, he's got an issue ... you can't hide it. It radiates ... [Pilou] has that combination because he actually is a very good, gentle soul, [and a] great actor."
Directed by Julius Avery, "Samaritan" begins streaming exclusively on Amazon Prime Video on Friday, August 26.